How to Create (and Grow) a Profitable Amazon Affiliate Marketing Website
Monetizing your website through Amazon affiliate marketing, and doing it well, can turn into a great source of passive income.
Most struggle to make their affiliate website successful, some do it in their spare time and manage to get by, but only very few have managed to do it full-time and enjoy up to six figures in income every month.
It's the dream life, for many aspiring entrepreneurs out there. Create a website, insert Amazon affiliate links, and the money will (eventually) roll-in, right?
Well, if only it's as easy as that. Though many "Amazon affiliate marketing gurus" make it seem really easy, the actual work that goes behind creating a successful and self-sustaining affiliate website is far from simple.
And this is where this article will come in handy for you. We'll explain and show you step-by-step how to create your very own affiliate website quickly and cost-efficiently.
What is an Amazon affiliate marketing website
An Amazon affiliate marketing website is a type of web portal that is created for the sole purpose of attracting web visitors and converting them into purchasers on Amazon. It effectively turns web visitors into a source of passive income for the affiliate website owner.
Once a visitor goes to the website, reads an article, and clicks an Amazon affiliate link, the visitor will be redirected to that particular Amazon product's page. If a purchase is made within 24 hours, you will earn an affiliate income. And that also applies to any other Amazon products that the visitor decides to purchase on the website, even if it's not the product that you promoted on your affiliate website.
If you're new to Amazon affiliate marketing, click here to learn in detail about how it works, steps to open an Amazon Associates account, and the different tiers of affiliate fees you'll receive based on the various product categories on Amazon.
How does an Amazon affiliate marketing website look like
You might have visited an affiliate website before without noticing. A lot of them look like a regular blog or a review-based website, especially the good ones. They're packed full of information and opinion-pieces about a whole host of products, where they'll then link it out to its respective Amazon products.
One of the most popular Amazon affiliate marketing websites around is This is Why I'm Broke. The site went viral several years back, and today attracts nearly 2 million visitors every month. Guess how much it makes every month from affiliate income? A whopping $20,000!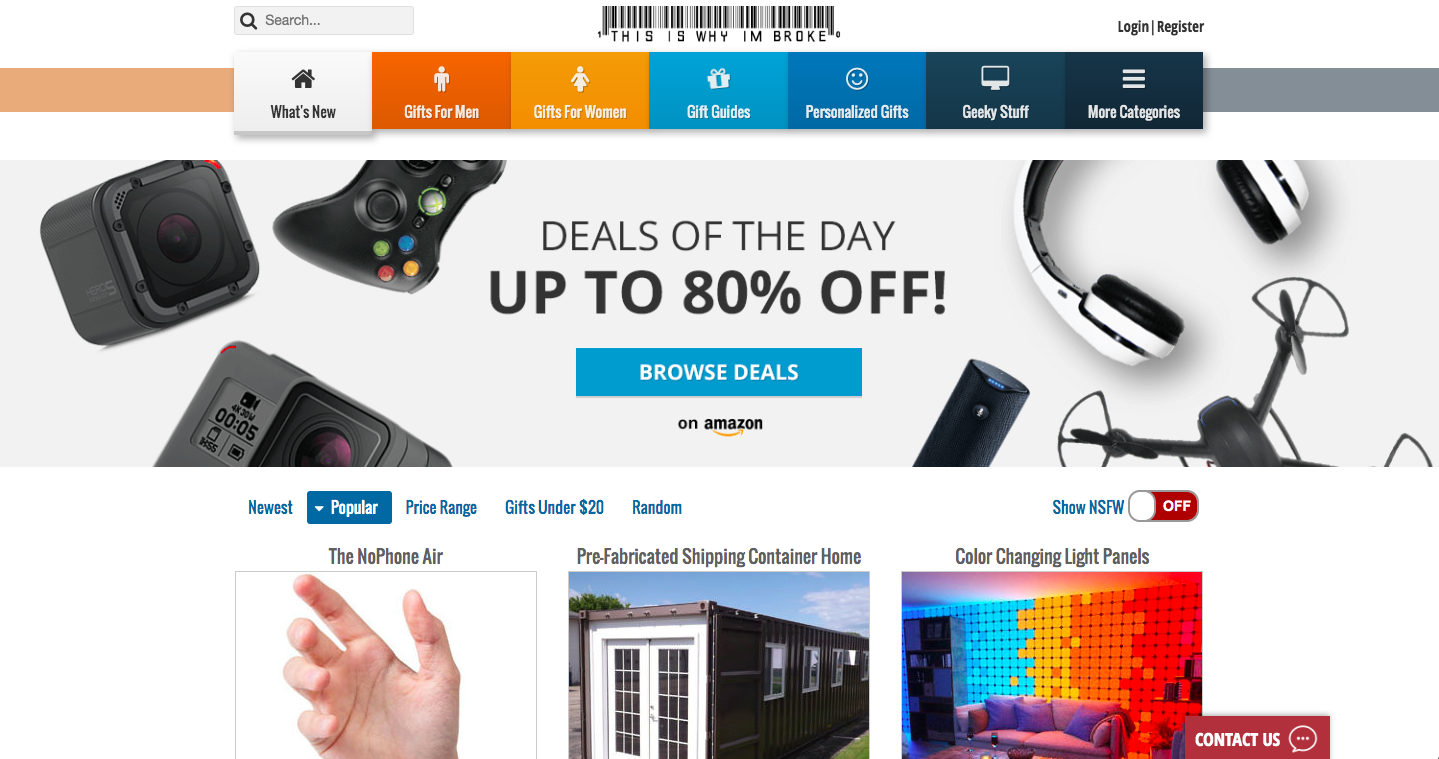 Unlike other Amazon affiliate websites that are very sales driven by providing reviews and product comparisons, the guys behind This is Why I'm Broke did it with a slightly more interesting twist – they gather all the coolest and quirkiest gadgets and gifts from all around Amazon and promote them on their website.
Even the website URL name itself is clever and memorable! The site has great branding and features a very simple layout that makes it easy for web visitors to browse through. Even if you're not planning to buy anything, just looking through the site's unique and odd products on the site is fun enough.
There are also many other successful affiliate marketing websites out there. To give you a wider overview, check out these sites:
As you can see, you can make an Amazon affiliate marketing website by promoting nearly any type of products. The possibility is endless. But first, how can you create one? You'll first need to know how to buy and register a domain, subscribe to a web hosting service, and get a website live. Scroll down to the next section to find out how.
How to build your own website
Luckily for you, creating a website has gotten a thousand times easier today. Back in the day, you'll need to pay seriously high fees and hire a professional web developer and designer to build you a website (not including setting up and paying for your domain name and web hosting services).
Now, almost anyone with a computer, an internet and a credit/debit card can create their own website within a day. And with a surprisingly low budget.
Before we get started on the steps to creating a website, let's lay out all the components that make up a website:
Domain name
Web hosting server
Website design and layout
Each of these three components will require payment but don't worry, it's not as much as you think it is. There are tonnes of domain name providers, web hosting servers, and ready-made website layouts that you can choose from.
Now, let's begin:
1. Choose a domain name
When deciding on a domain name, you can go two ways – an exact match domain name or a branded domain name. An exact match domain name is a type of URL that is made out of exact words, like BestReviews.com or PickMyShaver.com. While a branded domain name can be anything you want. To register, go with the big names in domain name providers like Namecheap or GoDaddy.
Tip: Choose a short and easy-to-remember domain name, whether it's an exact match or branded domain name.
2. Find a web hosting server provider
Once you've chosen a domain name and registered for one, you'll then need to identify and register for a web hosting service. This is crucial because that is where your website will "sit in." Think of it this way: while the website is your house and domain name is your house address, the web hosting service is the land where your house (a.k.a your website) will be placed on.
Tip: Web hosting can start from affordable to very expensive. Start with a small package and only gradually upgrade when your website matures and receives a lot more hits (and needs more bandwith).
3. Decide on a website layout
More than a decade ago, the only option you have to create a website is to build it from scratch. But now there are many businesses that have ready-made layouts for your website. They're user-friendly and can be edited and tweaked very easily. Even if you have zero programming knowledge! You can choose from services like WordPress or Wix, and even customize your layouts by purchasing them from online marketplaces like Themeforest.
Tip: One of the best options out there for an affiliate marketing website is WordPress. It's easy to use and incredibly powerful. But remember to register with WordPress.com, not WordPress.org. The latter doesn't give you full control of your WP site, which makes the .com option the best one for you.
All of the three steps above can be done within a day (provided you've already decided on a domain name and the Amazon product niche to market). As you can see, it's actually pretty easy to create an affiliate marketing website! The hard part comes next, where the bulk of your work will be done before launching the site – planning and strategizing your web content.
How to plan and create content for an Amazon affiliate marketing site
When a website publishes quality content and uses relevant keywords that searchers are looking for, it will draw more web traffic. When your page or website gets more clicks from Google's organic search results, Google will see your page or website as more relevant, which will then push your web rankings higher on Google. That will then attract more clicks.
The guys from Income School covers this really well in this video:
The key to growing a successful affiliate site is, undoubtedly, through web traffic. You'll need tonnes of it on a regular basis. And that can be best done through SEO.
Search engine optimization, or SEO for short, is the practice of improving and increasing the quality and quantity of web traffic through search engine results. There are many factors that determine the SEO efficiency of a website, but it all starts with keyword research.
Keyword research is very important and incredibly useful for three reasons:
To identify relevant keywords to optimize your website's content.
To understand user search behaviour.
To find new content ideas.
Thanks to the Google Autocomplete feature, you can type in a keyword or topic related to the Amazon product you're planning to promote on your affiliate marketing website and Google will show you ten similar keywords. But that alone is far from enough.
The Autocomplete function only gives you a mere ten keywords, with no other data to tell you how many people are searching for those keywords and when. Only an SEO tool like Keyword Tool can do that.
Using Keyword Tool to help you find keywords, trends and content ideas
Keyword Tool is an incredibly powerful yet easy-to-use tool that is able to generate hundreds of keyword suggestions. It pulls data directly from Google Autocomplete and appends and prepends multiple letters and symbols to generate a tonne of related yet relevant keywords.
It's free to use and shows the full data of up to five keywords from the results. But for complete access to all the useful features and search data, it'll be a good idea to invest in the paid subscription option – Keyword Tool Pro.
With Keyword Tool Pro, you'll be able to make multiple keyword searches where the tool will give you extremely valuable keyword data like search volumes, trends, cost-per-click (CPC), and competition level. You'll also have access to its bulk search volume checker and competitor analysis.
Let's say you're thinking of creating an Amazon affiliate marketing site that promotes board games that are sold on Amazon. Go to Keyword Tool, click the "Google" tab, key in "board games," and press enter: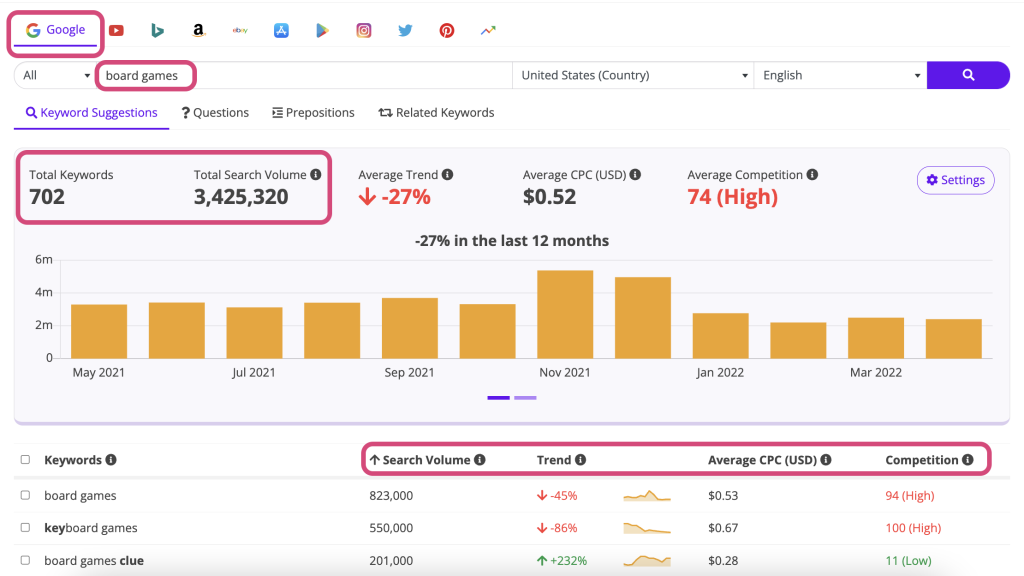 As you can see from the results, there are over 700 related keywords to "board games." The result summary also shows very useful data like trends and competition level.
The results indicate that the focus keyword "board games" and its other related keywords have an average competition level of 74 (High).
The chart also shows that the searches for these keywords peaks in November and December, tapers off in January, and remain consistent throughout the rest of the months. This is a great insight into searcher (and possibly shopper) behaviour.
By understanding when most people are searching for a particular keyword (or product), you can then focus your efforts and resources to create relevant content for those periods and invest more into amplifying and distributing your content as widely as possible.
Now, let's scroll down to see the rest of the results: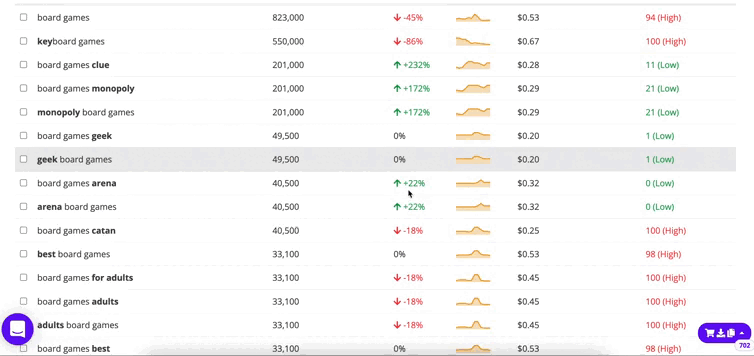 Looks like promoting board games as your Amazon affiliate marketing product might be a good idea after all! There's a healthy amount of searches made on these keywords every month. Although the clear downside is that this product is seasonal in nature. As you can see, keyword research can also give you valuable business insight into whether or not your chosen product can be monetized on a consistent basis.
Based on these results, you can either choose from two options:
Focus on the board games niche and make your most profits at the end of the year (when there are more searches being made for this product), or
Find other similar products to also promote alongside board games (that might be less seasonal in nature). That latter option will be able to provide a more stable stream of passive income since you're not banking on only one product that's highly seasonal.


Continuing on with this keyword research, you'll see that there are two keywords highlighted above:
board games geek
board games cafe
Since you're planning to run an affiliate marketing website, the "board games cafe" keyword may not be suitable (since Amazon only sells products, not places). At the same time, there are still more than 18,000 searches being made on that keyword every month. You can still use that as part of your content to drive web traffic since the people who search for board games cafes are also interested in the type of product you're promoting, which are board games.
The "board games geek" is an especially interesting keyword. It has a high search volume of 49,500, yet has a very low competition level of 1 (out of a total score of 100). This presents a great opportunity for you to rank for the keyword.
The other results in the screenshot above such as "board games monopoly" – can also be part of your core content on your affiliate site. Although the competition is higher, there is still a lot of demand for Monopoly in the market. They also have a more steady monthly search volume compared to other games, which is great for an affiliate marketing site.
But of course, this example doesn't just apply to this keyword. It works with literally every type of keyword or Amazon products. Try it for yourself.
Building an affiliate site in one day, growing it every day
As we've mentioned at the beginning of this article, creating a website is the easy part. It's growing and optimizing the website that requires a lot more work. You can build an affiliate site in one day, but you'll need to work at it every day to grow it. At least in the beginning.
Once you've done all your groundwork by doing thorough keyword research and created great content, you won't need to manage your site all the time. That's part of the beauty of creating an Amazon affiliate marketing business.
You pour in blood, sweat and tears in the beginning, spend countless hours doing keyword research and creating content, only to enjoy the fruits of your labour through a consistent passive income stream for many years to come.