How to Use YouTube Trends to Grow Your Channel
If you are looking to grow your YouTube channel, there is no better way than to leverage YouTube trends.
As the most visited video-sharing platform on the web, YouTube shows all the most popular and currently trending topics from around the world. It is host to the latest news, current events, and viral content.
Tastes change, and information spreads faster than ever before. Hence, it has become crucial for brands and creators to produce timely and relevant content, especially on trending stories.
Diving deeper into YouTube trends can unearth a wealth of data that you can tap into to learn more about hot topics and consumer behaviors. In turn, it will help create content that resonates with the most viewers.
What can you do with YouTube trends data?
Whether you are a brand, a marketer, or a content creator, you should be in-the-know about what is going on in your industry, your community or country, and in some cases, the world. It will help you craft new content that is popular and relevant to your target audience.
A tool like Keyword Tool for YouTube will give you valuable data that you can use as a base to build new content. The data will show you high-volume keywords, current popular topics, and seasonal fluctuations. You will also gain a better insight into viewer tastes and consumer behavior.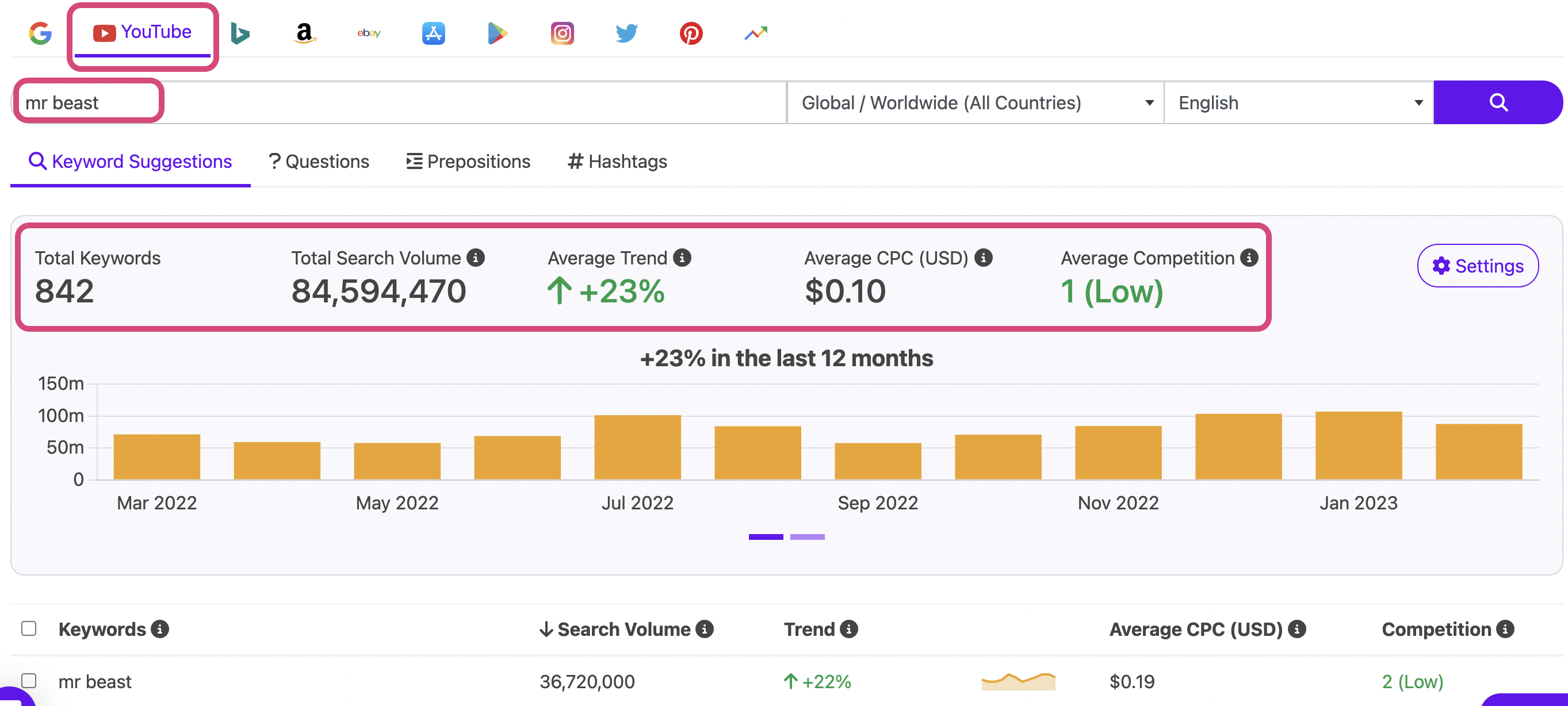 There is always something to make a video about. It's a big world where new things happen every day, in every niche and genre. If you are looking to climb to the top of YouTube's search engine results, you should be among the first creators to make a video about a trending topic.
How to find YouTube trends?
There are many resources to find the latest, real-time data on YouTube trends. Here are some popular options:
Knowing where to find and spot trends are not enough. You should also understand how videos become viral on YouTube. Only then will you be able to make the most out of current YouTube trends.
Let's break these 4 points down.
1. Trending on YouTube
The YouTube Trending page displays a wide variety of videos that show what's happening on YouTube and around the world. You will find content like new releases by popular artists, movie trailers, funny clips, and viral videos.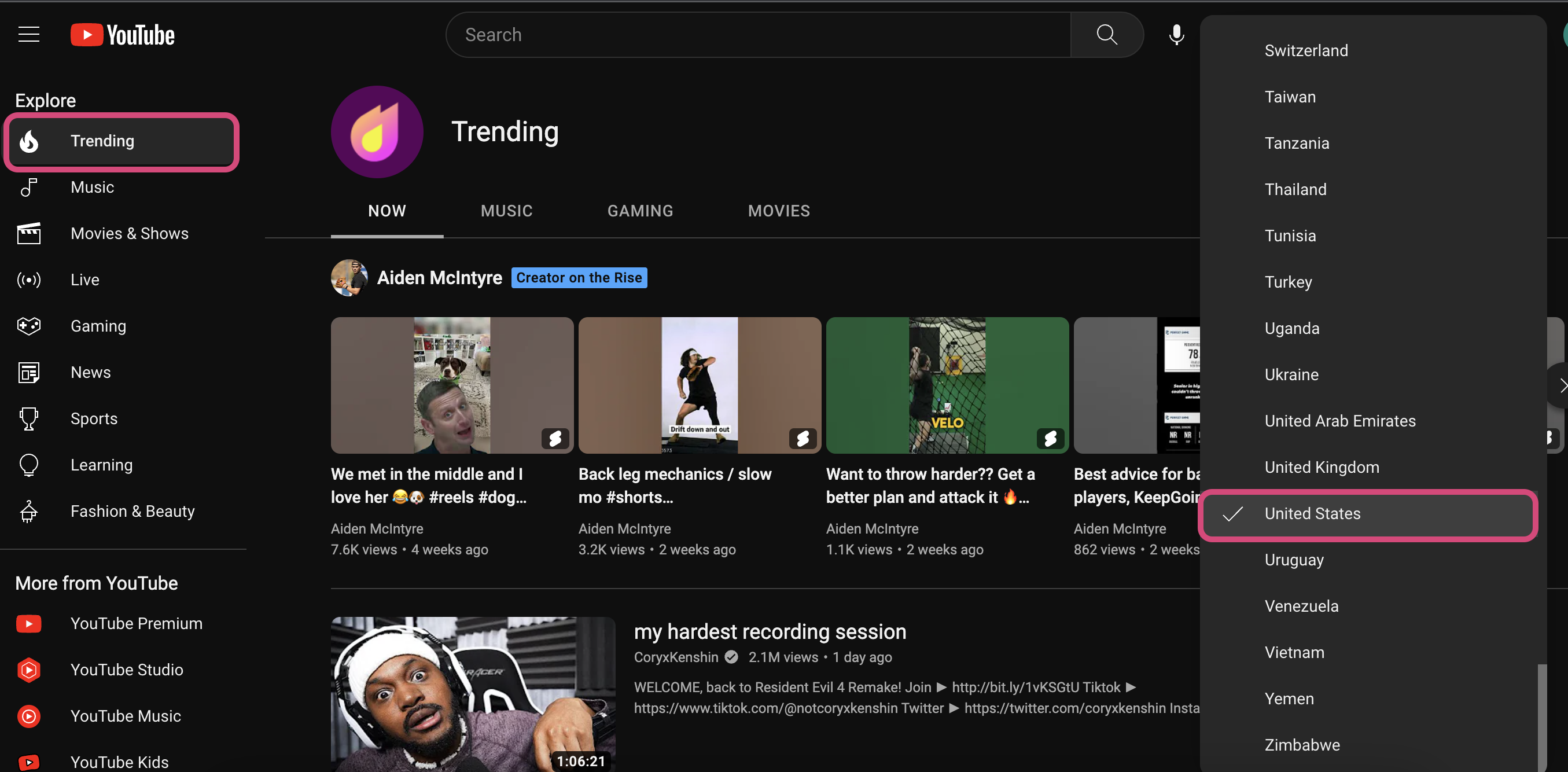 The page displays trending videos that are localized to the viewer's country (except for India, where instead YouTube Trending displays the same list of trending videos for each of the nine most common Indic languages).
You also have the option to change the country setting to view what is currently popular in a specific location.
Every time the page updates, which is roughly every 15 minutes, the video rankings may change positions in the list.
How does a video get ranked on YouTube trends?
The competition for content to be displayed on YouTube's Trending page is fierce. Since the page can only show a limited number of videos, the platform chooses content that is most appealing to a wide range of people.
It also needs to capture the breadth of what's happening on YouTube and around the world, whereby the best-ranked videos are often unique or surprising.
YouTube Trending aims to balance all of these considerations. To achieve this, the page considers many signals, including:
Total (and current) view count
The rate of growth in views
Where views are coming from (including outside of YouTube, e.g., social media, blogs, media portals, etc.)
The age of the video
YouTube states that:
These signals mean that the video with the highest view count on a given day may not be #1 on YouTube Trending, and videos with more views may be shown below videos with fewer views. Even if your video meets all the above criteria, it may not appear on YouTube Trending, as many other videos may also meet those criteria.
The system tries to choose videos that will be most relevant to viewers and most reflective of the broad content on the platform.
2. Popular On YouTube: Sourcing and tapping into hot trending topics
Pages like YouTube Trending and Popular on YouTube can become valuable resources for brands, marketers, and creators, giving a sneak peek into what is currently popular. It shows what is currently trending and allows you to leverage a particular topic to reach out and connect to the most amount of viewers.
The data from these pages can be extracted using tools like Google Trends for YouTube or Keyword Tool for YouTube. These tools will give you a deeper insight into specific topics and search behaviors of viewers that can be filtered by time periods and geographic locations.
Not only will you get a more detailed look at current trending topics but also seasonal fluctuations. Creating popular content can be great for short-term bursts in views, but understanding seasonal search behaviors will help you create content that has long-term viewership potential.
3. How to Use Google Trends for YouTube: 2 Ways
There are two ways you can use Google Trends for YouTube.
The number one is to use the official Google Trends website directly. This method does have its limitations which we will discuss later.
To use Google Trends for YouTube, go to trends.google.com and enter your seed keyword, for example, swimming.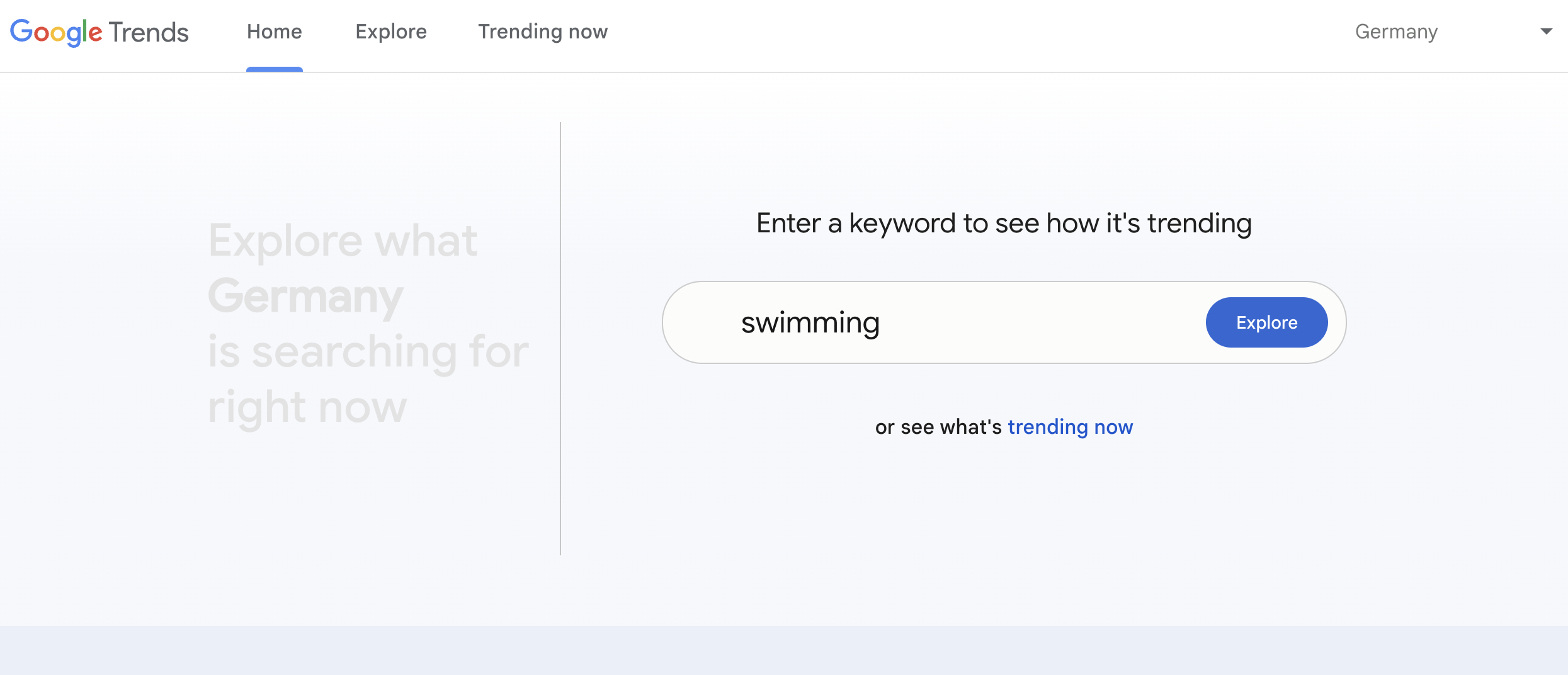 You can change your settings, for example, the target region, etc. But the last value is what we're interested in.
Click on 'Web search' and then select 'YouTube search.'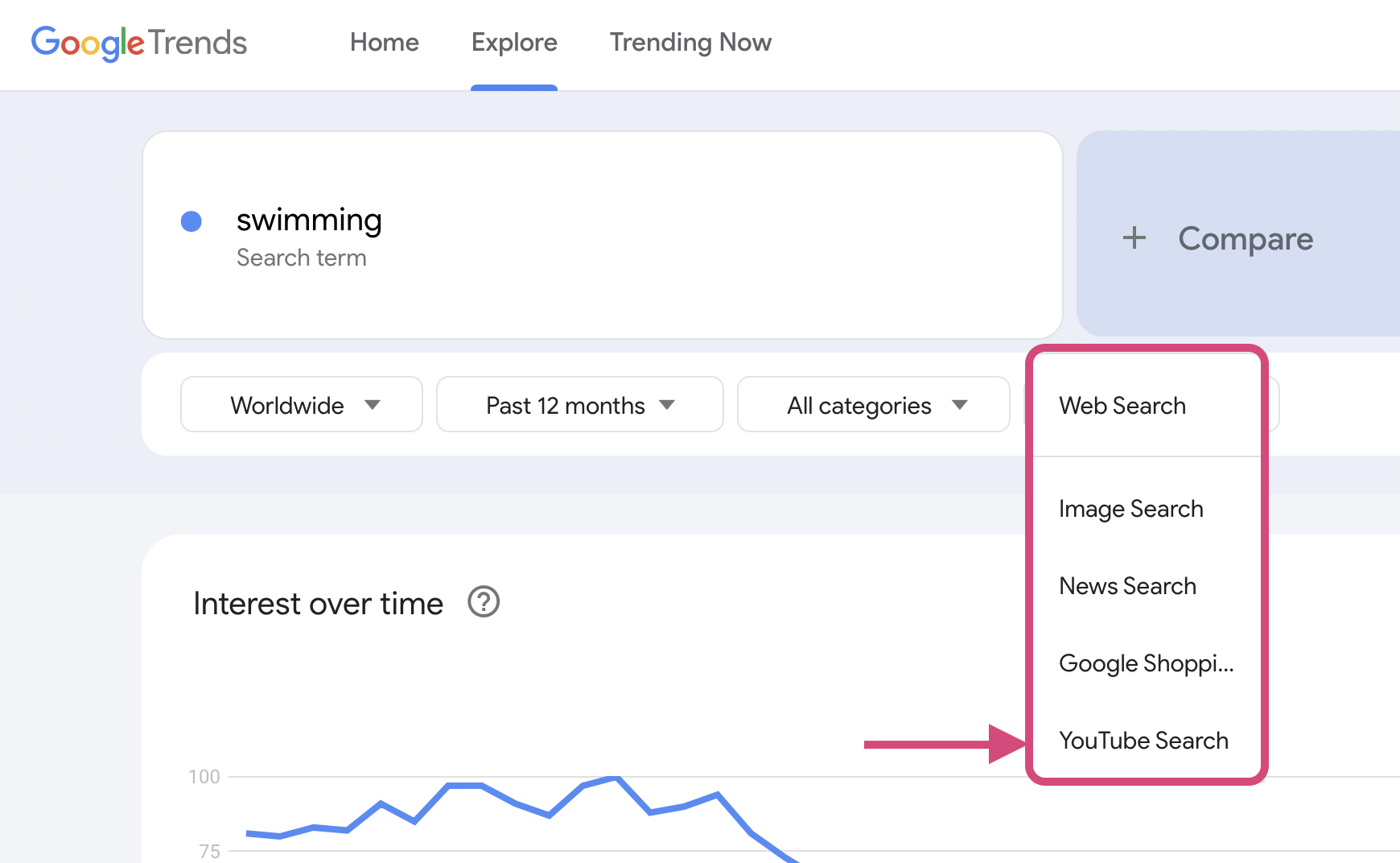 Now Google Trends shows you results exclusively for YouTube. As you can see from the graph here, the interest over time increases in the summer and decreases in the winter.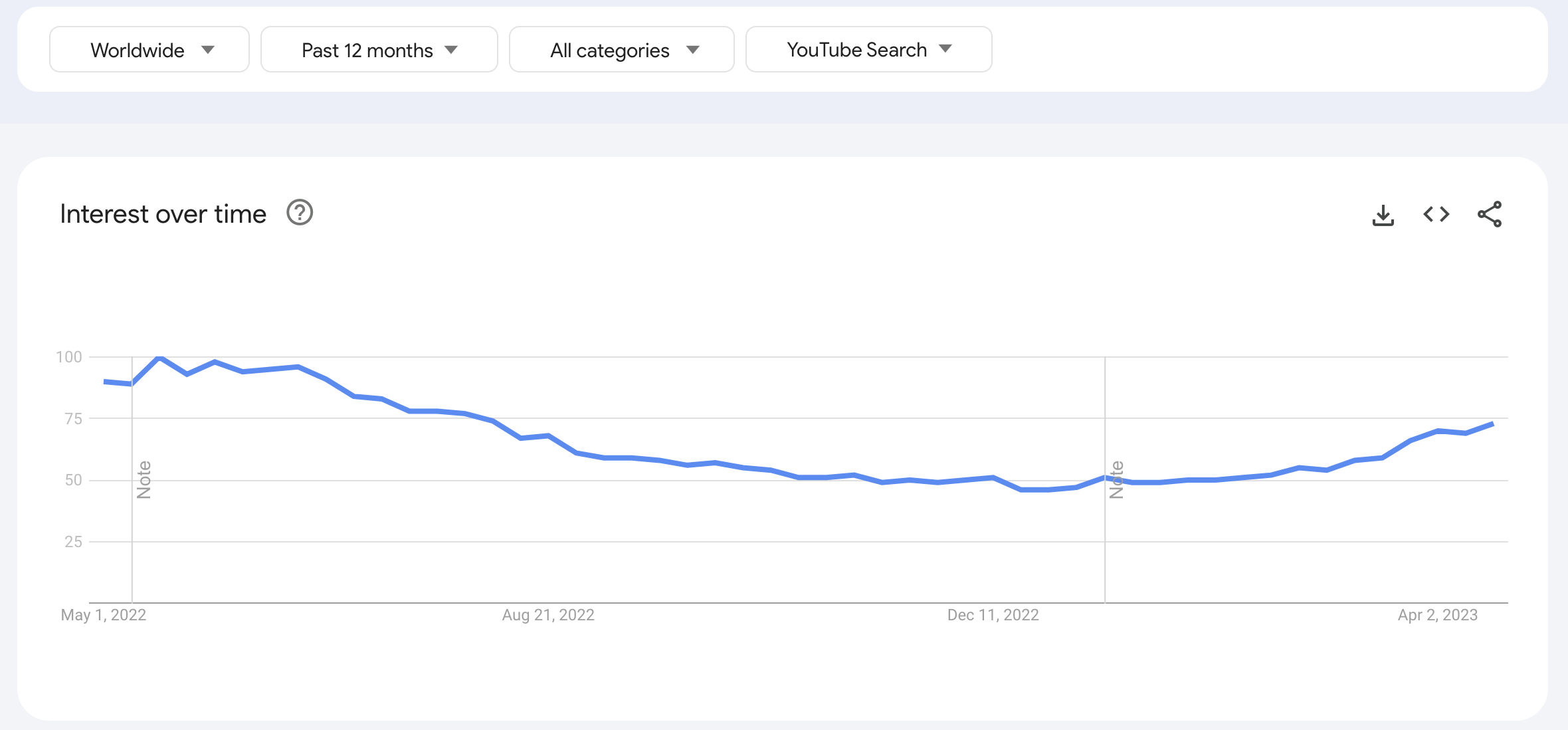 As you scroll down, you can see some of the 'rising' or trending queries related to this keyword.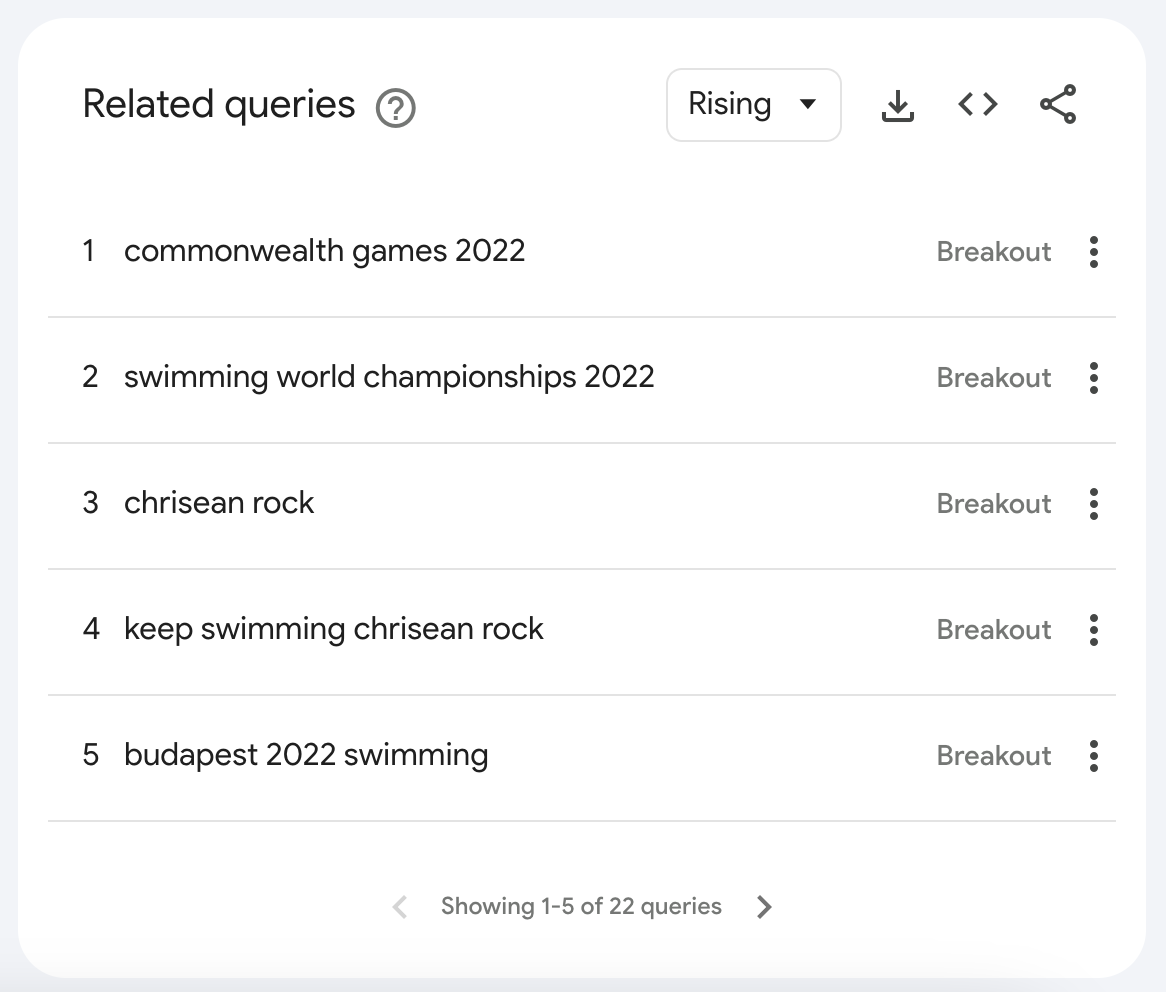 Here's a video on how to use Google Trends for YouTube in detail:
Remember we talked about some limitations that Google Trends has? Here they are:
You can't tell how popular a keyword is in numbers. Google Trends only shows you the relative popularity of a keyword over a time period or region.
Google Trends doesn't provide any search volume data for the seed keyword or for the keyword suggestions. This makes it very difficult to figure out which keywords for YouTube you should select in order to actually create trending content.
Here's the solution: Keyword Tool for Google Trends.
Keyword Tool for Google Trends pulls data from Google Trends to show the relative popularity (calculated from 0-100) of a topic or search term compared to all searches on all topics.
You can change the search results based on locations and type of search, among other things.
How to use Keyword Tool for Google Trends.
Go to keywordtool.io/google-trends and enter your seed keyword. For comparison purposes, we'll use the same example as before, 'swimming.' This will help us see the similarities and recognize how Keyword Tool enhances the results from Google Trends.
Before clicking enter, click on the menu on the left side of the search bar. It gives you the same options as Google Trends. Go ahead and select 'YouTube search,' then hit enter.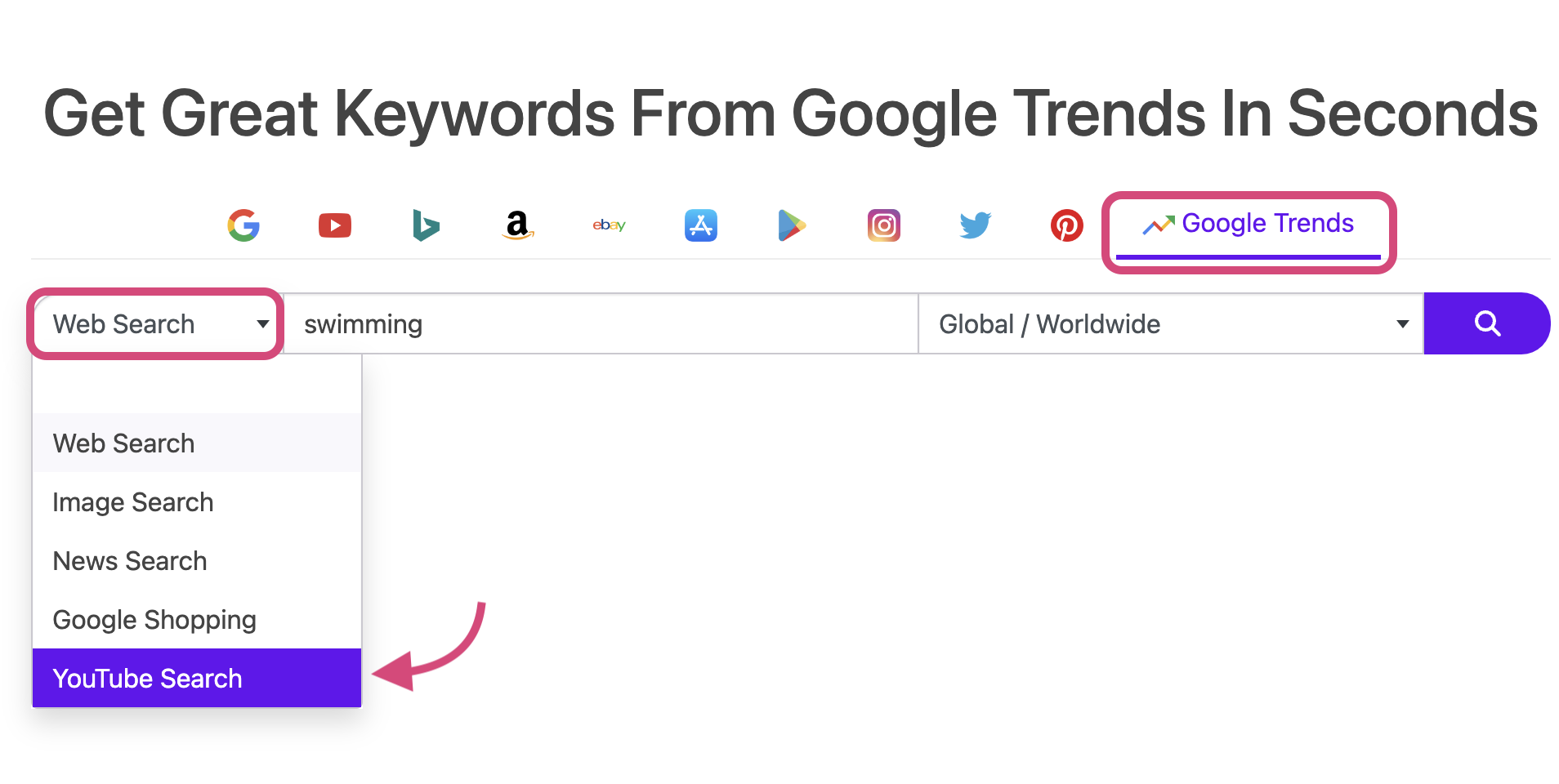 As you can see, Keyword Tool displays the same graph that you get in Google Trends. However, it gives you other important information about the keyword, like search volume, trend, CPC, and competition.

As you keep scrolling down, you'll see other related keywords with the same information available to you.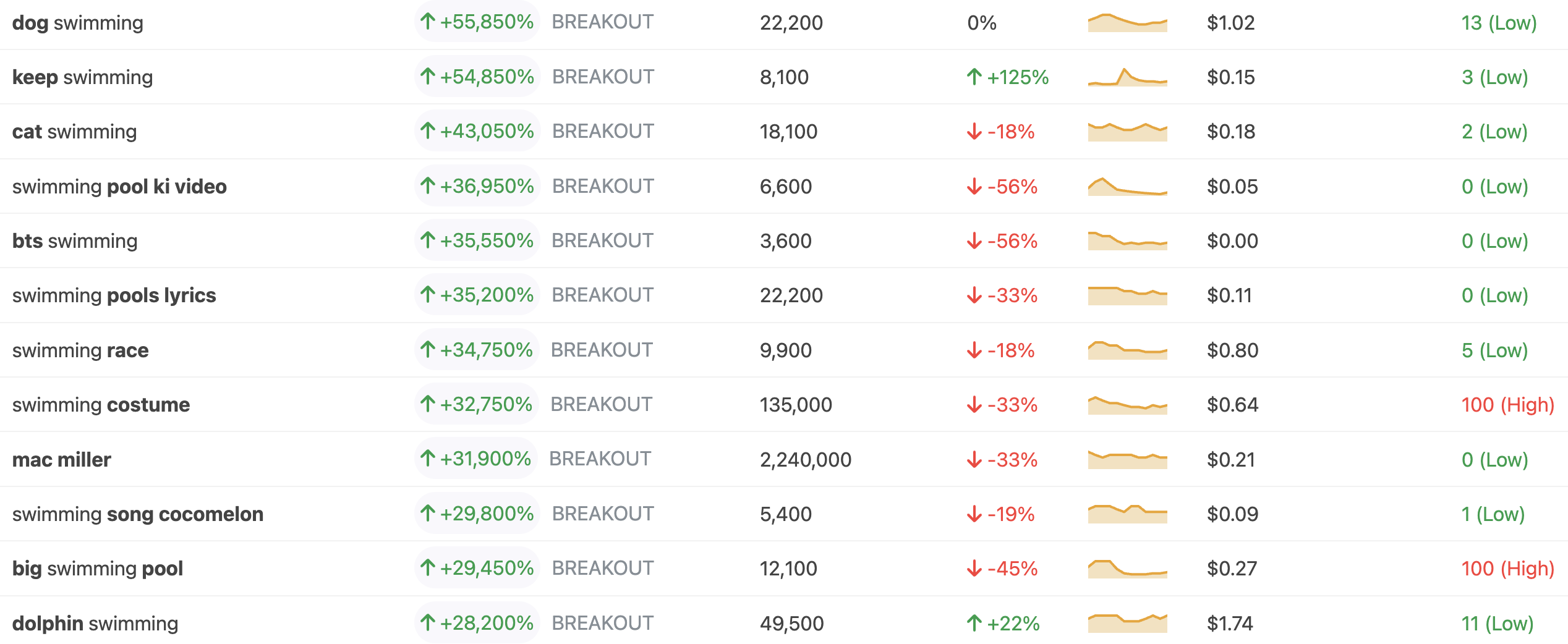 Search volume data is crucial for keyword research as it differentiates between good and bad keywords. Now that you have so much relevant information at your fingertips, you can select a trendy topic with a high search volume.
You can even plan your content calendar by analyzing the Keyword Tool trends graph and forecasting future trends or change in search volume.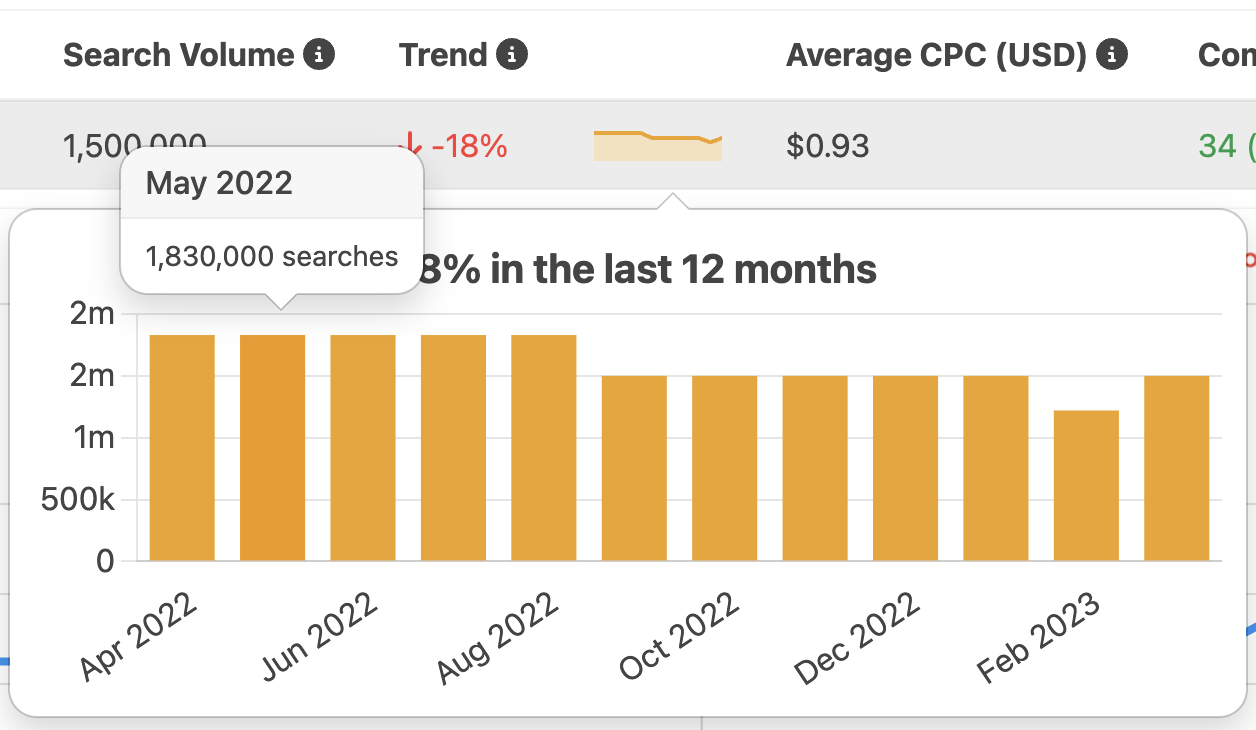 4. How to leverage YouTube trends with Keyword Tool
There are three ways to use Keyword Tool for YouTube so you can identify trending topics.
1. Using Keyword Tool from scratch
You can conduct keyword research directly on Keyword Tool without any prior knowledge of trending videos.
This is pretty simple to do.
Go to keywordtool.io/youtube and enter your topic of interest. You can customize your results based on your target location and language. Once you're done, hit enter.
Keyword Tool can sometimes give you thousands of keyword suggestions just for a single query.
So to save time and efficiently execute keyword research for YouTube, you can use the 'Settings' feature to filter out keywords. This way, you will get exactly what you need without having to look into every single keyword.
The filter settings will apply to all the keyword categories here.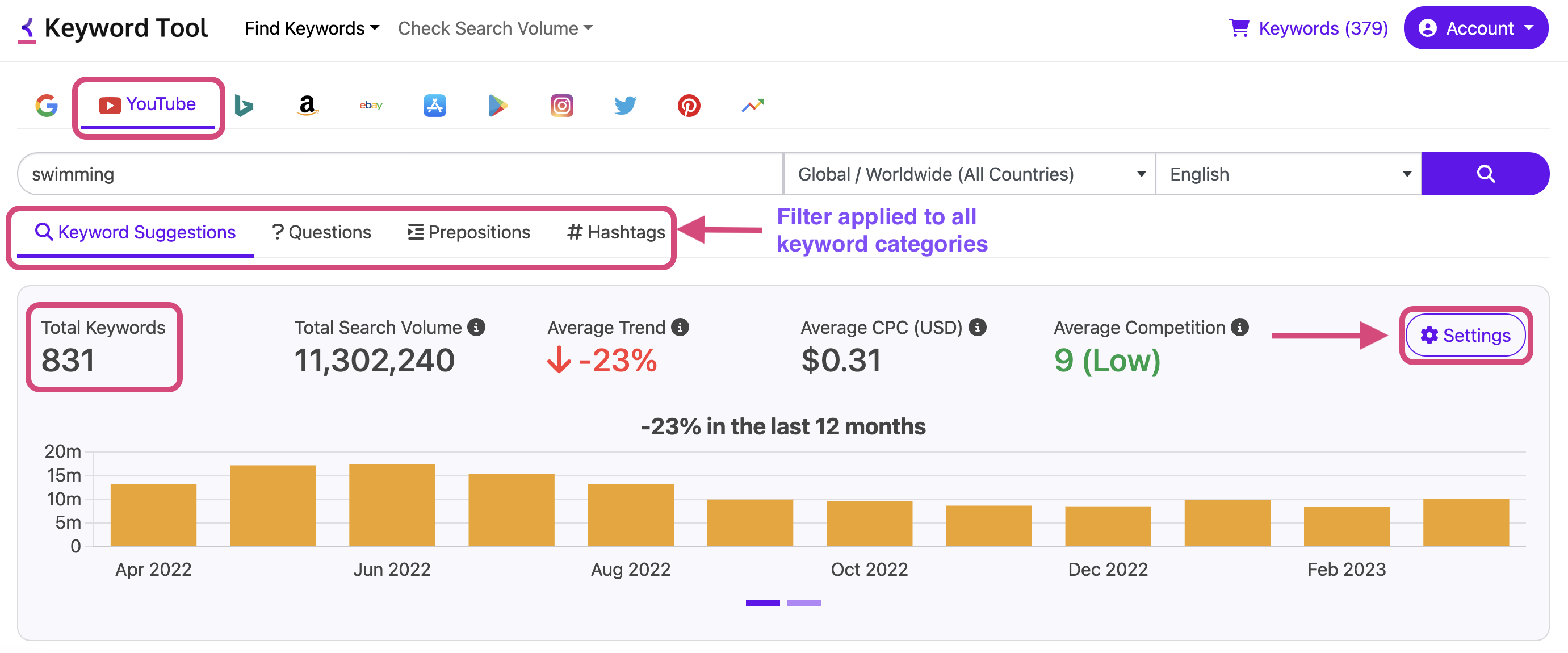 Keyword Tool lets you filter keywords based on the data it provides, including a section for filter and negative keywords.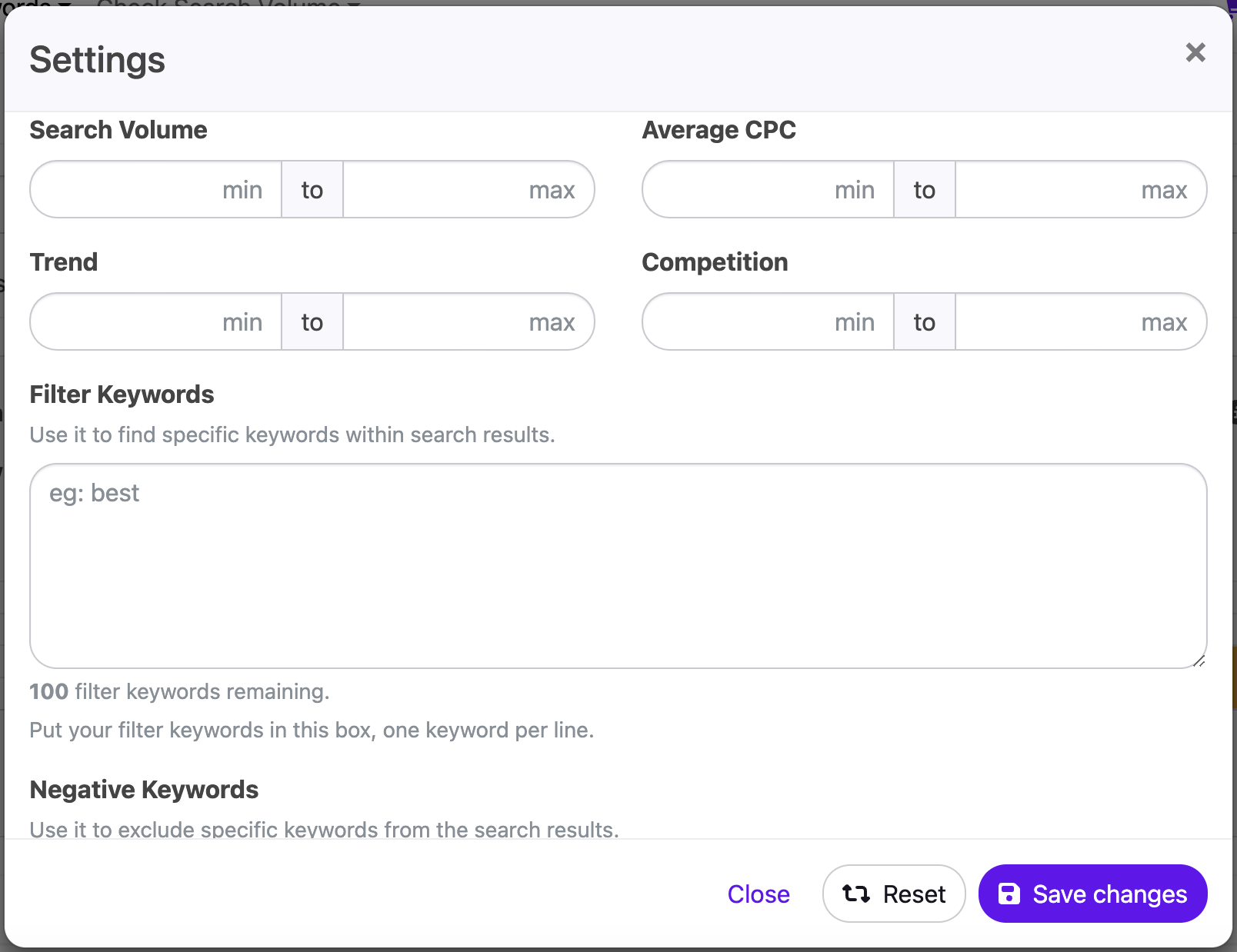 After your list is curated, you can start looking at the YouTube keywords and, more specifically, at the trends column. This will tell you if a keyword is trending or not.
It will also help you plan your content calendar, as you'll know when a keyword gets the most search volume.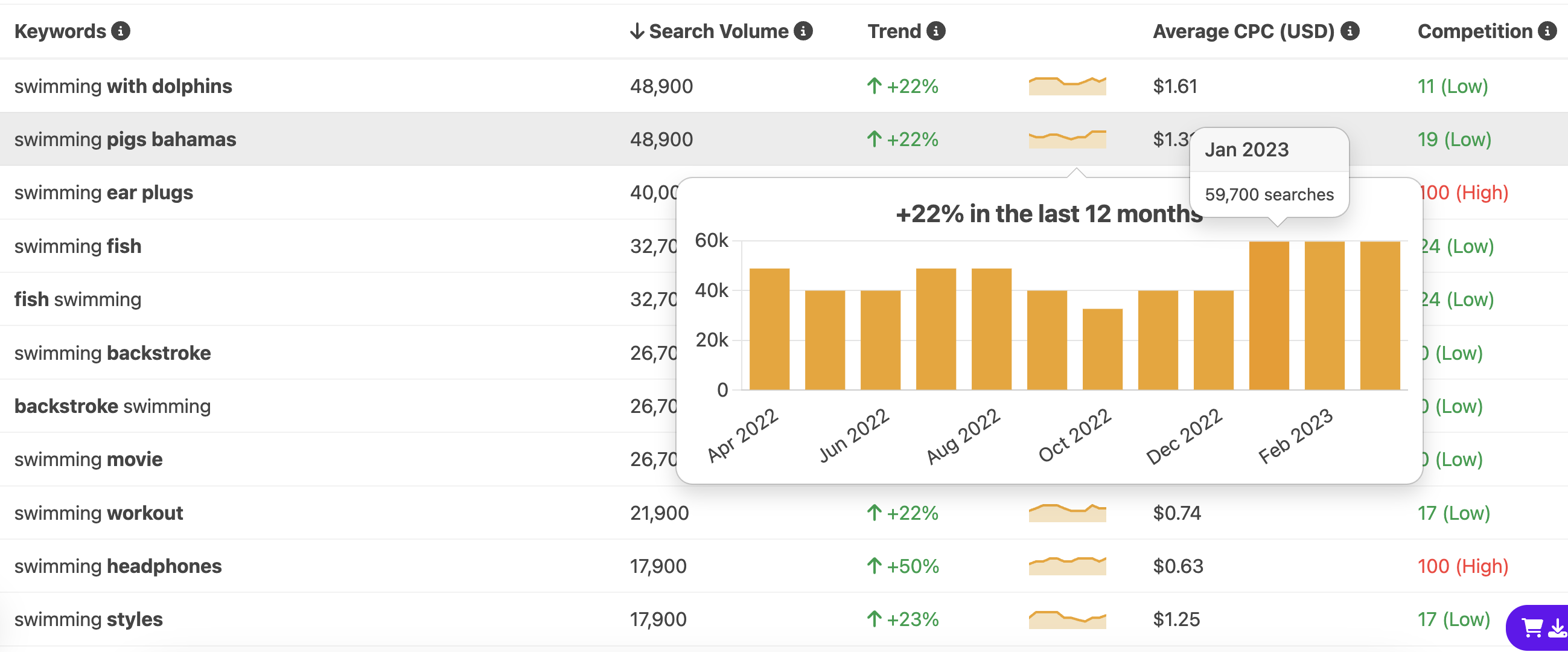 This is how you get trending keywords on YouTube from scratch!
Let's look at the next method.
2. Doing keyword research on YouTube
Let's suppose you come across a video on the YouTube trends page that is related to your niche. You decide that you want to create a similar video in hopes of attracting a large target audience.
Behind every successful YouTube video is a well though-out SEO and keyword strategy. After all, keywords are the bridge between you and your audience.
So the first step is to determine what keywords your competitor has used. To do this, all you need is a good eye for detail.
Here's what you need to pay attention to:
Video's title,
Description,
Hashtags, and
Closed captions (CC).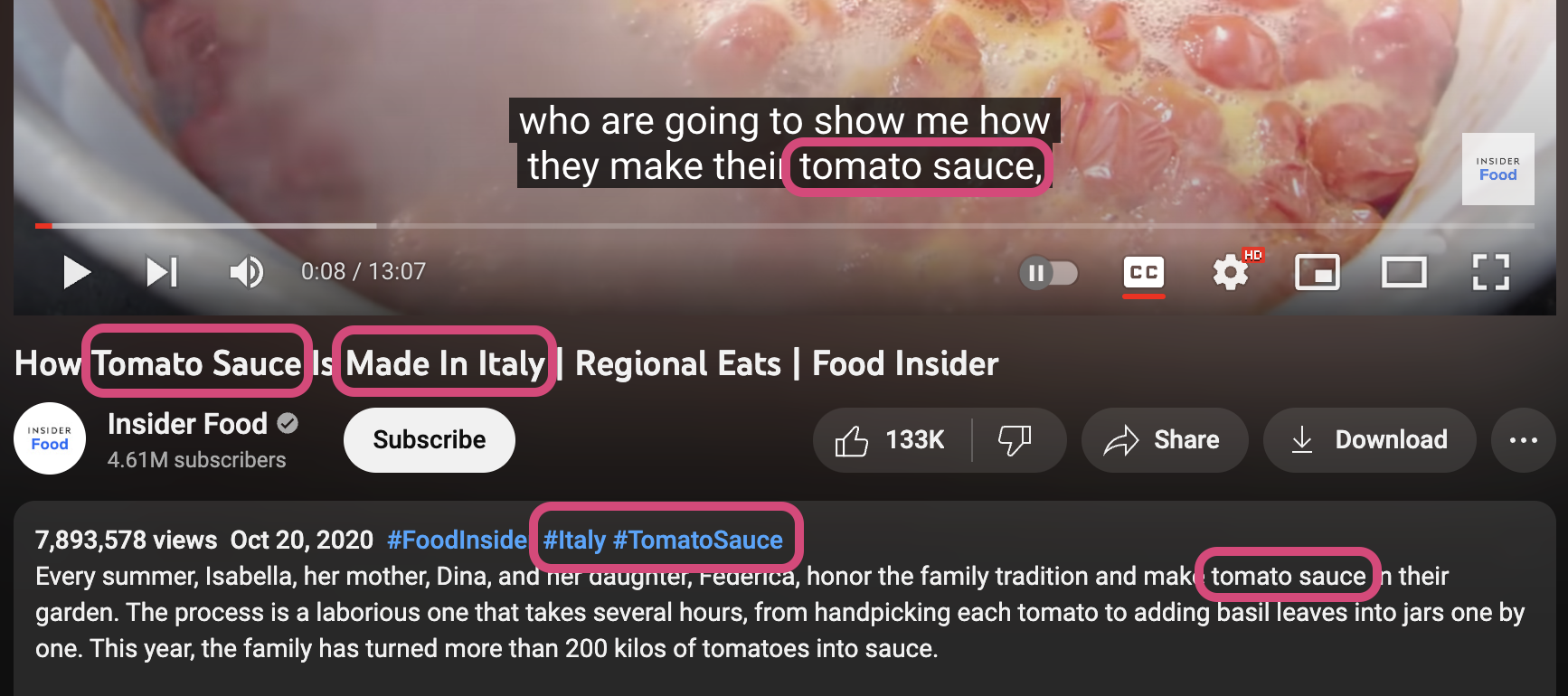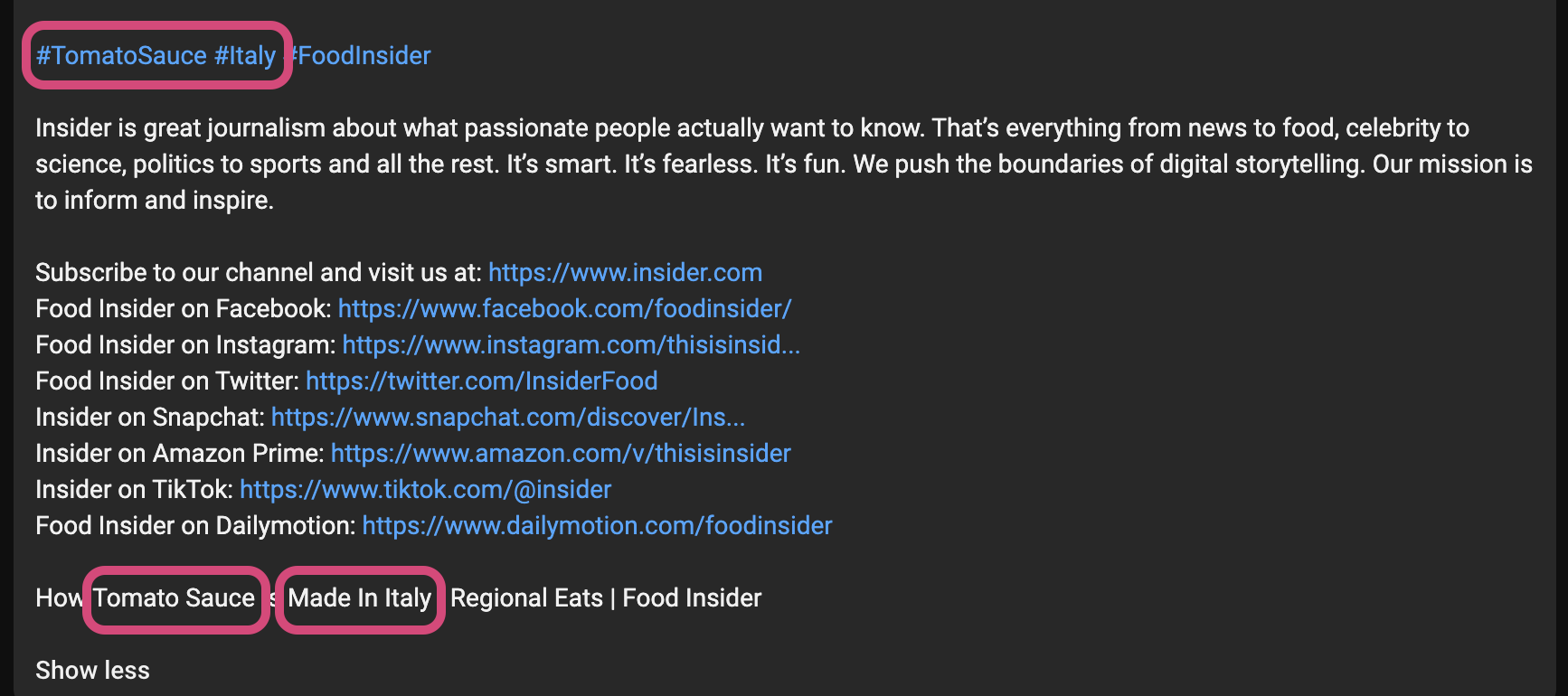 These are all the places you can optimize for YouTube SEO. Read all of these sections carefully and identify which keywords your competitor has used.
We can often overlook closed captions while doing keyword research on YouTube. But that is a vital area where you can sneak in keywords as it just strengthens your videos' intent which YouTube is on the hunt for.
Make sure to read about the best YouTube SEO practices here so you can use your keywords like a pro!
After you have created a keyword list following this method, the next step is to analyze their search volume data.
For this, you need to use a keyword research tool for YouTube.
If you think it will be a hassle searching for every keyword one at a time, then let us assure you that we have a feature to take care of this. Although, that method has its own benefits as well. More about this later.
Go to keywordtool.io and click on 'Check Search Volume' at the top of the page. Make sure to select YouTube as the search engine.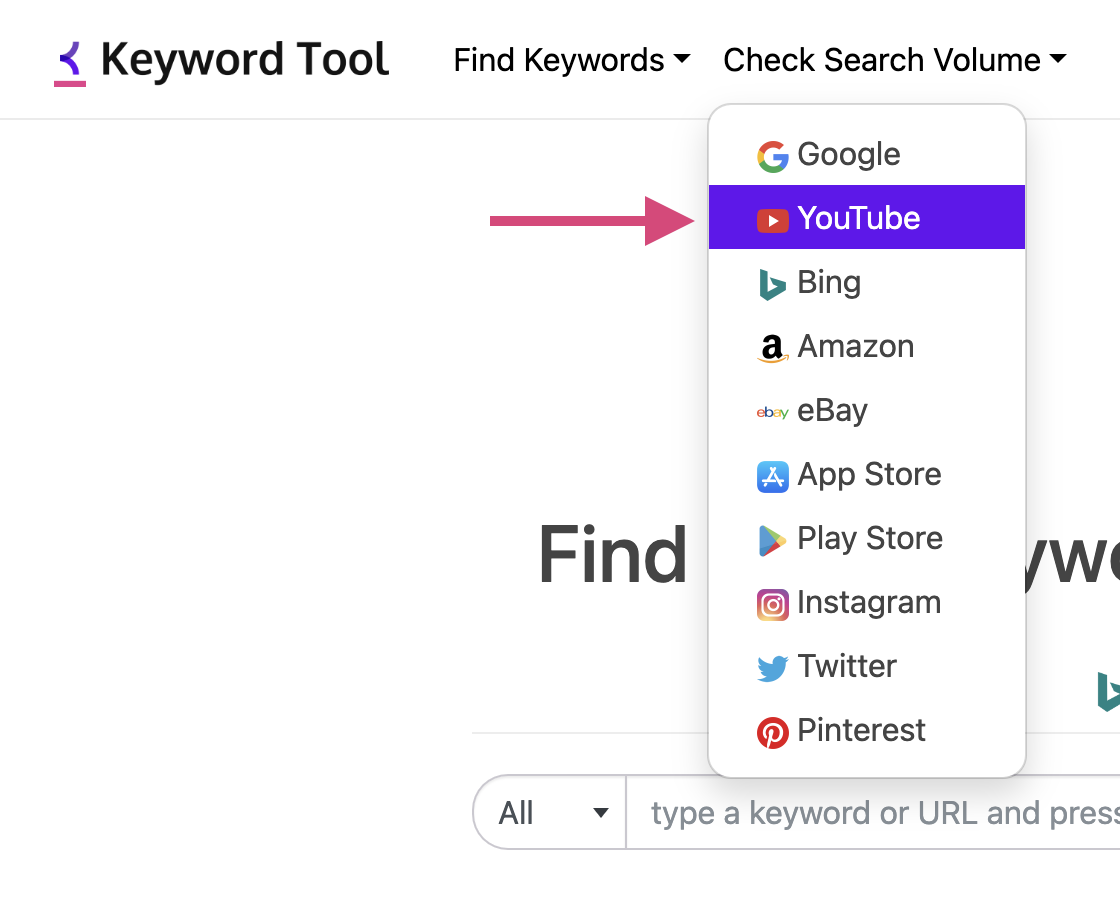 As you can see, you enter up to 1000 keywords at the same time to get their search volume data.
Paste your keyword list in the search box. Make sure to separate them by a comma or enter each keyword in a different line.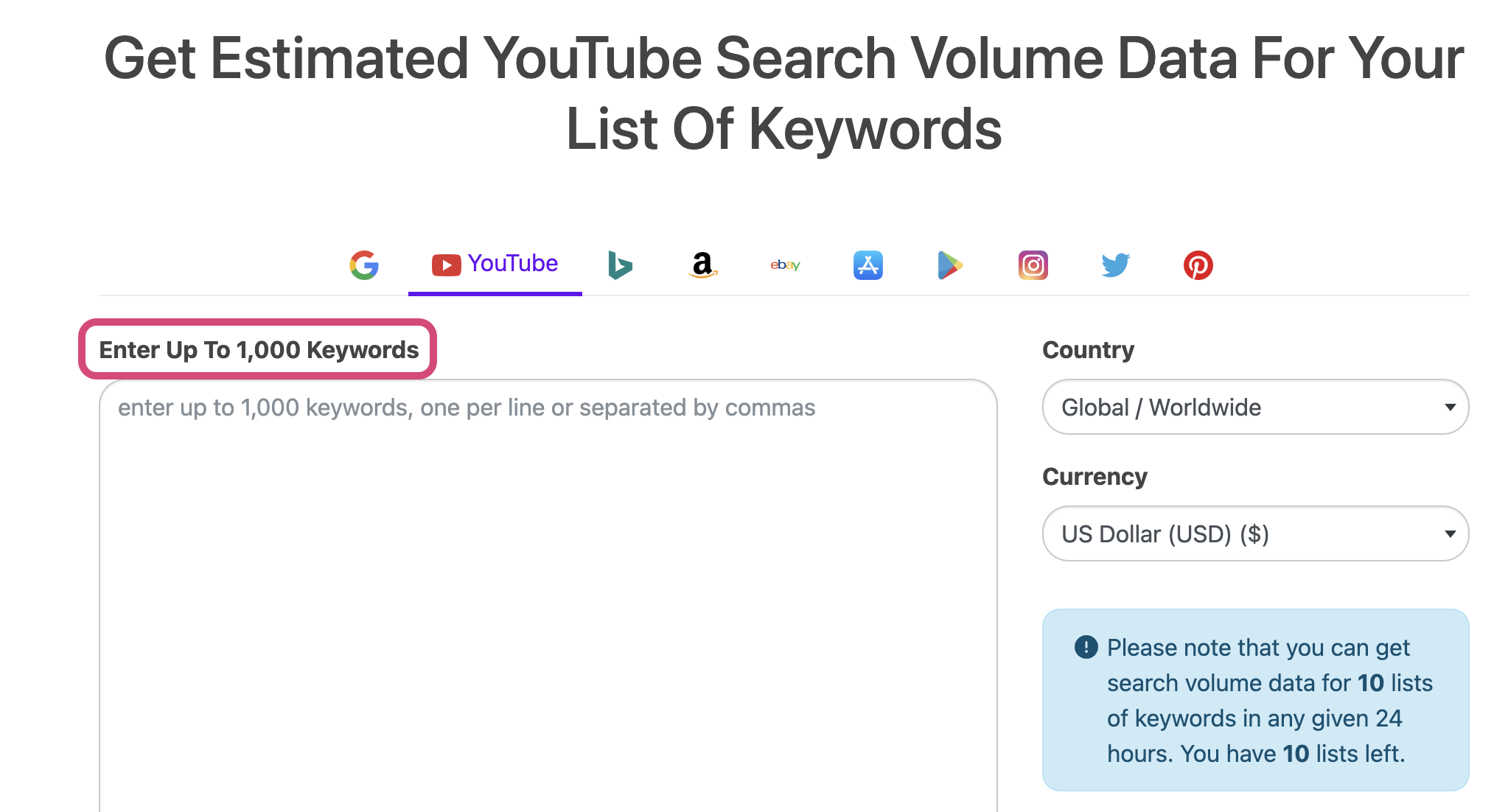 If you feel there are too many keywords, you can filter them as well.
Once you hit enter, you can see all the keywords along with search volumes, trends, CPCs, and competitions.
Now you can analyze which keywords are worth using in your video for it to start trending.
Now coming on to the last method.
3. Explore hidden opportunities.
Remember the list we created by doing keyword research on YouTube? We're going to need it again. Only this time, we won't do a bulk search volume check on it.
Instead, we will take it to the next level and search each keyword individually.
This is why.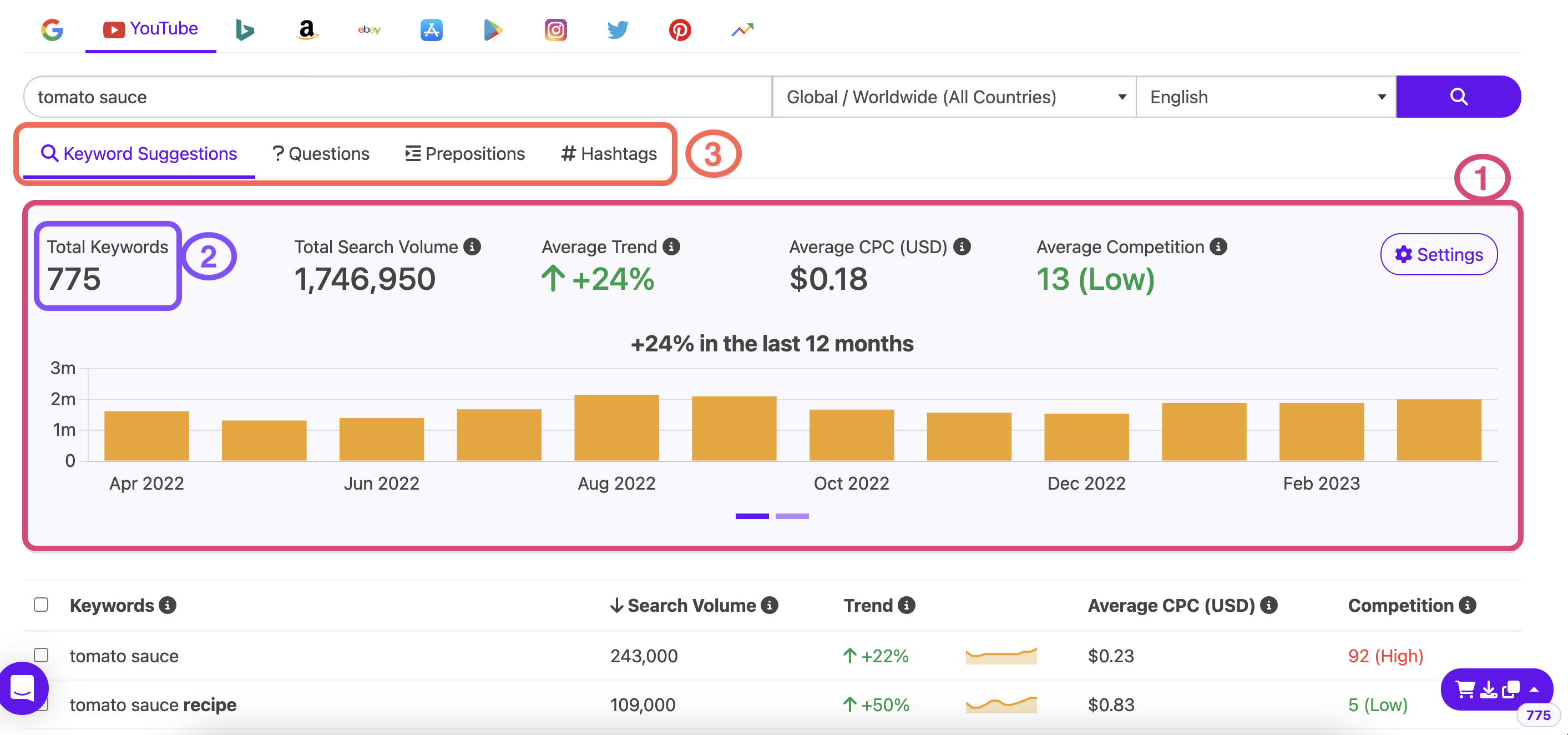 First, you can do an analysis of the overall health of your seed keyword. For every search, Keyword Tool shows you a search result summary at the top. It gives you a quick idea of whether the keyword and its related terms are popular or not. The number of suggestions, total search volume, average trend, etc, are good indicators of that.
Secondly, you can get hundreds and even thousands of keyword suggestions for that single keyword. This will help you identify new keywords that might be even better than the keywords your competitors are using!
And we all know that hidden popular keywords = more organic views = more money and success.
And last but not least, you can get suggestions for different keyword formats, like questions, prepositions, and hashtags. Each of these categories contains additional hundreds of keywords that you can use to your advantage.
The best part is that these are hidden keyword opportunities that your competitor probably has no idea about! Moreover, Keyword Tool gets its keywords directly from YouTube autocomplete, so you can use these keywords with confidence, knowing that they are authentic.
We understand that this may be time taking, but it will certainly reap high benefits.
This is why it's so important to use a keyword research tool for YouTube. You can come across so many powerful, hidden, and trending keywords that are better than the keywords your competitors use.
Start following these keyword research tips and strategies, and you'll see your video on the YouTube trending page in no time!
Frequently Asked Questions