YouTube SEO: 17 ways to boost 🚀 your YouTube channel and start ranking!
YouTube has become a huge part of our lives which is why it has also become an integral part of marketing strategies. After all, it is the second largest search engine right after good old Google. But to succeed on this platform, you first need to know about YouTube SEO.
Building a presence on such a popular platform has its pros and cons. On the one hand, if you're able to master YouTube search engine optimization, you will literally reach millions of people from around the world. On the other hand, it can be challenging to get recognition because it's such a large platform with thousands of creators.
Did you know that 300 hours worth of video content is uploaded on YouTube every minute? That is crazy if you take a second to think about it.
If you search any keyword on YouTube, you'll get many similar videos in the search results. So what makes YouTube choose the top 10 videos that get displayed first? This is what we'll be telling you about today.
Why YouTube SEO is crucial
Before diving into how you can get your YouTube channel to start ranking, it's essential to understand the gravity of YouTube SEO and why it's so important.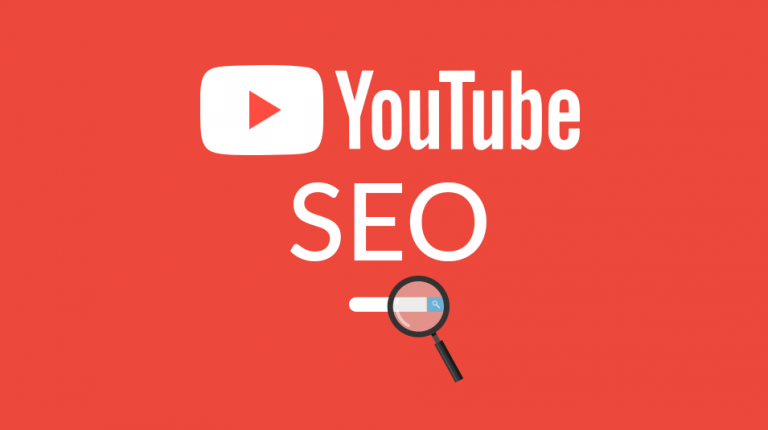 You can think of YouTube SEO as the backbone of a successful YouTube channel. No matter how interesting a video is, chances are it will not perform well if it's not optimized.
There are ways you can get YouTube views outside of YouTube SEO, but they are only temporary. For example, you can share your videos on social media platforms, and it might get a few hundred views from there, but that's it. Since social media posts have a performing life, they will stagnate, halting your external YouTube views.
Sharing your YouTube SEO videos on social media should only be used to boost your video, not as a primary source of views. The primary source should always be YouTube search results or suggested videos.
The point is if you use any other method outside of YouTube SEO, it's going to stop being effective after a certain period, say 2-4 days, depending on how you promote it. After that, your videos will stop getting any views, and this is something anyone would want to avoid, right? Right.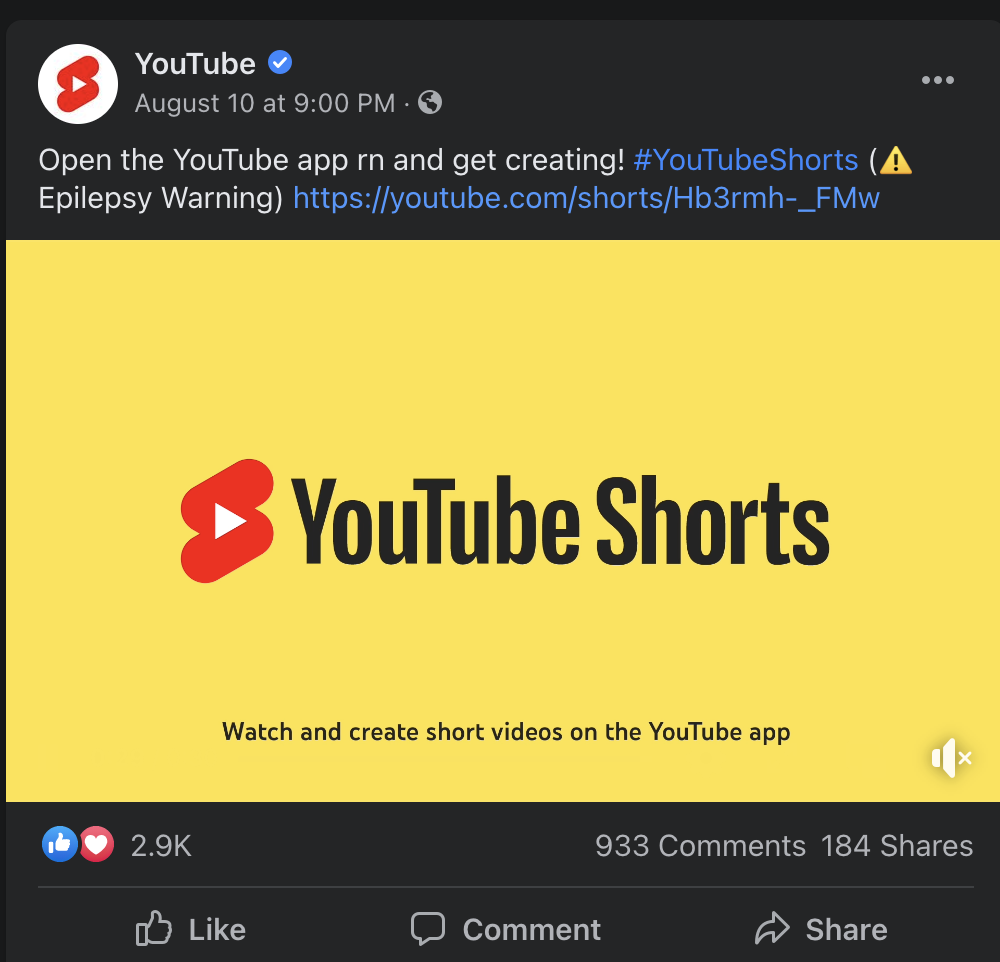 Let's see how you can start ranking and getting views the right way, i.e., YouTube SEO.
How to get your channel in YouTube search results through YouTube SEO 2021
Now we're going to be looking at the 17 YouTube SEO tips to boost your channel. You can treat it as a YouTube SEO tutorial on how to optimize your video the right way.
1. Target the best YouTube keywords
Keywords are one of the most important YouTube ranking factors. However, to make a successful YouTube SEO strategy, it's important to target the right keywords for YouTube videos.
A YouTube Keyword Tool can help you get the exact keywords you can rank for. The best part about using a YouTube SEO tool is that you'll come across hundreds of keywords that you might not have thought of.
Let's suppose you want to create a YouTube video on digital marketing.

Go to https://keywordtool.io/youtube and insert 'Digital marketing.'
Make sure to select your country and language to get more targeted search results. In this example, we've kept it as 'Global/English.'
Once you enter, you'll be taken to this page.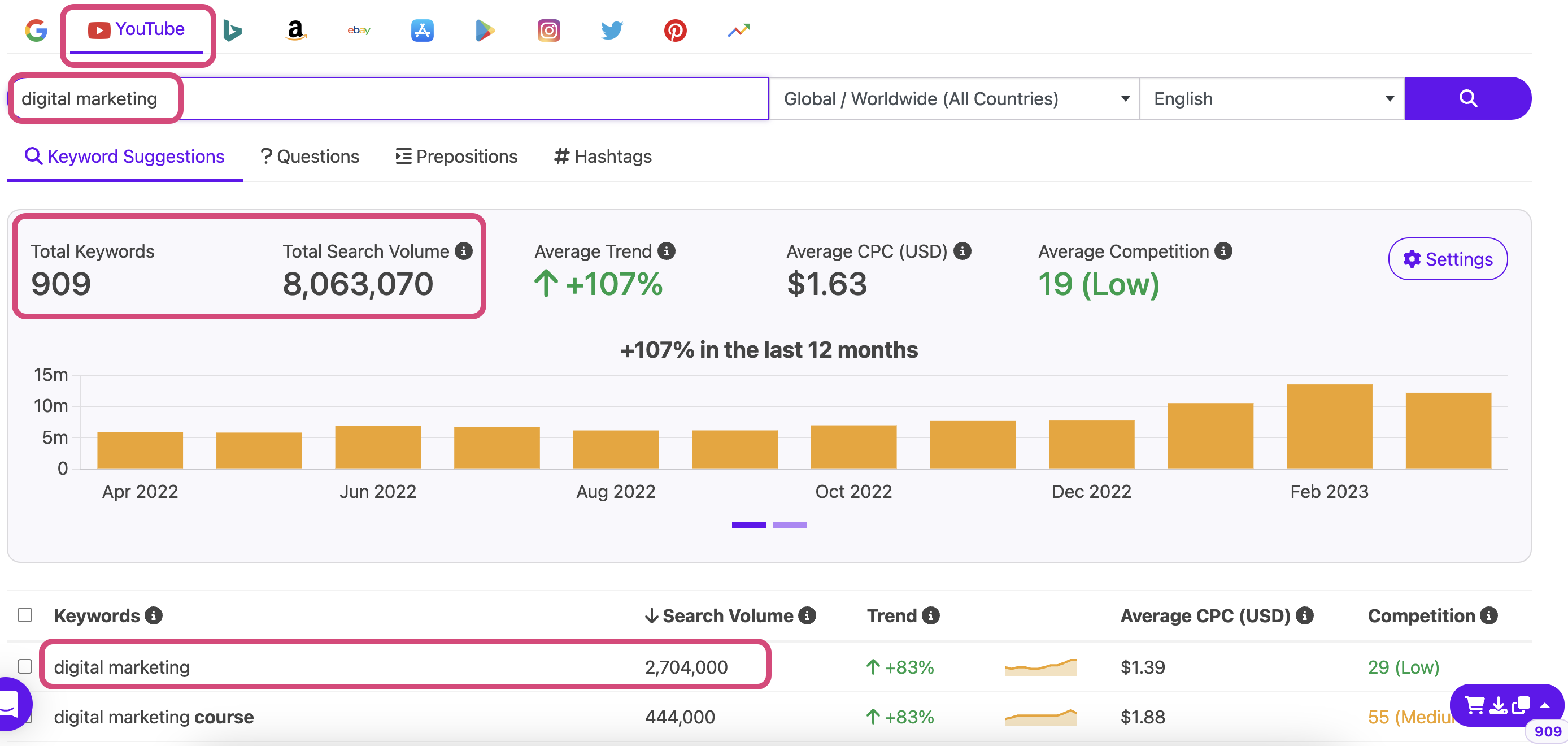 The result has returned over 900 keywords where the average competition is 19, and the search volume is over 8 million, so this is good. Now since 'digital marketing' is a very general term, let's try to narrow it down a bit.
Once you scroll down, you'll come across a list of keyword ideas like this. This is the type of data that will be accessible to you with the Keyword Tool Pro membership.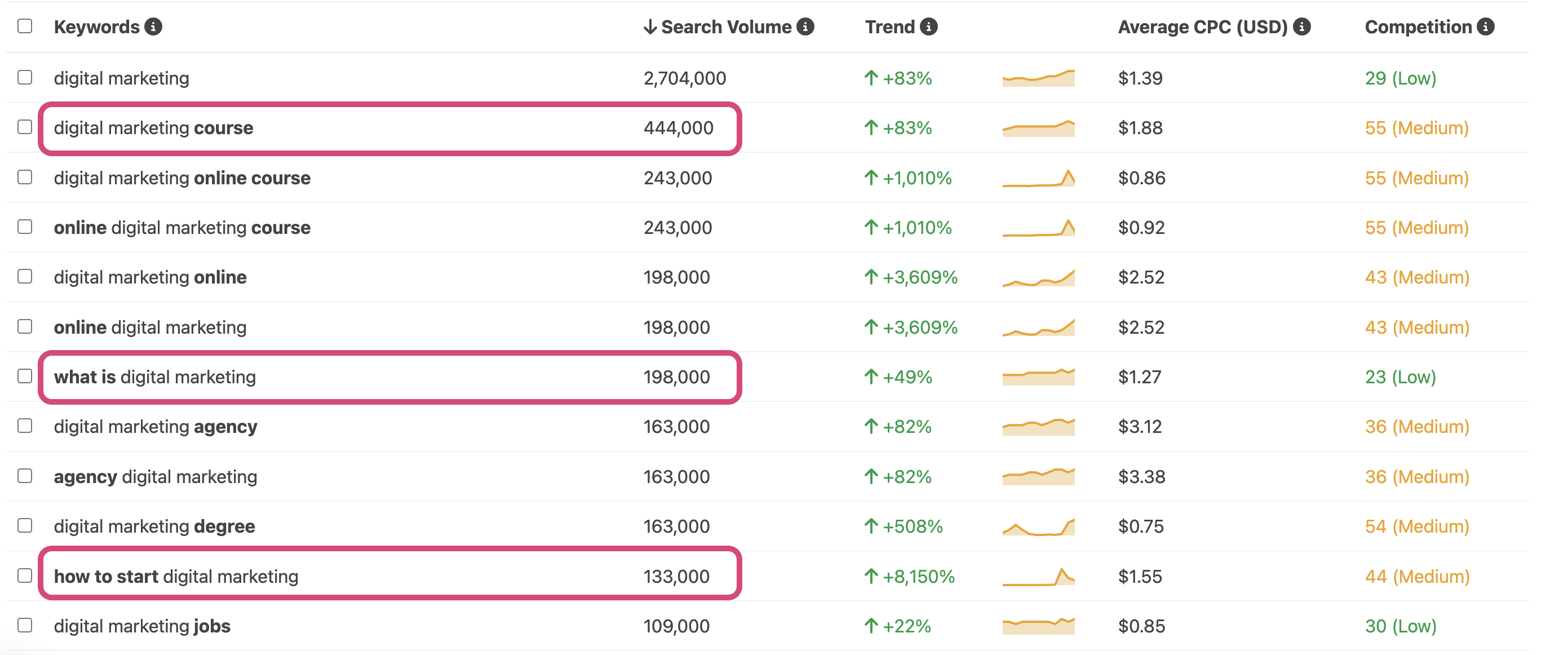 These keyword variations can also be used as content ideas as we have 'digital marketing strategy,' 'digital marketing course,' and so on.
These are terms people are searching for. At the right-most column, you can see a difficulty score has been provided for each keyword. Some are low-difficulty keywords such as 'digital marketing google,' and some are high, like 'digital marketing degree online.'
So now you know to create content around the low-difficulty keywords first before graduating to the high ones.
For more keywords, you can go to the questions section, and as you can see in the screenshot below, this search query has given us 154 questions. This is extremely valuable because, again, these are all questions that people are asking on YouTube.
This is the YouTube SEO jackpot if you ask us.

You can explore the other 2 tabs, 'Preposition' and 'Hashtags,' to get all the trending terms to use in your YouTube video.
Make a list of all the relevant keywords you find this way so you can use them in your title, description, and tags, hence leveling up your SEO game.
2. Optimize your video file's name
This often gets overlooked but is one of the factors that contribute to YouTube SEO. We all know how we label videos, 'draft1.mp4', 'finalvideo.mp4', 'finalfinalvideov3.mp4'. We're all guilty for it.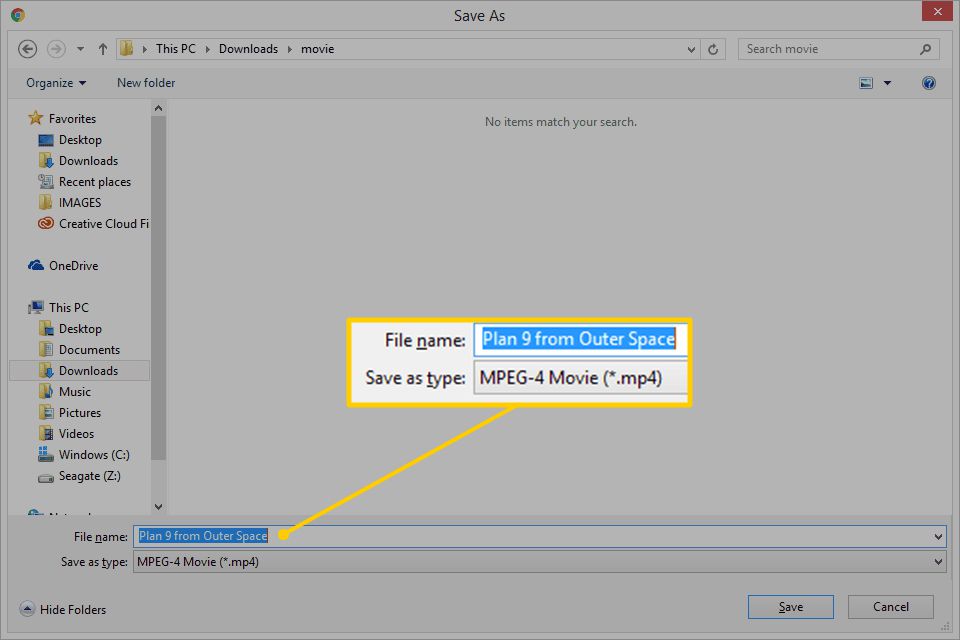 However, consider changing the file name before uploading it on YouTube. For example, instead of a random string of letters, change your file name to 'DigitalMarketingStrategy.mp4'. YouTube is smart and does read the file name. So when it sees that there are keywords present in it, the chances of your YouTube video ranking increase.
3. Add keywords in your title
Remember the keyword list we made while researching? We're going to need it now. The most high-priority keyword that you need to rank for should go in the title.

YouTube allows up to 100 characters in the title so that you can include 2 phrases in your title. This will let you add more keywords. However, avoid keyword stuffing. Your title should sound natural and easy to read to make the viewer click on your video.
4. Optimize description for target keywords
People often tend to get lazy in this section, not knowing that a good optimized description can boost YouTube SEO.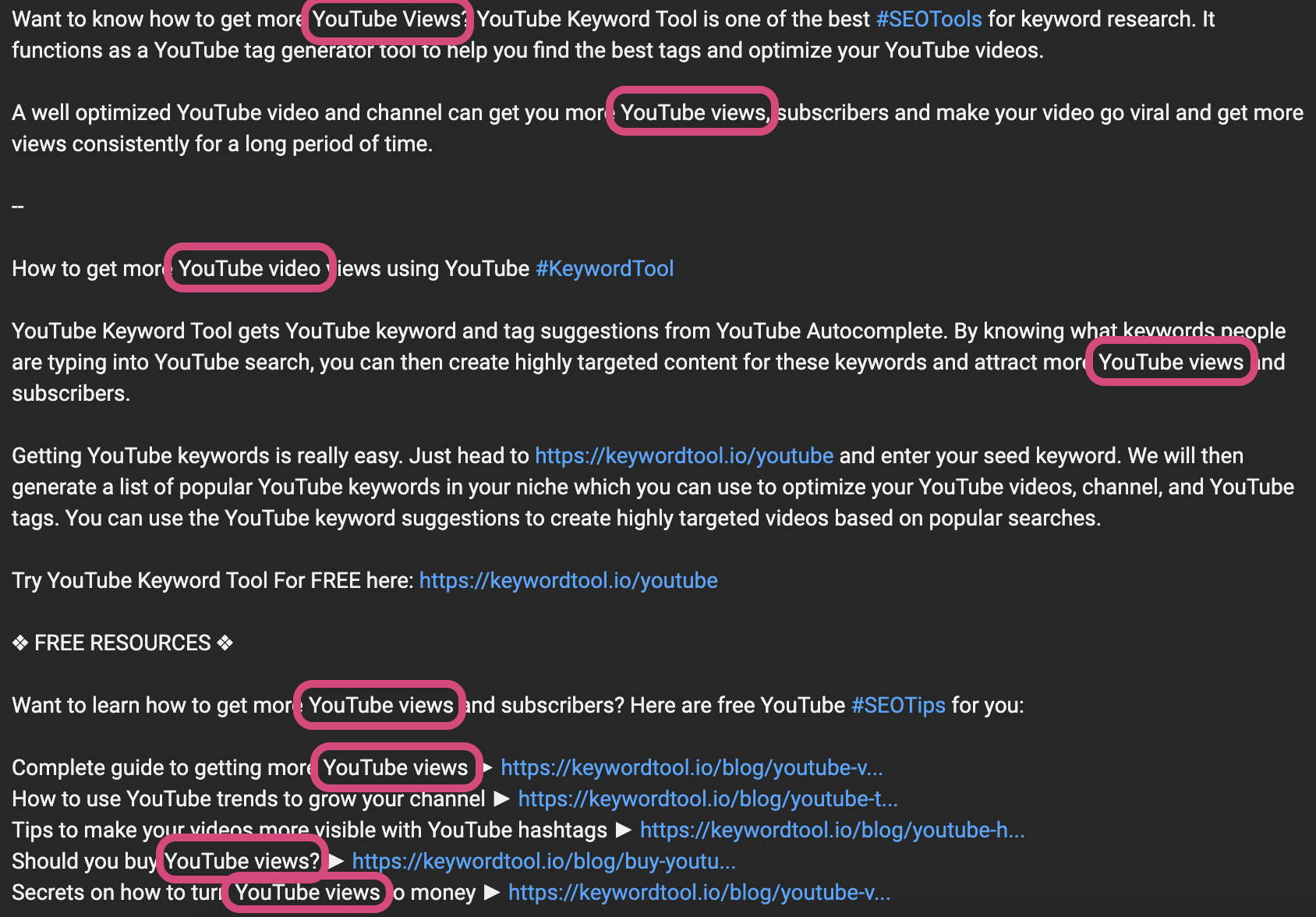 This screenshot is from Keyword Tool's YouTube video, 'How to Get More YouTube Views with YouTube Keyword Tool,' which has over 215k views. See how the YouTube description contains important keywords like 'get more YouTube views,' 'YouTube keywords,' and so on.
It even has relevant hashtags, which brings us to our next point.
5. Don't forget hashtags
Hashtags are also one of those things that get overlooked. The right hashtags can bring in many views, especially if it's trending on social media or seasonal like the Euro Cup.

Hashtags increase your reach and are very valuable, so make sure to use them. In the screenshot attached above, you can see we have used hashtags like 'SEOtools,' 'SEOtips,' and 'KeywordTool.'
You can add as many hashtags as you want, but YouTube only pays attention to the first 3. This is why many creators only put 3 hashtags.
6. Insert relevant meta tags for YouTube SEO
Any keyword that you weren't able to include in the title, hashtags, or description, goes here. YouTube allows up to 500 characters in the meta tags field. To crank it up a notch, enter the most relevant keywords first.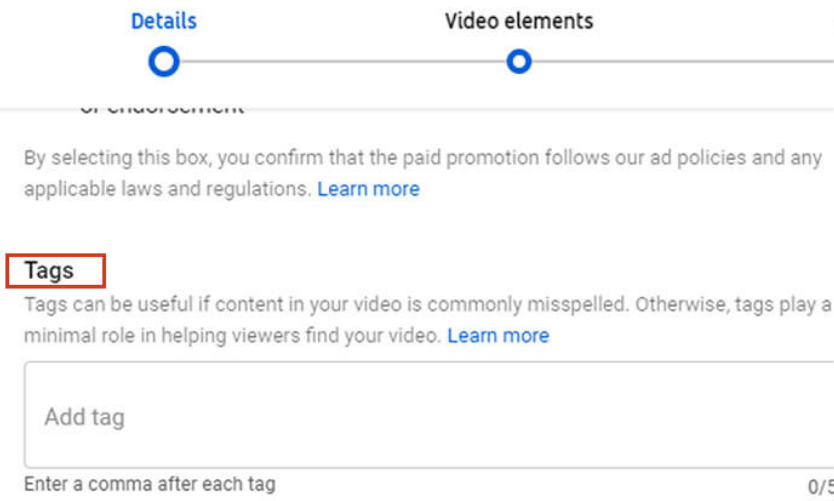 Remember only to use tags that are relevant to your YouTube video. If you deviate from it or add your competitor's name in the tags, then YouTube could penalize you for this. This has happened with many people, and YouTube usually demonetizes the channel for 30 days as a penalty.
7. Closed captions can be a game-changer
Since YouTube can read closed captions, it's just another excellent way to boost your YouTube SEO as keywords will be present in them!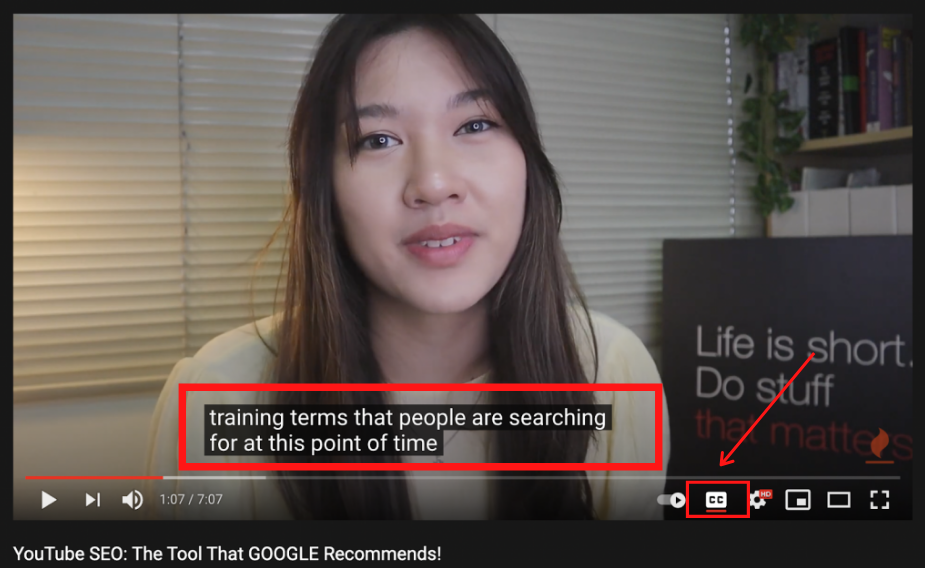 Closed captions are those extra lines of content that not every creator might think of adding. However, those lines add additional relevance to your video. Since YouTube knows precisely what you're talking about in the video, it automatically bumps you up in search results.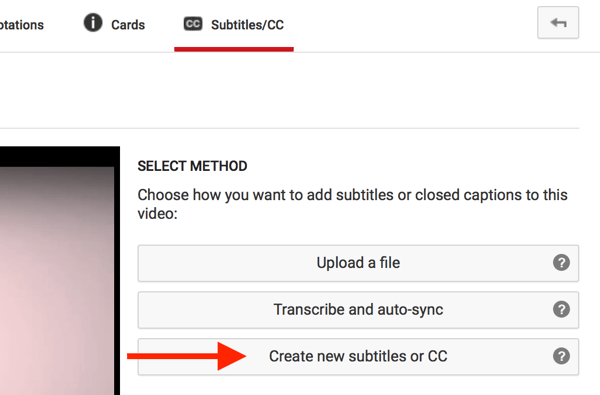 YouTube gives you three options to enable closed captions. You can either upload a file, have them auto-generated, or simply create a new one on the spot.
8. Have a clear CTA
It would be best if you always had CTA at the end of your video. Mostly it's asking the viewers to subscribe to your channel, sharing and liking the video, or following you on social media. It could also be a redirection to a website or a landing page for a product you want to sell.
CTAs can both be in the form of end screens and the description box.
9. Improve your video quality
You'd be surprised at what a huge difference this makes! It doesn't directly contribute to YouTube SEO as YouTube can't tell how many lights you've used in the video or what microphone you've used.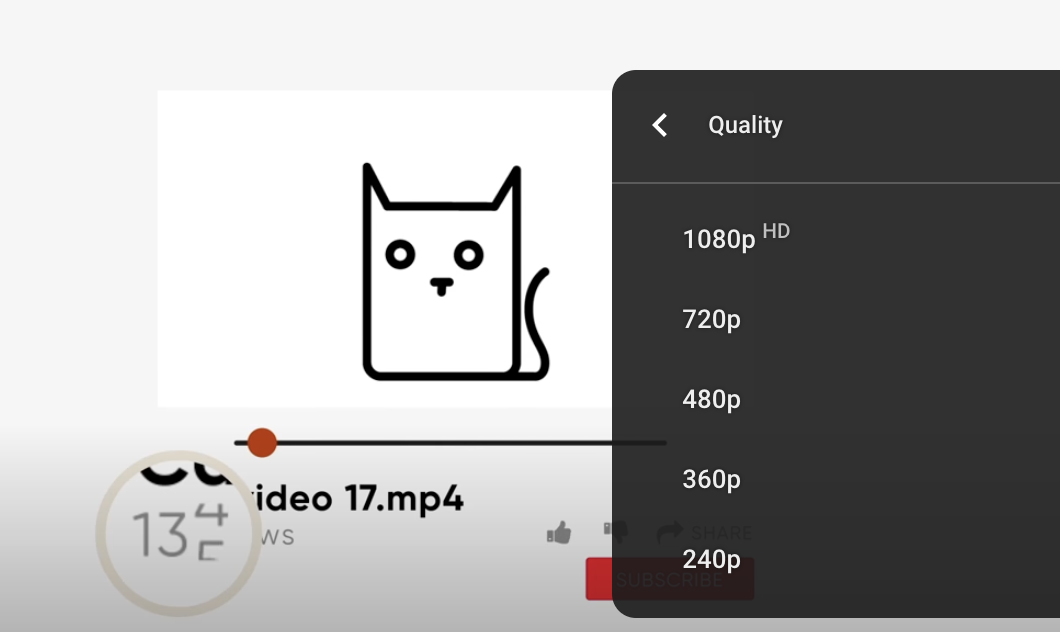 However, a good quality video means the viewer will stay around for a long time, which increases your watch hours and retention rate for the video. These are the two most significant factors the YouTube algorithm takes into account while ranking videos.
More people might even subscribe, which is another good sign.
10. Create your thumbnails
Please don't ever go for thumbnails that YouTube automatically sets for you. They are low-resolution and don't contain the right visuals to attract clicks.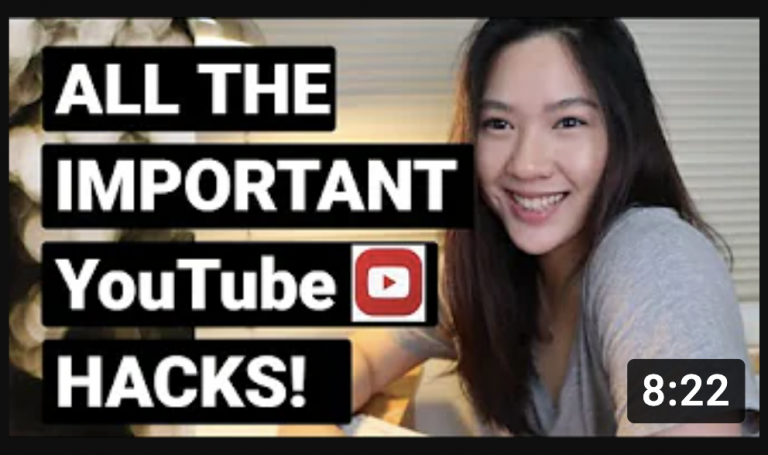 Go the extra mile and create your own visually appealing thumbnails to attract viewers' attention and increase your click-through rate. A good CTR tells YouTube that people are interested in watching this video, so YouTube naturally bumps it up as it wants people to stay on the platform.
11. Share your video on social media
Sharing your video on social media will give your video a headstart to getting views. The first few hours a video is made public are crucial as the performance in this period decides whether or not YouTube would promote the video.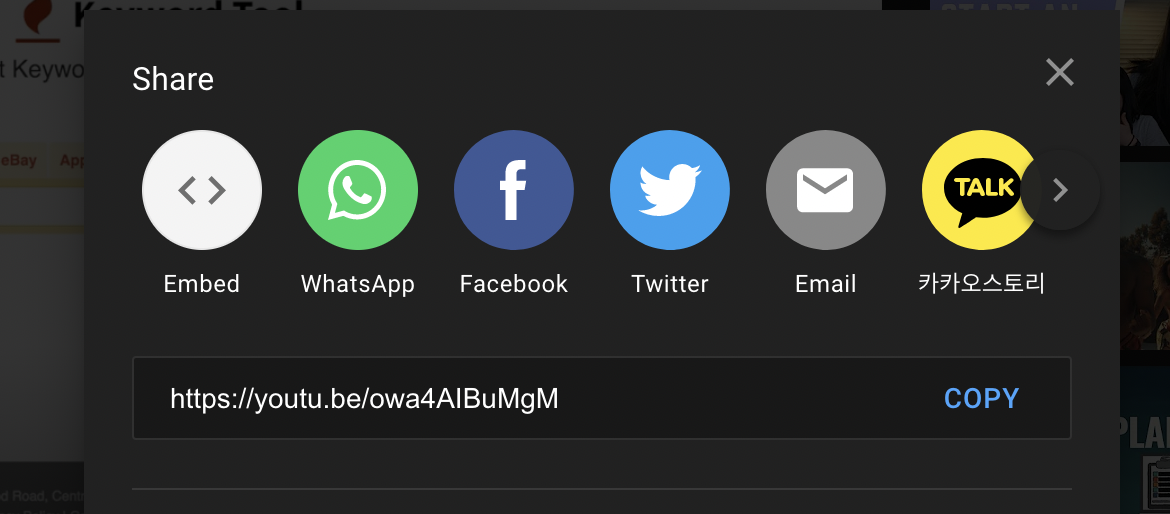 You'll also be targeting different platforms rather than just staying on YouTube. This way, you'll be reaching the audience you otherwise wouldn't be able to. This is also an excellent way to increase your subscribers. We've tested it!
Sharing videos on Facebook has proven to be the most effective as you get many impressions from there! You can share a snippet of your YouTube video and its link on your page and see the magic happen.
Another thing that makes Facebook great is groups! You can share your posts in niche-focused Facebook groups and get thousands of impressions from there too.
12. Add community posts
Community posts are a great way to interact with your audience and update them about upcoming events and videos. You can also announce when you've uploaded a new video with a link.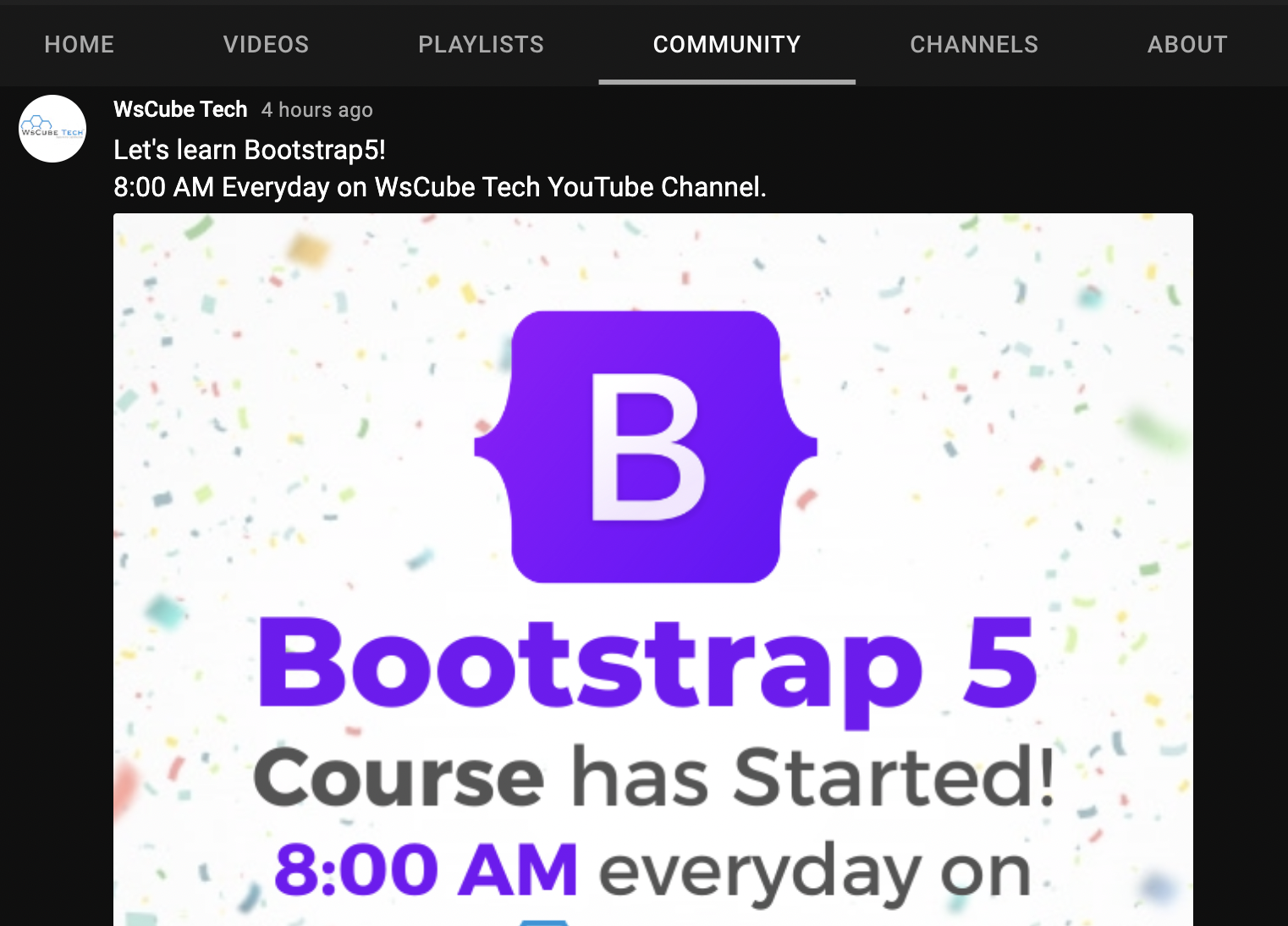 This way, if somebody misses out on seeing your video on their feed, they'll still know from your community post. Posting updates is also a great way to retain subscribers as you'll be interacting with them. Engagement is the most important metric for online platforms!
13. Keep a close eye on the analytics
YouTube has very impressive in-depth analytics that you should leverage. Think of them as a window through which you can check your YouTube SEO. You can find out where you're getting your views, be it external sources, suggestions, YouTube search, or browse features.
By regularly checking your analytics, you'll know what strategies are working and if your performance is consistent or declining.

YouTube analytics can also tell you what search terms you're ranking for, so it's a good idea to create videos around them. Adding those search terms to your meta tags can also give your video a nice boost.
14. Do competitor analysis
By doing competitor analysis, you're exposing yourself to many new ideas to create content around. Just go and check their most popular videos and how they are optimized around what keywords.
For any YouTube keyword that you're targeting, it's better to search that term on YouTube and see what type of results come up, how long the videos are, and so on. This way, you can also see other keywords that your competitors have used and how they have phrased them.
15. Create multiple YouTube playlist
Have YouTube SEO-optimized playlists on your channel. They are a great way to increase watch time and viewer retention, both of which are two great contributors to YouTube SEO.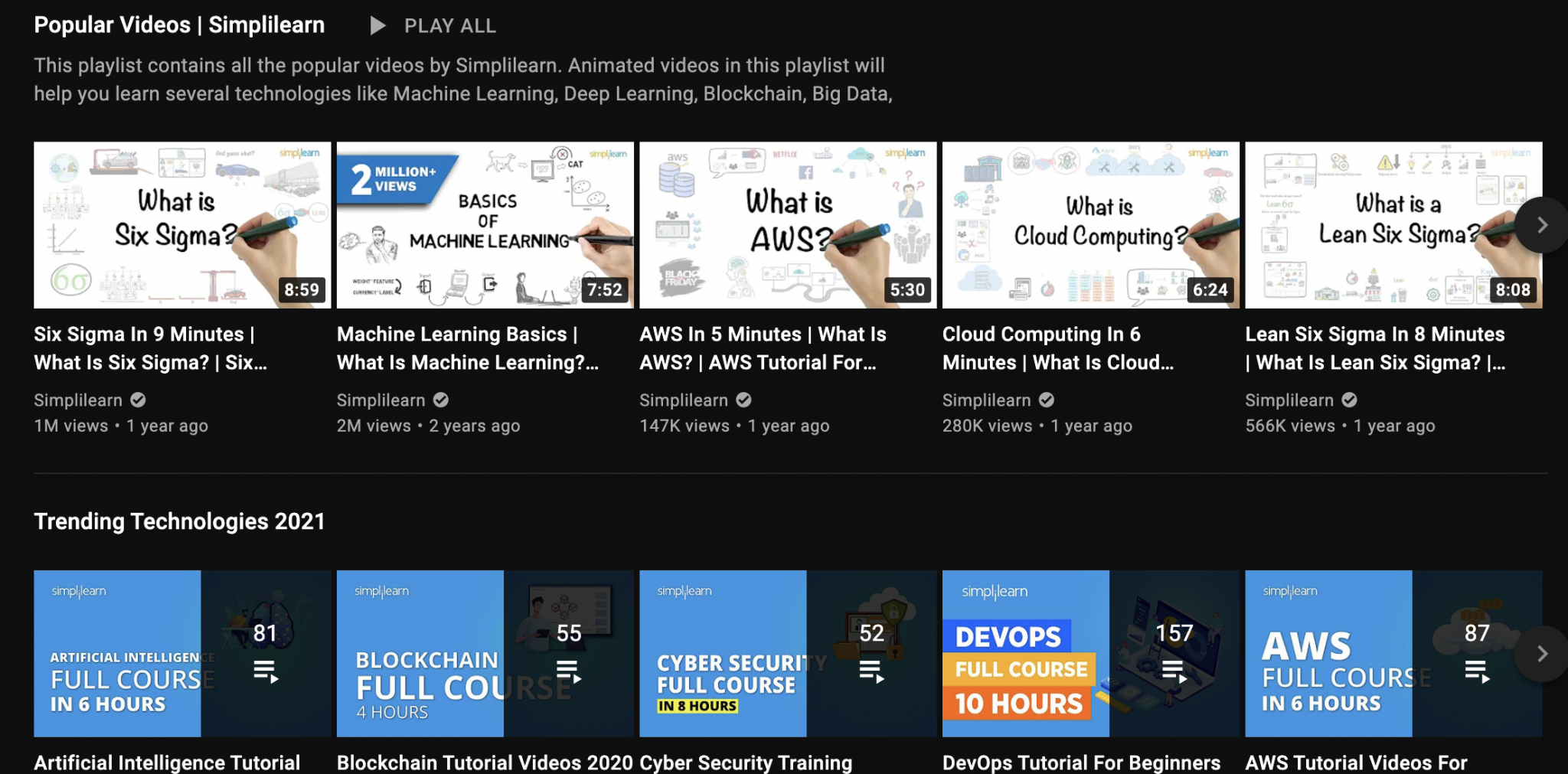 Just make sure the videos you add to your playlist cover the same topic or are cohesive together. Mismatched video topics won't do as well as topics connected like a web.
For example, if you have a cooking channel, you could have different playlists regarding different types of foods. You could have one about chicken recipes, lunch ideas, tropical drinks, and so on. Just make sure the videos complement each other, and you should be fine.
16. Optimize your video length
Most creators often don't pay attention to this. Optimizing video length might seem small, but it can have a profound effect on your YouTube search ranking. The general rule of thumb is to create longer videos as they tend to perform better.
However, that is not always the case. It can vary from industry to type of video. As mentioned earlier, search the keyword you want to rank for on YouTube and analyze the search results.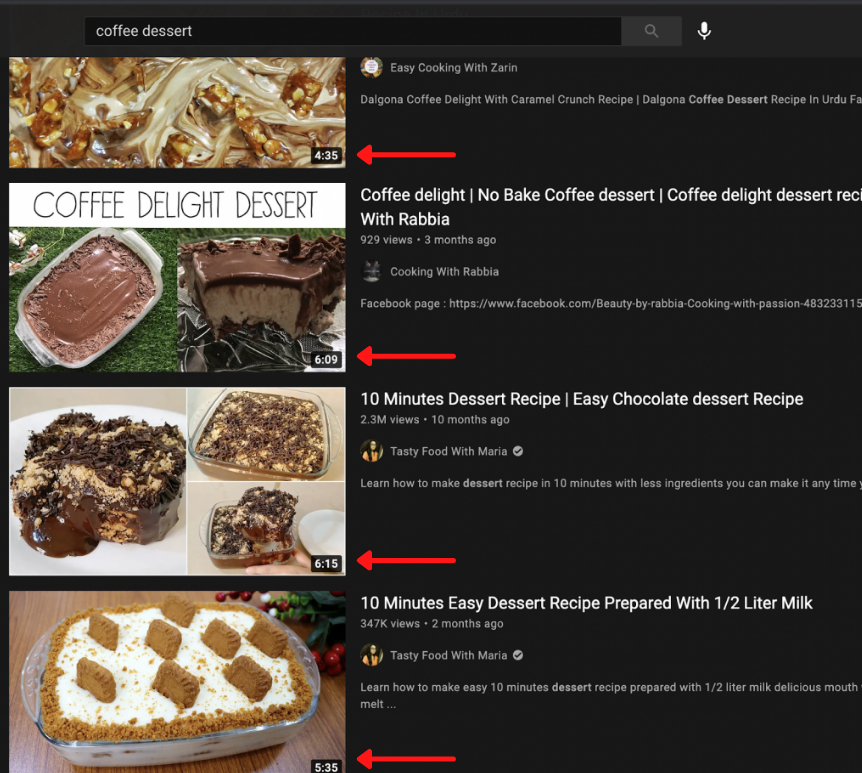 Take a note of how long the top-ranking videos are. If the average time is around 2-3 minutes or 10-12 minutes, you should create videos accordingly. Moreover, If the longest video is 10 mins and the shortest is 6 mins on the result page, your video should adhere to this.
If you're an outlier on either side of the spectrum, then it might not look good in YouTube's eyes, for which your YouTube video ranking could suffer.
As you can see in the image above, all the top-ranking videos are more or less the same length. A 15-minute video on 'Coffee dessert' might not make it to the first page even though it is longer and YouTube prefers longer content.
17. Creating unique content is the key to YouTube SEO
Creating exciting and unique content means a high click-through rate, which means more views. And if the video is well crafted, then also a high engagement rate with more watch time. All of these are excellent boosters for YouTube SEO 2021!
When YouTube takes note of all these, it starts suggesting the video, and your impressions will skyrocket.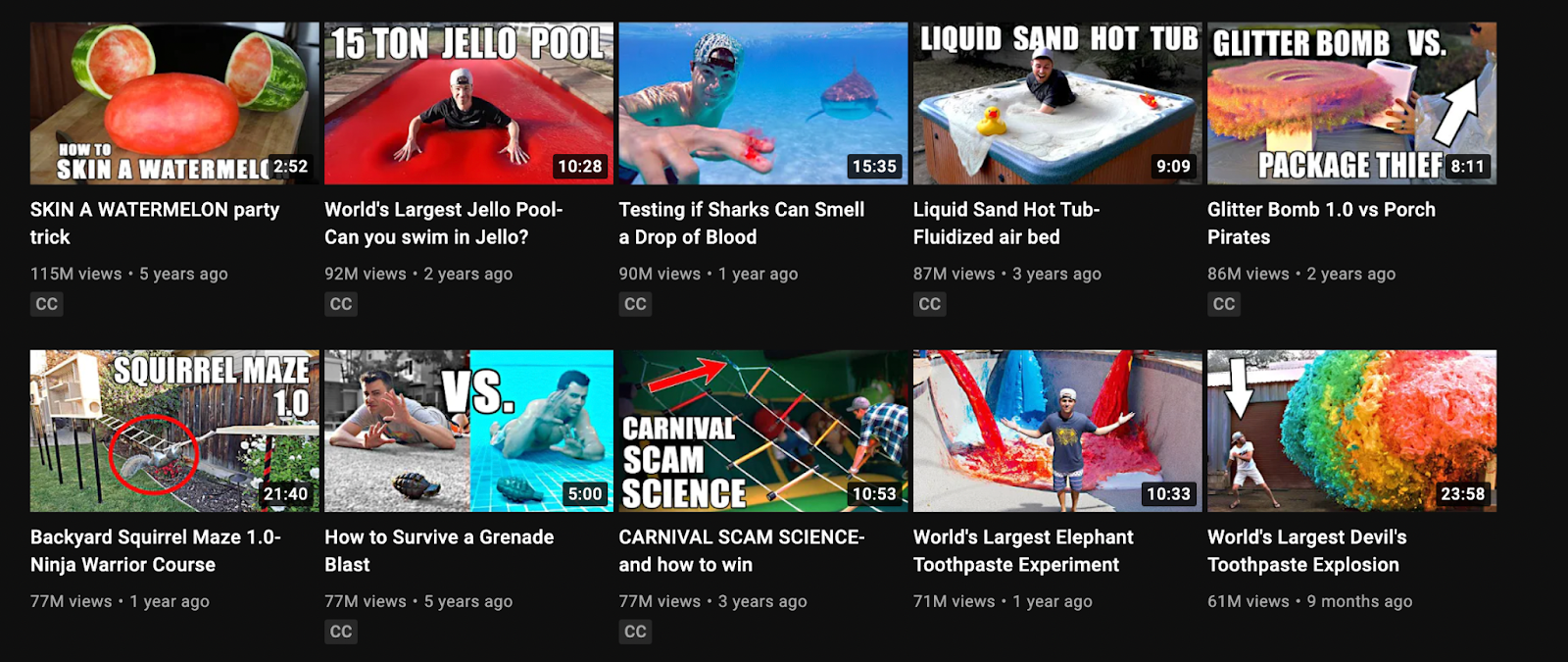 One example of such a creator is Mark Rober, who almost has 20 million subscribers!
Notice the titles and views each video has? It's because his content piques the viewer's interest, and they click it. We bet you want to do the same right now too.
We cannot stress enough how vital a high click-through rate with good quality content is for YouTube SEO. They are the formula that makes a video go viral on YouTube.
In conclusion
YouTube SEO is a massive part of your success on YouTube, so it should not be taken lightly. We've shared 17 YouTube SEO tips that could help you while doing SEO for YouTube channel, so we hope you'll try them out and let us know how they worked out for you!
Remember to be patient, as things don't happen overnight. It's also important to experiment with strategies so you know what works best for you!
Make sure to check out '5 ways to beat the YouTube algorithm to rank videos higher' for even more insights!
YouTube SEO Frequently Asked Questions