🔴 TikTok For Business: Why You Should Start Marketing On TikTok ❱NOW!
Ever since it launched in 2016, TikTok became massively popular among people from all over the world and now boasts over 1 billion active users per month! Compared to all the other social media platforms, it's still relatively new, which is why it's primarily focused on gaining more users than monetizing the platform. Keeping these things in mind, it's high time you start using TikTok for business in 2021!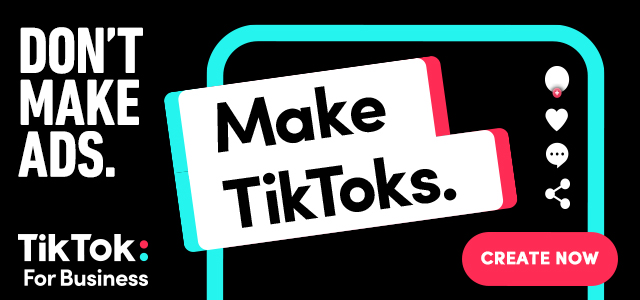 Why you should use TikTok for business
Major social media platforms like Facebook, Instagram, and Twitter have reached a saturation point. This is why it's challenging to gain an audience there. With every passing day, the number of brands and businesses increase on these platforms.
The other problem with these social media platforms is the lack of authenticity they offer. Any business account can boost its number of followers by spending a few dollars, which isn't bad, but gaining organic followers is always best.
This is where TikTok has them all beat. TikTok has the most organic reach compared to all of these platforms, which means you won't have to spend money on anything to gain followers. No matter how small your business is, you will get exposure. Everyone is on the same level field.
Speaking of exposure, this brings us to our next point.
Exposure
Countless brands and companies who decided to take their business marketing to TikTok found success on many levels. The main reason for this is TikTok's algorithm, which routinely shows new content to its users, hence increasing the post's reach and, in turn, brand exposure. Getting exposure not only means you gain more customers but also signifies that your brand is active and thriving.
What makes NOW the best time
As mentioned earlier, TikTok is a relatively new platform that isn't going away anytime soon. It's new enough to get your content out there, but at the same time, it's large enough for your brand to attract attention. Because of this, right now, in 2021, it is the best time for marketing TikTok. As you can see from the graph below, TikTok is gaining popularity at a high rate and even surpassed social media giants with its downloads last year. So, catch the wave before it's too late!
Any good marketer knows the best time to start is always now. The more you delay it, the more opportunities you lose. This is why businesses that took to marketing on other social media platforms in their early days are now some of the most successful companies in the world. It's better to start your marketing soon before TikTok becomes saturated with other advertisers. New brands are creating their profile on TikTok as we speak!
We can talk all day about why you should start marketing on TikTok, and we still won't be able to cover all the reasons. So, for now, let's focus on how you can use TikTok to boost your business.
How to use TikTok for marketing
Before we dive in, you'll need to understand the users who use TikTok daily. The majority of people who use TikTok are under the age of 35, and by that, we mean 85%! We are giving you this information to outline the fact that traditional marketing tactics do not work with this generation as they are not fond of direct advertising.
We did some research and found some effective ways you can advertise, which, of course, we'll be sharing with you. Let's get started.
1. Marketing shouldn't look like marketing
As we just discussed, Gen Z doesn't like advertisements, so you'll need to get creative. The trick is to grab their attention as quickly as possible without giving it away that it's an advertisement. Try to keep up with the ongoing trends like challenges and creating TikToks around popular songs. Once you've convinced the user to watch your content, you win.
This is why TikTok themselves says:
2. Make use of user-generated content
Gen Z loves to be involved, and this is what makes TikTok so popular among them. If you can convince your audience to be involved with your product by encouraging them to share videos of their experience, you'll most likely be able to keep them invested for a long time. We've seen sales of so many products spike just because they became viral on TikTok!
In the image below, you can see that Universal Pictures was able to get its American audience to create over 19,000 videos for them!
3. Use Influencers
Influencers are everywhere, and like every social media platform, they play a significant role in promoting your business. The same applies to TikTok.
TikTok has a very handy feature they call "TikTok creator marketplace". This allows you to see the metrics associated with the influencer you are observing. This includes age, gender, daily usage and even the device they are on. This sort of data is especially useful when you need to determine if a specific influencer will be able to increase your sales or services.
4. Use TikTok SEO
If you want people to discover your brand, this is what you'll need the most. It's not that difficult as it sounds. You need to be able to use #hashtags anytime you upload a video. Like other social media platforms, TikTok also suggests a range of hashtags similar to what you've typed.
There isn't a limit to how many hashtags you can add, but we recommend keeping it to 4-5 as they will also appear in the description. TikTok only allows you to show up to 100 words, so using excessive hashtags will take up valuable character space.
You can use any TikTok hashtag tool to find the trending hashtags and use them accordingly.
5. Be consistent with your uploads
Keep uploading consistently. You might be discouraged at first due to lack of audience, but don't let that stop you. Keep an eye on which video performs better and try to capitalize on it. The initial stages are just trial and error, and since there isn't a massive audience at first, you can freely experiment without worrying about your followers.
The more followers you gain, the riskier it becomes to be experimental with your videos. So while you are still new, try to find your comfort zone and build on it.
Expand your horizon by using TikTok for Business
The advantages of using TikTok for business are too good to be true. You get access to a large audience, on a platform with low competition, to get leads and sales for free! So start marketing on TikTok before it's too late!
The main reason why TikTok is so great for marketing in 2021 is that it doesn't have many brands advertising on it day and night, unlike Facebook and Instagram. So seize the opportunity, and use TikTok marketing so you can get a headstart on your competitors and double your leads!
Suggested read: How To Get Twitter Followers: 20 Effective Tips!
Frequently Asked Questions