How To Use Google Trends ⚡️ To Find Keywords That Rank ⏫
There are many applications of Google Trends that you might never have thought of before. From finding profitable niches to hot keywords currently, there's a lot you can do with Google Trends. Hence, we've compiled all the ways how to use Google Trends in 2022, so you can find keyword opportunities like a pro!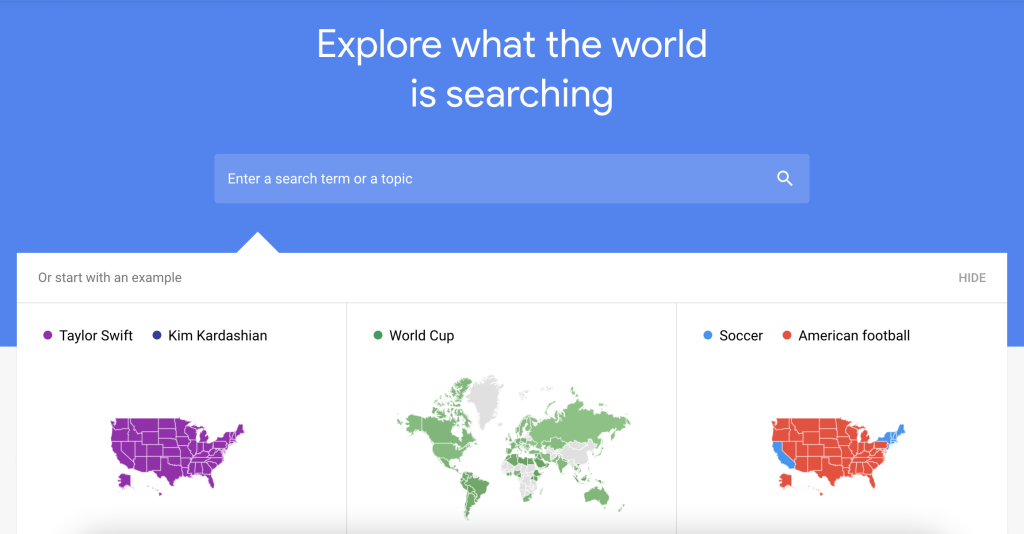 So without wasting any more time, let's get started!
Keyword Research With Google Trends
Finding and using the right keywords will not only attract the right audience, but will also boost your organic traffic and impressions.
You can conduct keyword research in 2 ways: By using Google Trends or a keyword research tool. But how about using a keyword research tool that lets you find result-driven keywords specifically on Google trends? Yes, please!
Introducing Keyword Tool, which not just provides you with the data already available on Google Trends but also kicks it up a notch and gives you access to keyword search volume data, its competition, and CPC. Something you can't get on Google Trends.

Sounds too good to be true? Well, it's 100% real and available to use any time you want.
Let's see how you can use Google Trends on Keyword Tool Pro to find unique keyword ideas.
1. See Keyword Search Volume
This one is fairly easy. Go to keywordtool.io/googletrends and enter your seed keyword in the search bar. Remember to select your location and language setting.
Once you hit enter, you'll be taken to a page like this: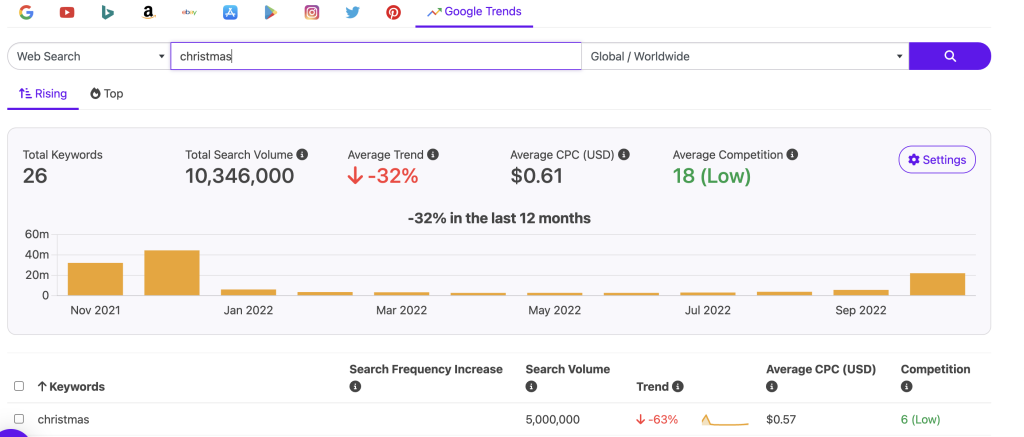 As you scroll down, you'll notice that not only does Keyword Tool show you your seed keyword's search volume data, but it also shows you other related keywords. Something that Google Trends doesn't do.
2. Analyze ongoing trends
Observing ongoing trends with Google Trends will help you determine when and what content to create so it has the highest chance of being seen.
Check out the 'trends' feature and the 'interest over time graph of your seed keyword to figure out the best time to publish a piece of content. You can then finalize your keyword list based on this.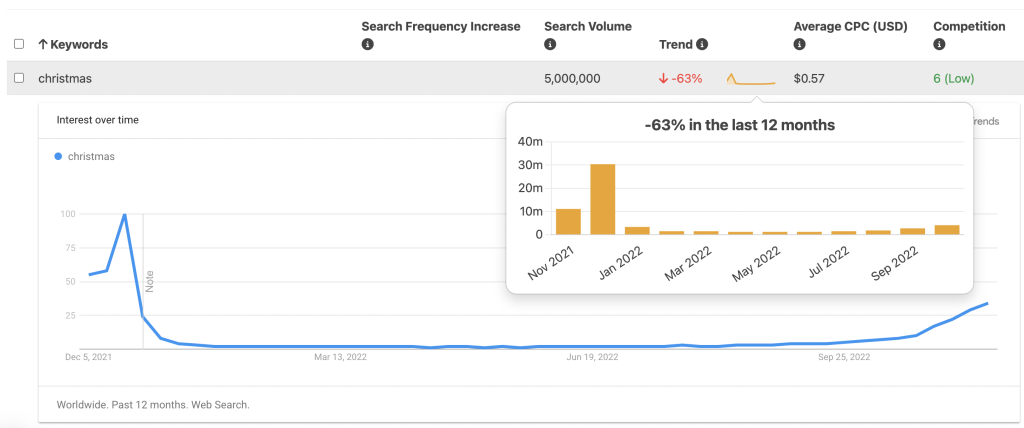 3. Don't Pick Temporarily Famous Keywords
When choosing search keywords, It's best to avoid ones popular on Google only for a short period. For example, 'fidget spinners.' They were very popular at one point, but almost no one talks about them anymore.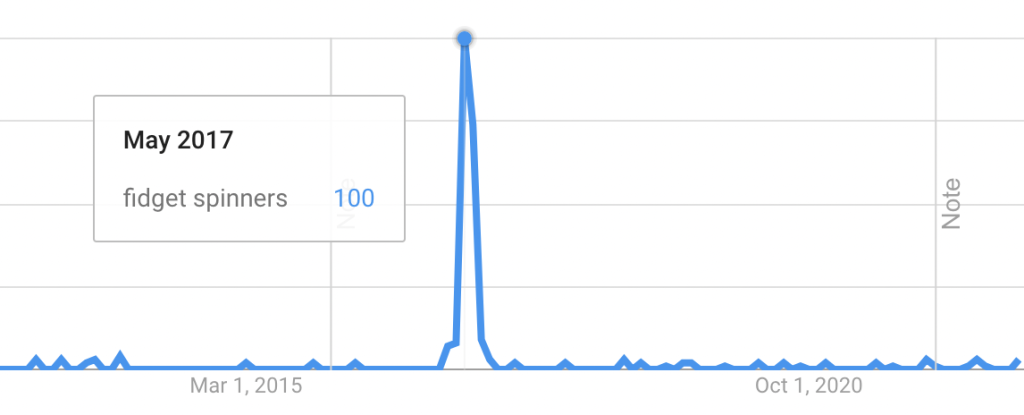 Instead, check out the 'rising' tab to filter out keywords that are trending presently. This way, you'll always be updated on what's trending, hence increasing your chances of ranking on Google.
How To Find YouTube Keywords With Google Trends
We all know that YouTube is big. And it is getting bigger with time.
Keeping a YouTube presence is an excellent way to draw attention to your company and generate leads.
But the harsh reality is, cultivating a YouTube channel is not easy. The key is to create videos that your audience is already looking for. For this purpose, you need to start using Google Trends for YouTube.
With Google Trends for YouTube, you can see how big a topic is in comparison to other topics. What makes it even better is that the results are specific to YouTube search queries rather than general Google searches.
Here's how to use Google Trends for YouTube. Just go to https://trends.google.com and enter your keyword. On the results page, you'll see a drop-down menu at the right-most side.
Once you click on that, you'll see 'YouTube search' right at the bottom. Select that, and you're done! Now you can see data specific to the YouTube search engine rather than generalized.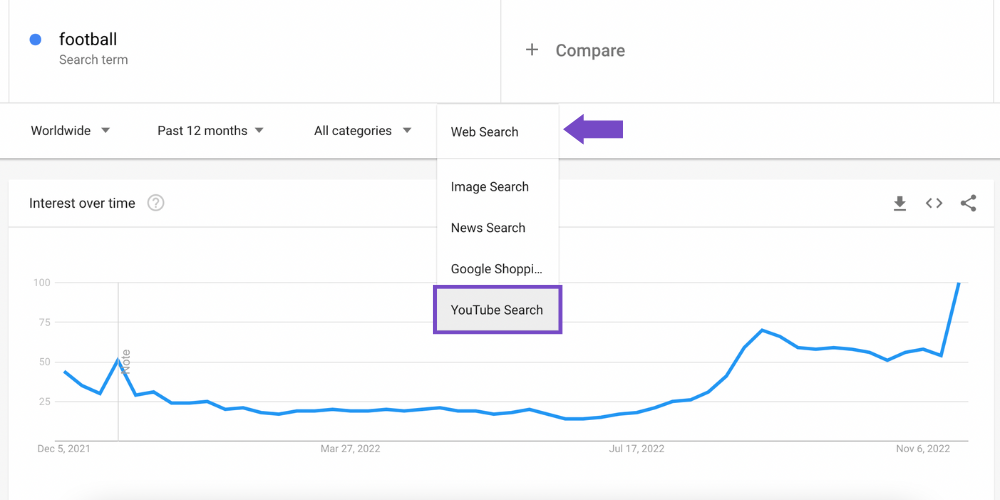 You can also choose the location, time, and the category in which the keyword falls to get even more targeted results.
After choosing keywords on Google Trends, you can plug them into Keyword Tool for YouTube, where you can find out exactly how much search volume that keyword gets on YouTube!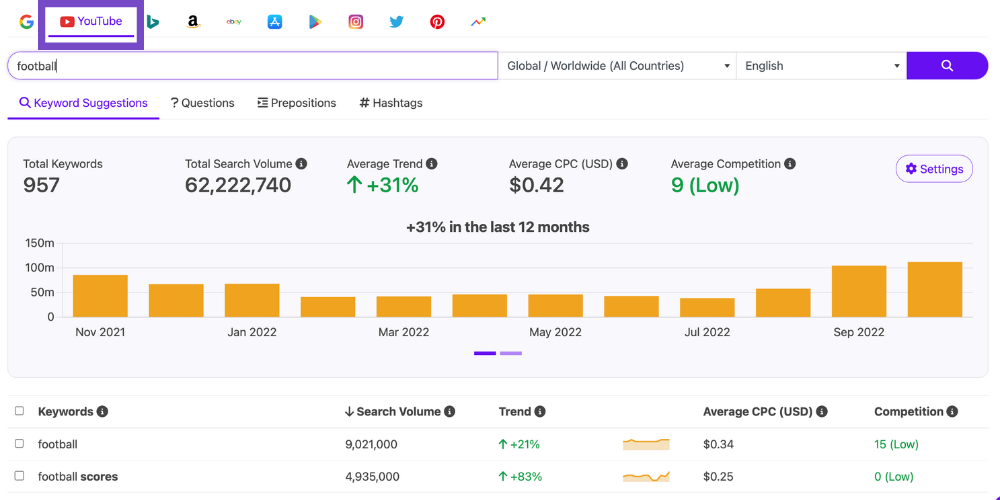 3 Tips To Use Google Trends Like A Pro
To get the most out of Google Trends, make sure to check our tips on how to use Google Trends effectively!
1. Discover profitable Niches Using Google Trends
Google Trends is an excellent resource for locating a rapidly growing niche. It doesn't provide you with actual figures, but it does display the relative popularity of a particular keyword over time.
You can also compare niche topics as Google Trends allow you to enter up to 5 keywords for comparison. This way, you can analyze which is more trendy and go ahead with that.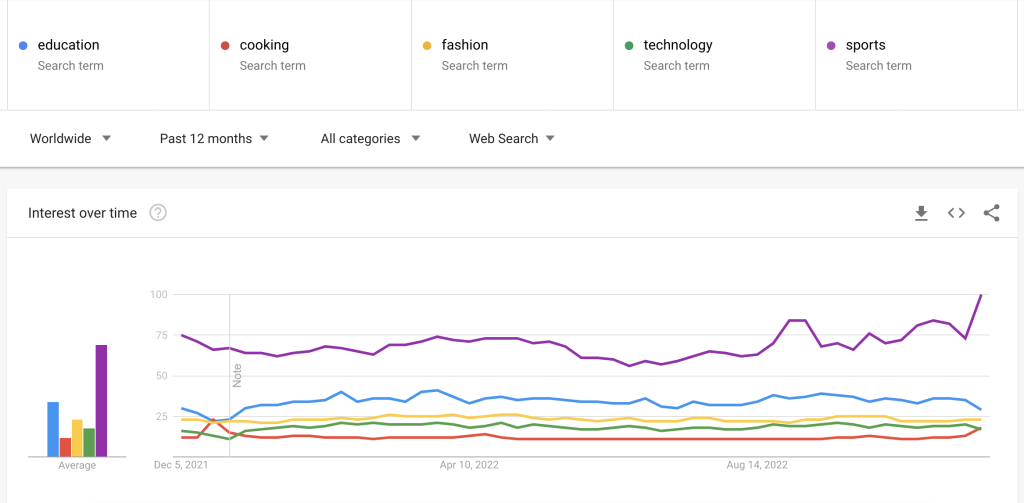 2. Produce Content Based on Latest Trends
Google Trends' homepage contains a section for trending topics. Make sure to look at everyday rising queries, real-time search trends, and country-specific searches to find out what's trending currently.
This is a great way to find and publish content. However, you should also research ahead of time to plan a content calendar and publish a piece of content when its relative popularity is the highest.
3. Compare popularity of a keyword in different places
Not many people know this, but you can actually change the filters of every keyword you put in Google Trends. For example, you can compare the popularity of the fashion brand, Zara, in multiple countries to analyze where it's searched the most.
To do this, first add the keyword 'Zara' under the fashion category. Then inside each keyword box, click on the three little dots and select 'change filters.' Then add the region you're interested in and repeat for the others.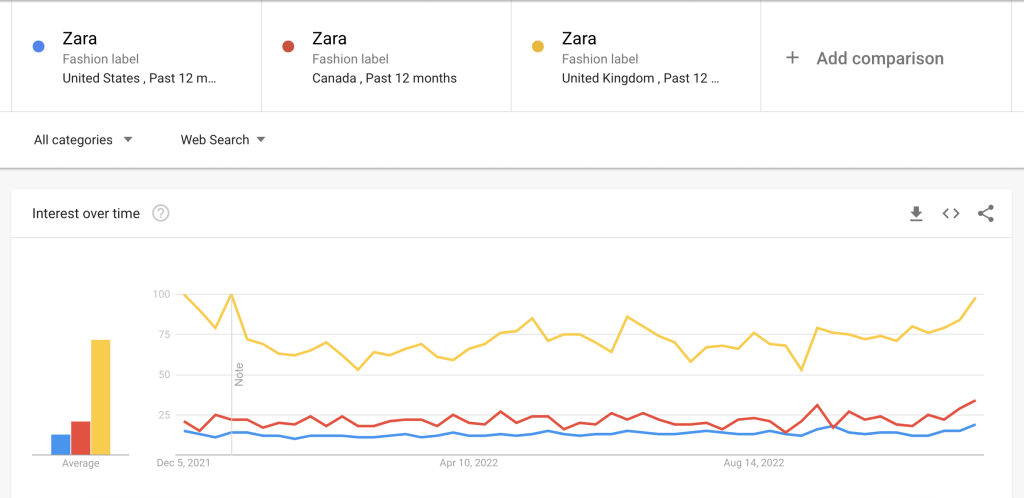 After you hit enter, you'll get a comparison graph notifying you where Zara is searched the most, in this case, it is the United Kingdom.
Are You Ready To Ace Google Trends For Keyword Research?
Google Trends is a handy tool that provides information to help your business succeed, from helping you plan ahead to identifying a rapidly rising niche.
Make sure to couple this with Keyword Tool Pro, and you've got yourself an iron-clad strategy that will not fail. We hope you found this article on how to use Google Trends to find keywords useful. We wish you all the luck in finding ranking keywords!
Suggested read: Search Engine Optimization: How to Write SEO Content That RANKS!
Frequently Asked Questions
After you enter a keyword in Google Trends, you will be shown some filters and below them a graph for interest over time for that keyword. In the filters, look at the last drop-down menu titled 'web search'. Once you click on it, you'll see an option for 'YouTube search'. After you select that option, the Google Trends graph will change according to the keyword's popularity on YouTube.
Google Trends is a powerful tool that lets you compare up to 5 entries at the same time. This means you can compare the popularity of different niches or products in a specific region over a specific period of time. Or you can analyze the market demand of a single product or service in 5 different regions, or 5 different timelines. There are endless ways to play around with the filters to perform market analysis.
Yes, Google Trends is accurate since it's a keyword research tool that is created by Google itself. However, it only shows the relative popularity of a keyword, not the actual search volume data. To get search volume data for Google Trend keywords, please use https://keywordtool.io/google-trends.