How to Find the Best Amazon Keywords for Your Products
Amazon keyword research is one of the most crucial steps for an Amazon seller or FBA seller product launch. The process involves choosing a focus keyword or long tail keywords to attract your target customers and also to boost up your ranking on Amazon.
Many might not realize this, but Amazon is actually a search engine. And one of the largest ones on the web. The majority of people who go to Amazon and browse the site use the search bar to key in the name of the brand or type of product they are looking for. Which means the search behaviour on Amazon is quite different than that of on other search engines like Google or Bing (where users usually search for information rather than to purchase products).
On the other hand, most users on Amazon already know or roughly know what they want and they use Amazon search to locate the products that they want to purchase. This is why keywords are such an integral part of an Amazon listing. The better an Amazon product is optimized for search, the more people will find that page or product (which then, increases the potential of the Amazon seller receiving a sale).
With the right keywords, your Amazon keyword research will provide search term options that are highly relevant to your product. The question is: how do you pick the right keywords for your Amazon product? Here are a few things you need to consider before you start your keyword research efforts:
1. Find out where your Amazon keywords come from
The first thing to consider is where your keyword data comes from, whether it originates from Amazon autocomplete or other search engines such as Google, Bing, and YouTube. By figuring out where your keyword data is from, you'll know if your product will be discovered by customers in Amazon search results. In addition to using standard search engine data, you also have to think about the customer intent of that search data as well.
That is because people use search engines with different purposes and intentions, which means that the search data also varies with them. For example, people who search for products on Google, Bing, or YouTube are generally trying to find more information on those products, not to purchase the products themselves.
On the other hand, when people go on Amazon to search for products, their intent is to purchase those products. That's why it's important that you make sure that your keyword performs well in Amazon's A9 algorithm as much as it does in Google Analytics. To ensure accuracy, the data you are referencing should be based on Amazon estimations rather than other search engines. You can use an Amazon keyword research tool such as Keyword Tool for Amazon to help you with your keyword decisions.
2. Perform Amazon keyword analysis on your competitors
Another thing to take into consideration is the strategies that your competitors are implementing. This can give you some great insights to improve your own Amazon efforts. While you want to stand out from your competitors, you can learn a thing or two from them, especially those successful ones.
When coming up with your own keyword list, you can also reverse-engineer your competitors' keyword strategy by running a reverse ASIN number search on Amazon. This will allow you to see a list of products that are related to the ASIN number and what keywords they use in their product titles and descriptions. Then, you can figure out what related focus keywords that your competitors are missing out on so that you can use them to your advantage.
3. Find out the relevancy of your keywords to your Amazon product
One of the most important elements when it comes to picking the best keyword on Amazon is relevancy. Think about the reaction your target customers will get when they type in your selected keyword or phrase into the search box. If they're confused rather than happy to see your product appear in the search results, then it's likely that your chosen keyword may not be what they're looking for. While relevant search terms are crucial to your potential customers, they're also important to Amazon's algorithm as well.
If you have an irrelevant or wrong keyword for your product, then customers are most likely going to disregard your listing, which can hurt your Amazon rankings. As a matter of fact, Amazon may even de-index some keywords if one that you are attempting to rank for is irrelevant to your product. To improve your keyword relevancy, you can choose a keyword that mentions an important feature that makes your product special and one that sets your product apart from your competitors.
Another crucial precaution you need to take is to avoid keyword stuffing. Make sure you only use relevant keywords that are closely related to what your product is all about. Keywords are meant to help your target audience find your Amazon products or page by giving them what they want – which are keywords related to your brand, titles that help them find your products, and descriptions that give them value.
4. Do your keyword research using Keyword Tool for Amazon
A lot of people do their keyword research manually by browsing Amazon pages, filtering through common keywords through tonnes of products, and guessing the keyword popularity. There's nothing wrong with that approach, of course. But it's often very ineffective.
Instead, you should be using an Amazon SEO tool like Keyword Tool for Amazon.
With the tool, you'll be able to generate hundreds of relevant focus keywords and long tail keywords to optimize your Amazon products and page. The tool also provides important data like search volumes, trends, cost-per-click (CPC), and competition level.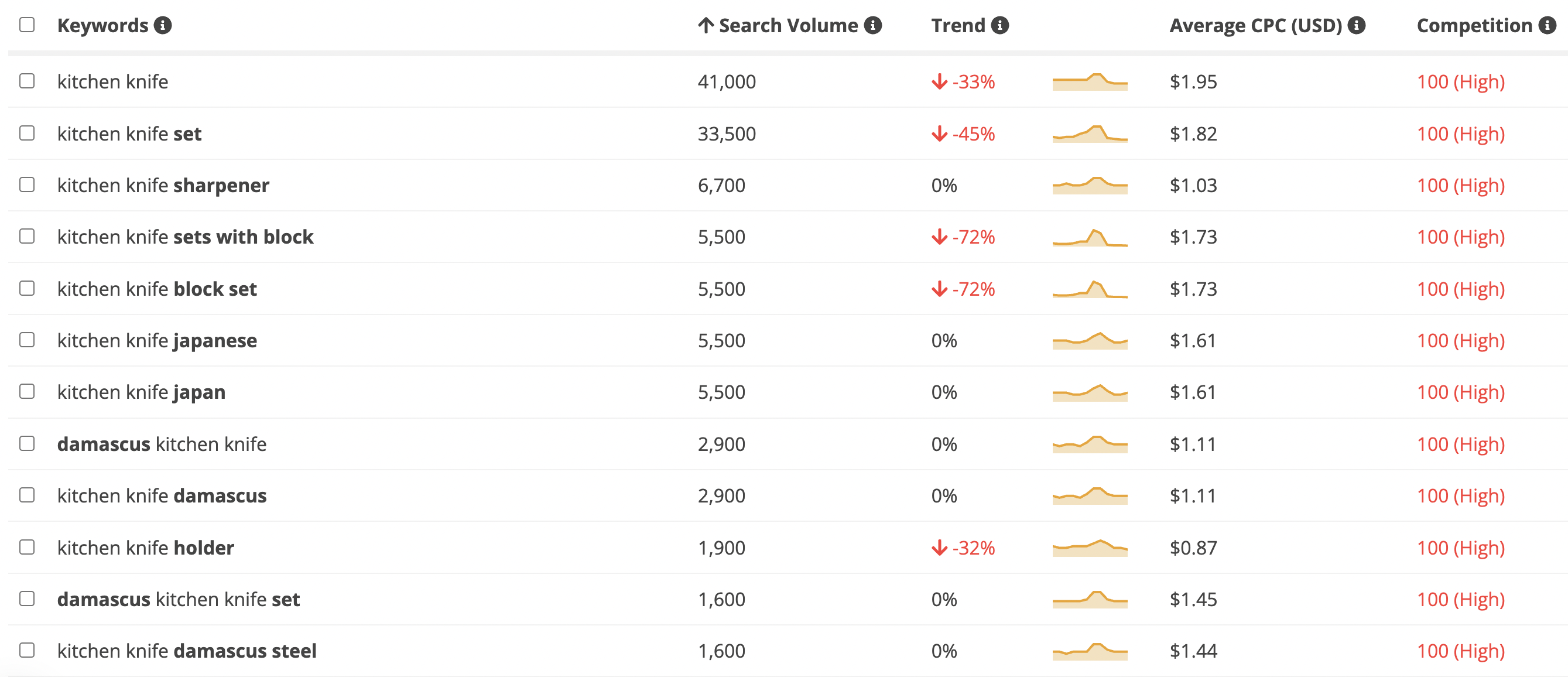 These are useful information that can help you estimate whether or not there are enough people searching for your chosen keywords (in a month, a season, or a year). It can also give you additional keyword ideas that you might not have thought about before.
5. Identify optimal keywords to use for your Amazon ads
If you want to push your content or products on Google Ads, you can easily find keywords using Google Keyword Planner. The tool will show you estimated search volumes for different keywords that you can then use to optimize your ads better. But the same can't be said about Amazon.
Amazon doesn't provide a keyword tool like how Google does, and most Amazon sellers need to guess their keywords and run trial-by-error ads to identify the best type of Amazon keywords to use. It often turns out to be a time-consuming and expensive exercise. A better and more effective option is to use an Amazon SEO tool like Keyword Tool.
Keyword Tool for Amazon can be incredibly valuable for optimizing your Amazon ads. By using the data provided by the tool, you'll be able to identify the best keywords to use for your Amazon ads based on its search volumes, CPC, and competition level. The trends chart shown in each generated keywords can also be used to gauge the most optimal times to push your Amazon ads.
If you're looking for an Amazon keyword research tool, take a look at Keyword Tool for Amazon today. It's easy to use and completely free!