100 Most Asked Questions on Google in 2019 & 2020
For our 2019 wrap-up, we've listed here the 100 most asked questions on Google.
We pulled this data from Keyword Tool and categorized them based on the Five Ws (and 1 H, and a few others).
Before we show you the complete list of 100 most asked questions on Google last year, we'll kick off this article with a summary of the top 10 most asked questions and the average monthly search volume:
when are the nba playoffs – 5,000,000
what is my ip address – 4,090,000
where's my refund – 3,350,000
what is love – 1,830,000
how to draw – 1,500,000
where am i – 1,220,000
how many weeks in a year – 823,000
when are the early signs of pregnancy – 673,000
is mercury in retrograde – 550,000
who called me – 450,000
The only exceptions to the top 10 list are "when are the nba playoffs" and "where's my refund." Both of these searches (as shown in the screencaps from Keyword Tool below) are seasonal in nature and based on large annual events.

The NBA Playoffs, like most sporting events, happens on a seasonal basis. The playoffs officially began on 13 April 2019, but fans were already asking Google about event's starting date as early as February (135,000 searches). Searches spiked in March (450,000 searches), significantly increased in April (20.4 million), and peaked in May (30.4 million).

Meanwhile, "where's my refund" were searches made almost exclusively by residents in the United States regarding their tax refunds. According to the IRS policies, they start processing tax refunds on 15 February 2019 for income filed in 2018. That explains why taxpayers begin asking about their tax refund status on Google in January (2.74 million searches) and later peaked in February (24.9 million searches).
Aside from those two seasonal question keywords, the other questions had a more steady and consistent number of searches month-to-month. They are – what we'd like to call – evergreen questions. And there's a whole lot more from where they came from.
Here is the complete list of 100 most asked questions on Google for 2019:
Most Asked Questions for "What"
[table id=1 /]
Most Asked Questions for "Why"
[table id=2 /]
Most Asked Questions for "Who"
[table id=3 /]
Most Asked Questions for "When"
[table id=4 /]
Most Asked Questions for "Where"
[table id=5 /]
Most Asked Questions for "How"
[table id=6 /]
Most Asked Questions for "Does"
[table id=7 /]
Most Asked Questions for "Is"
[table id=8 /]
Most Asked Questions for "Can"
[table id=9 /]
Most Asked Questions for "Are"
[table id=10 /]
As you can see, people are a curious lot. And we sure ask a lot of funny questions. These large number of searches also shows how much user behavior online has changed. Today, Google doesn't just help users find information. It also assists in showing relevant searches based on user intent.
People use search engines like Google as an intelligent assistant to help them find relevant information in the easiest and quickest way possible. And one of the more popular ways that people search on Google in by asking questions.
Use question-based long tail keywords to create new content for 2020
If you're planning to create a new content direction or looking for new keyword ideas for 2020, a great way would be to use long tail keywords in the form of questions. Keyword Tool is the only keyword research and SEO tool that has a dedicated function to help users find high-volume question-based keywords.
All you need to do is input the focus keyword or topic in the input field on Keyword Tool and click the "Questions" tab. For example, if you're running an online pet store with dog owners as your main customers, you can create new content that answers a lot of questions related to dogs that get asked on Google.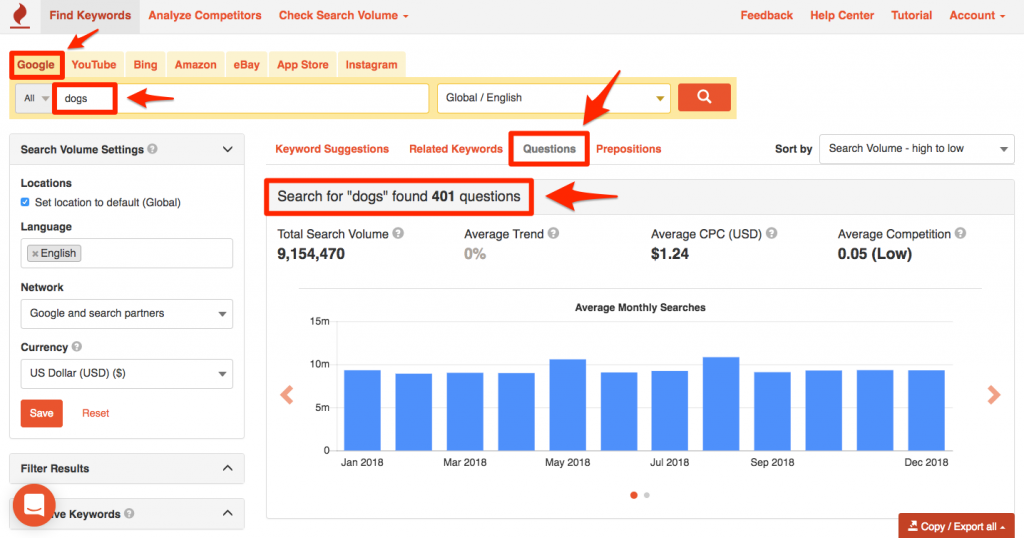 At a glance, it's clear that the question-based keywords for "dogs" will make great search terms for your content. They attract large yet consistent search volumes month-to-month and has relatively low keyword competition levels. Scroll down and you'll find a long list of dog-related, question-based long tail keywords: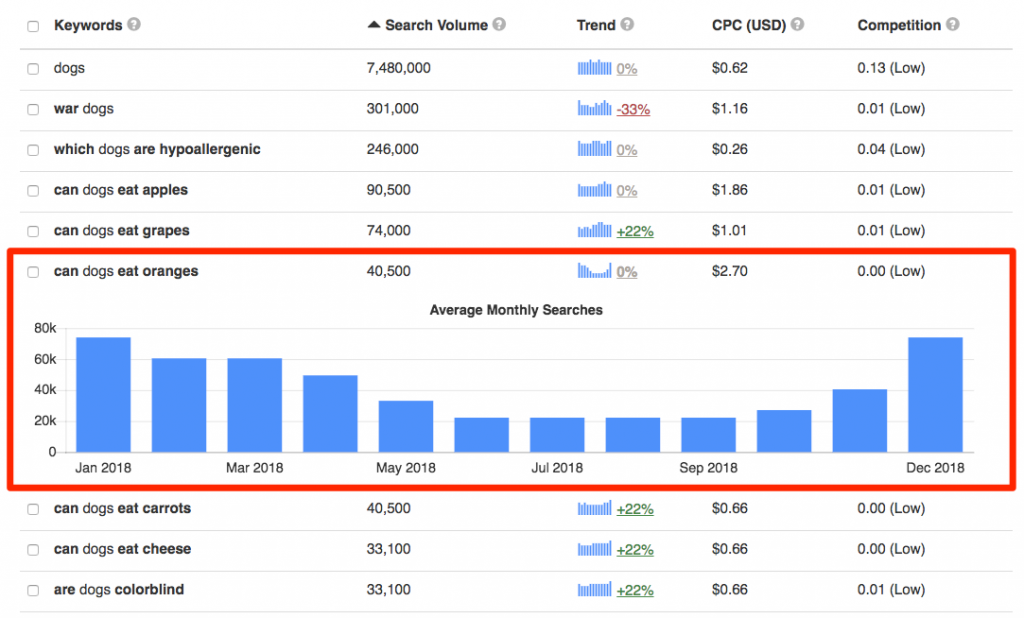 Putting aside the first two keywords of "dogs" and "war dogs" (which is a popular Hollywood movie), the rest makes for suitable long tail keywords for your online pet store blog. Another useful feature on Keyword Tool is the month-to-month trend graph. When you click on the keyword "can dogs eat oranges," there's a clear dip in searches between the months of May to November.
Analyze keyword trends for optimal SEO and better content planning
What does that tell you and how does it help in your content planning? For this particular keyword, the low search volumes in those months reflect consumer habits in the United States. Oranges are available between November to April but the fruit's supply peaks between January to March, which explains why the search volume in the graph above is highest in those months too.
With this data, you'll have a clearer idea of not just what keywords to use but also which market to target and when to post and promote your content. This kind of insight is incredibly useful for article creation, social media promotion, and Google Ads buying. The best part? You can apply this to any type of content and keyword that you'd like.
Now, let's go back to the "dog" question-based keyword list. Scroll down further and you'll find an exhaustive list of questions with high search volumes covering a variety of subject matters: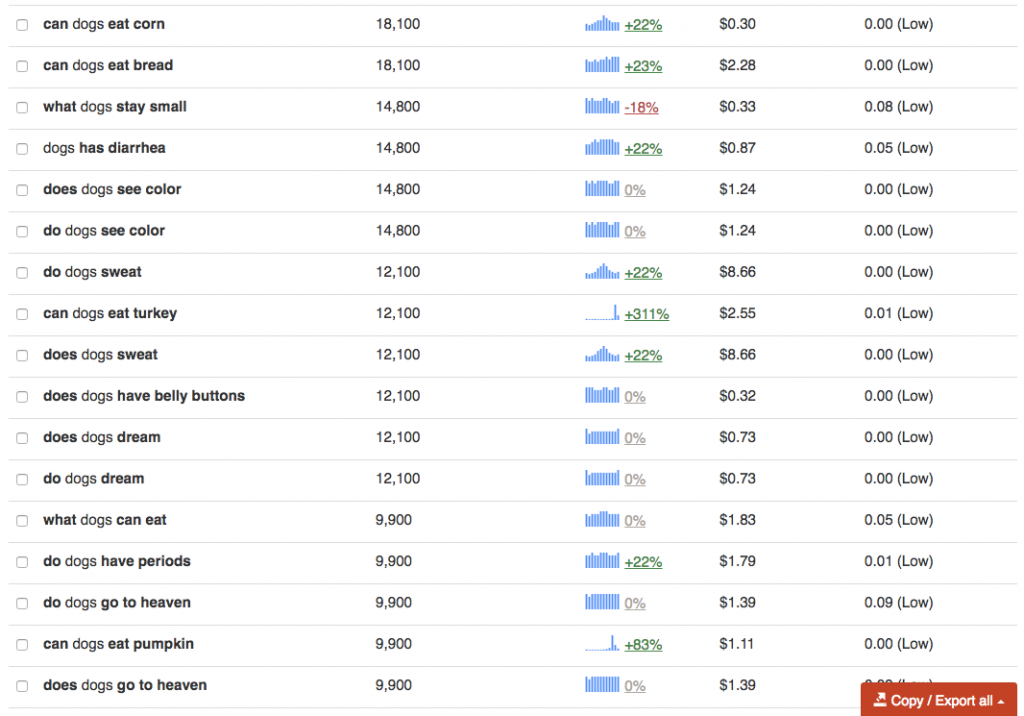 These types of long tail keywords can be used in many different ways. You can insert them in title tags, meta descriptions, headlines, body, Google Ads, and even social media copy. They can also be a source of new content and blog ideas.
Most people often assume that a high volume focus keyword can bring in a lot of clicks and traffic. While that may be true, it doesn't bring in a targeted, relevant audience like how long tail keywords do. And when you use question-based keywords, it goes directly in line with Google's push in showing results based on searcher intent.
People ask questions on Google when they are looking for a solution to a specific problem. When you create content that provides a solution to their problem and optimize that content with the question that they're asking, you've hit the jackpot!
A lot of people use shorter focus keywords (that has large search volumes) to get more organic traffic but fewer understand the power of using question-based long tail keywords. Find them for free on Keyword Tool and start including them in your SEO and content workflow for 2020.
Frequently Asked Questions
Keyword Tool gets data from Google Autocomplete. We queried our keyword database to find the top questions that were presented in this article.