The Beginner's Guide to Selling on Amazon FBA (like a Pro)
There are many ways to sell products online, and one of the most popular and profitable methods is through Amazon FBA.
Online shopping has become part of the average consumer's lifestyle and is set to grow even bigger over the coming years. More and more marketplaces and online stores are popping out, serving the masses, niche interests, and so many more.
Out of all major online marketplaces around, Amazon is by far the largest in terms of daily transactions, product quantities, and number of sellers.
Amazon is growing at a rapid pace, responsible for a whopping 80% of the e-retail market growth in the United States. The marketplace giant is also projected to account for 53.7% of the total e-retail sales (estimated at $325 billion) in the country by the end of 2019.
There is little doubt that more people are shopping on Amazon today than ever before. And there is still a lot of opportunities to make money on Amazon, despite increasing competition from more Amazon sellers.
If you dream of making a living through e-commerce, Amazon FBA might be your best bet. Read on to find out how to make money selling on Amazon through Fulfillment by Amazon.
Sell on Amazon or your own website?
There's a running debate between the advantages of selling on Amazon vs. creating your own e-commerce website. Both have their pros and cons, but could there be a better option between the two?
The biggest advantage to building your own branded store is that you'll have complete control over your website. You'll be able to create a unique buying experience, sell branded products with its own unique selling proposition (USP), create a loyal customer base, and so on and so forth.
But here's the catch – you'll need to build and manage everything on your own from the scratch.
The cost of creating and hosting your own e-commerce website
When you first set up shop, no one knows your brand, which means there will be little to no potential customers coming to your online store.
You'll need to invest heavily in branding and marketing to gain traction. That often involves paying for SEO, content marketing, paid-per-click (PPC) campaigns, social media ads, graphic design, and others.
Not to mention, hiring a web developer and designer to build a custom made e-commerce website can cost thousands of dollars and take months to complete.
There's also another option – subscribe to Shopify or build your store on WordPress with WooCommerce. Though you'll still need some working knowledge of managing websites, using plugins, and editing basic HTML and CSS to create a really good site.
There's a good reason why e-commerce websites usually cost a lot to make, maintain, and manage. There are tonnes of moving parts and it takes a lot of effort to get it right.
Amazon, an ideal option for new sellers
A lot of people have succeeded in e-commerce through their own independent online store. Some are custom built, while others use Shopify or WooCommerce with ready-made templates. But in reality, they are often part of the minority and usually more experienced in the e-commerce space.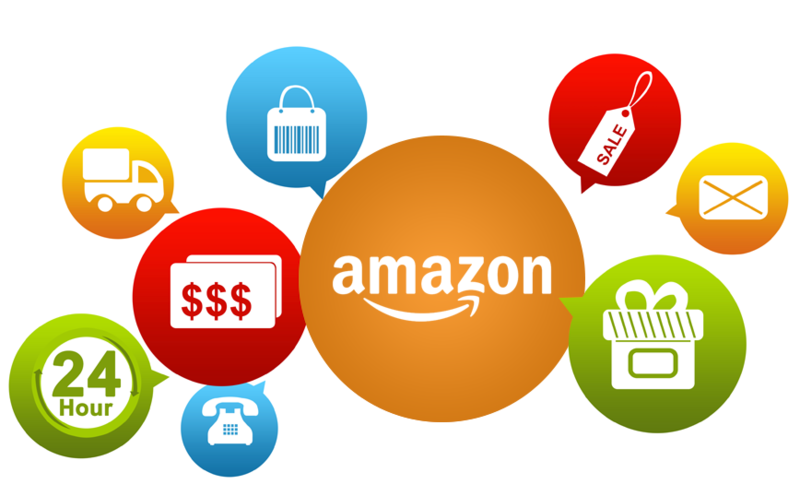 Now, let's take a look at Amazon. Tonnes of people have also done well as Amazon sellers. They range between large companies to full-time entrepreneurs to part-time sellers.
But what makes selling on Amazon different than a customized online store? For one, it has all the tools that make for a great option for beginners to get started in e-commerce.
There are two things that Amazon wins by a long mile, which are:
Brand trust
Conversion magnet
Amazon has been around for 24 years. What started as an online book retailer has now evolved into the largest online marketplace in the world. Amazon is the 7th most visited website on the web and attracts over 150 million visitors per month in the US alone. In total, Amazon draws in an average of 2.5 billion visits per month.
A platform that has perfected the art of converting browsers to buyers
There's a good reason why people keep coming back to Amazon to buy everyday essentials, make impulse purchases, and shop during festive seasons, and that is because they trust the Amazon brand.
Another winning factor of selling on Amazon is that the platform is a conversion magnet. A 2018 study of the top 500 retailers in North America showed that the average conversion rate sits at 3.32%.
In comparison, the conversion rate for Amazon is 13% for non-Prime members and a whopping 74% for Prime members. That means that Amazon converts at least 22 times higher than the largest retailers in North America.
Amazon employs some of the top minds and leading experts in tech and e-commerce and invested millions of dollars to continuously improve and fine-tune the platform.
They have successfully created an e-commerce platform that converts casual browsers to paying customers at a high rate. And keeps them coming back for more. Amazon is a well-oiled machine that makes the buying process quick, safe, and easy for customers.
Amazon does all the heavy lifting for you
When you choose to sell through Amazon FBA, a lot of expensive and time-consuming work will be done by Amazon, such as storage, fulfillment, delivery, handling returns, and customer service.

They can store your products, ship them with same-day delivery (or, at worst, a lot faster than AliExpress or AliBaba shipping times) to some of the largest consumer markets in the world (like North America, Europe, Japan, and others). They also have a solid return policy and responsive, quality customer service.
That's more than half the battle won for any e-commerce business. As an Amazon seller, all you need to do is sell a good product, optimize to make it discoverable on the platform, and manage your inventory. The rest? You can leave it to Amazon.
What is Amazon FBA?
Amazon FBA, or Fulfilment by Amazon, is a storage, shipping, and support service for third-party sellers on Amazon.
It makes the selling process easier by helping to store Amazon seller products, to managing fulfillment and shipping, to handling returns and providing customer support.
Through Amazon FBA, online sellers can focus solely on selling, marketing, and optimizing their products on Amazon.
How to become an Amazon seller
Selling products on Amazon may seem easy and profitable. The truth is the process from being a verified Amazon seller to running a successful store on Amazon is a long one.
In summary, the process of being an Amazon seller can be broken down to:
Product researching
Product sourcing
Product listing
Product shipping
Product launch
Steps 1 to 3 is what we call the pre-launch period and will involve up to hundreds of hours of preparation. Step 4 is when you ship your products from your supplier's factory to an Amazon fulfillment warehouse. Once all your work is done, you'll be ready to launch your product on Amazon, which happens at Step 5.
Bear in mind that before you can progress on any of these steps, you'll need to get an Amazon account and be a verified seller.
The first step before Step 1: Amazon seller account registration and verification
To begin, you will first need to register an account on Amazon Seller Central. If you already have an Amazon account, just log in with the same username and password:
Go to services.amazon.com
Click on either the "Selling on Amazon" link or "Sell on Amazon" bar
Go to sellercentral.amazon.com
Then, click "Selling on Amazon" at the bottom left
Go to the "Sell" icon at the top of the Amazon.com homepage
Then, select FBA
For a more detailed step-by-step guide on how to register and become a verified Amazon seller, read our article here.
How much do you need to get started with Amazon FBA
It's the million dollar question that everyone asks. There are a lot of videos on YouTube by successful Amazon sellers that claim to have earned tens of thousands of dollars every month through selling products on Amazon.
But what a lot of them don't tell you is the real hidden costs behind starting an Amazon business.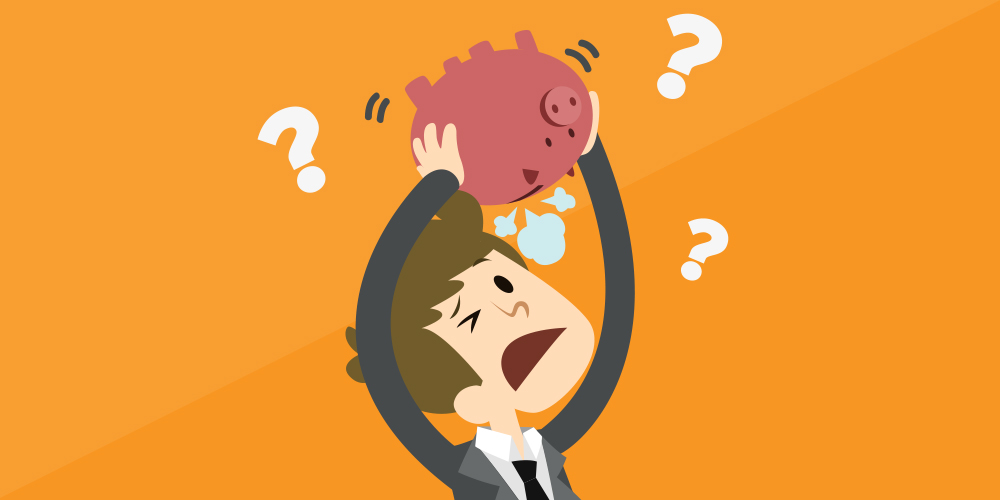 To help you better plan your Amazon seller journey, here is a basic breakdown of what you will need to spend to start and run an Amazon store:
Hiring a designer to create your brand identity, logo and packaging design.
Buying products in bulk, including shipping cost from your supplier's factory to an Amazon fulfillment center.
Paying for monthly Amazon seller fees.
Paying for Amazon ads.
Paying for Amazon FBA fees (which includes storage fees based on the storage size, weight, and duration).
These costs can set you back by thousands of dollars, so it's best that you calculate how much will you really need to start. You should also have an idea of what are the costs to keep your Amazon store running while being profitable, especially your inventory restocking and storage.
How to calculate Amazon FBA fees
Fulfillment by Amazon charges fees to handle all the heavy lifting for Amazon sellers from storage, to shipping, to customer service.
The fees you can expect to pay can be broken down to:
In total, here is the complete list of FBA fees you'll need to pay when selling products on Amazon with FBA:
Per-item fees
Referral fees
Variable closing fees
Shipping fees
Fulfillment fees
Monthly inventory storage fees
The per-item fees will depend on what type of Amazon seller account you choose to use. There are two types of monthly plans:
Individual – No monthly subscription fee. Instead, sellers are limited to a maximum of 40 items per month and subjected to pay $0.99 per item (on top of other selling fees, depending on the item category).
Professional – Monthly subscription of $39.99. There's no limit to the number of items you can sell in a month but per-item sellings fees will still apply.
If you're serious about Amazon FBA, it might be a good idea to go for the Professional Amazon seller plan. You'll be able to sell more items and make a bigger profit by being able to move a larger volume of products.
Amazon FBA fees vary depending on the size, weight, and amount of time your products sit in Amazon's fulfillment center. Another variable is, of course, the wholesale cost of the item.
To give you an idea of how Amazon fees generally impact your profit, let's use an example of a product with a retail price of $25 and wholesale cost of $8:
| Amazon Seller & Fulfillment Fee Type | Fees (per item) |
| --- | --- |
| FBA Fees | $4.71 |
| Inventory Storage Fee (1 month) | $0.64 |
| Shipping to Amazon Fulfillment Center | $1.60 |
| Amazon Seller Fee (15%) | $3.75 |
| Total Fees | $10.70 |
In summary, here is a breakdown of the product's cost, selling price, fees, and profit:
Selling price = $25
Wholesale cost = $8
Amazon fees = $10.70
Net profit = $6.30
Based on this example, the Amazon fees accounted for 42.8% of the total sale price of the item, which resulted in a profit margin of 25%.
As you can see, Amazon fees play quite a big role in determining your end profits. You'll also need to bear in mind that different items can come with varying costs and selling prices.
Next, we'll get started with the most important part of any Amazon seller journey – what product to sell.
What products to sell on Amazon
You might have a great product idea to sell but the more important question is – will people actually want it? It's crucial that you do a detailed market study and determine if the product you have in mind has enough demand.
Take a look at Amazon listings. Search for the product you're intending to sell (or others similar to it) and see whether it ranks in the first few pages and how many reviews it has.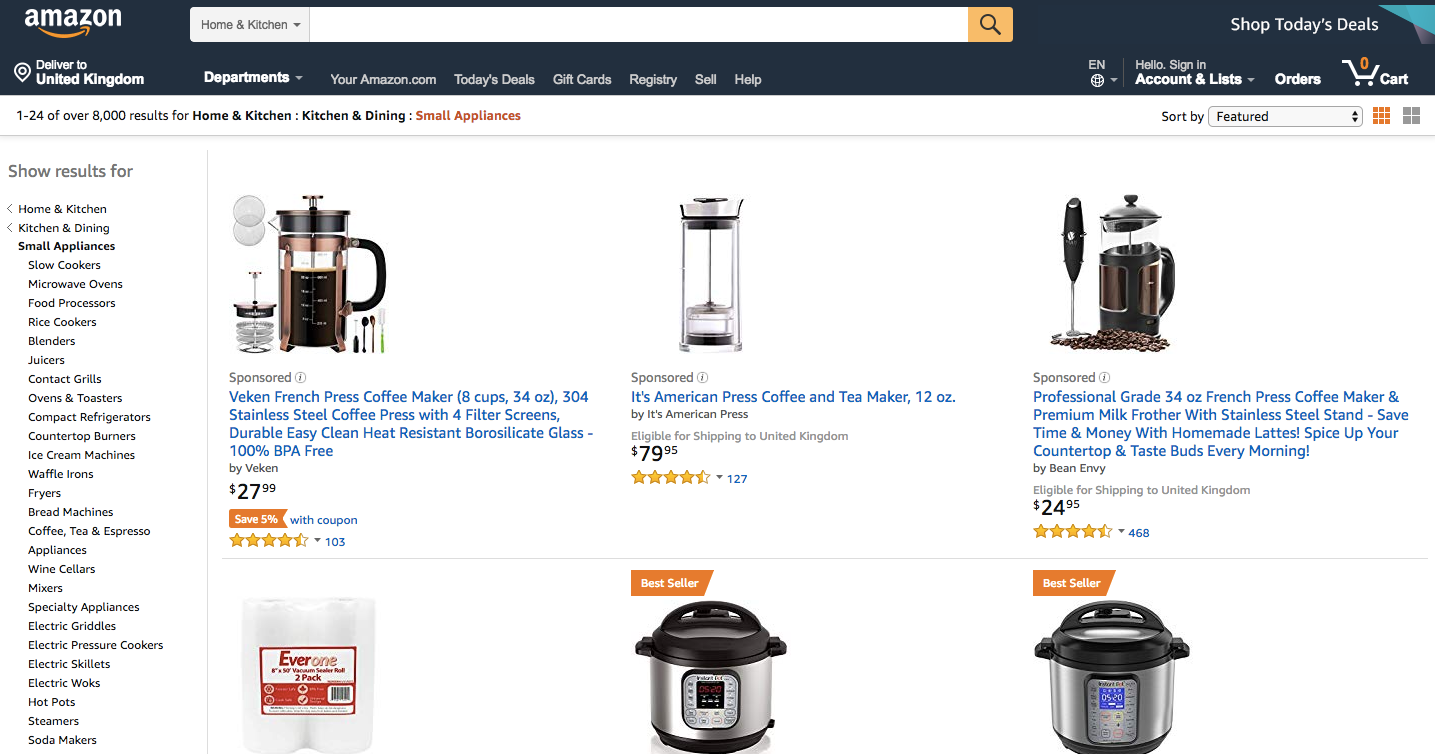 A lot of reviews means that there is demand but it might be competitive to sell. A smaller amount of reviews could indicate a low market demand but may indicate an opportunity to sell a similar yet improved product type.
You'll need to find a sweet spot, which means you'll need to dig in deeper and get more data.
To do that, you can use these two platforms:
Google Trends – To find out the overall trends and seasonality of a product type or niche.
Keyword Tool for Amazon – To get a detailed look into whether people are searching for your products on Amazon.
Detailed product and price research using an Amazon keyword tool
Keyword Tool for Amazon is an incredibly useful tool to find out about the overall popularity of the product you're planning to sell. You can use a word or topic related to your product to find relevant keywords, product types, and competitor's product listings.
Let's say you're looking to sell running shoes for women, just input the focus keyword "women running shoes" into the search box, choose the Amazon marketplace you're planning to sell, and hit enter: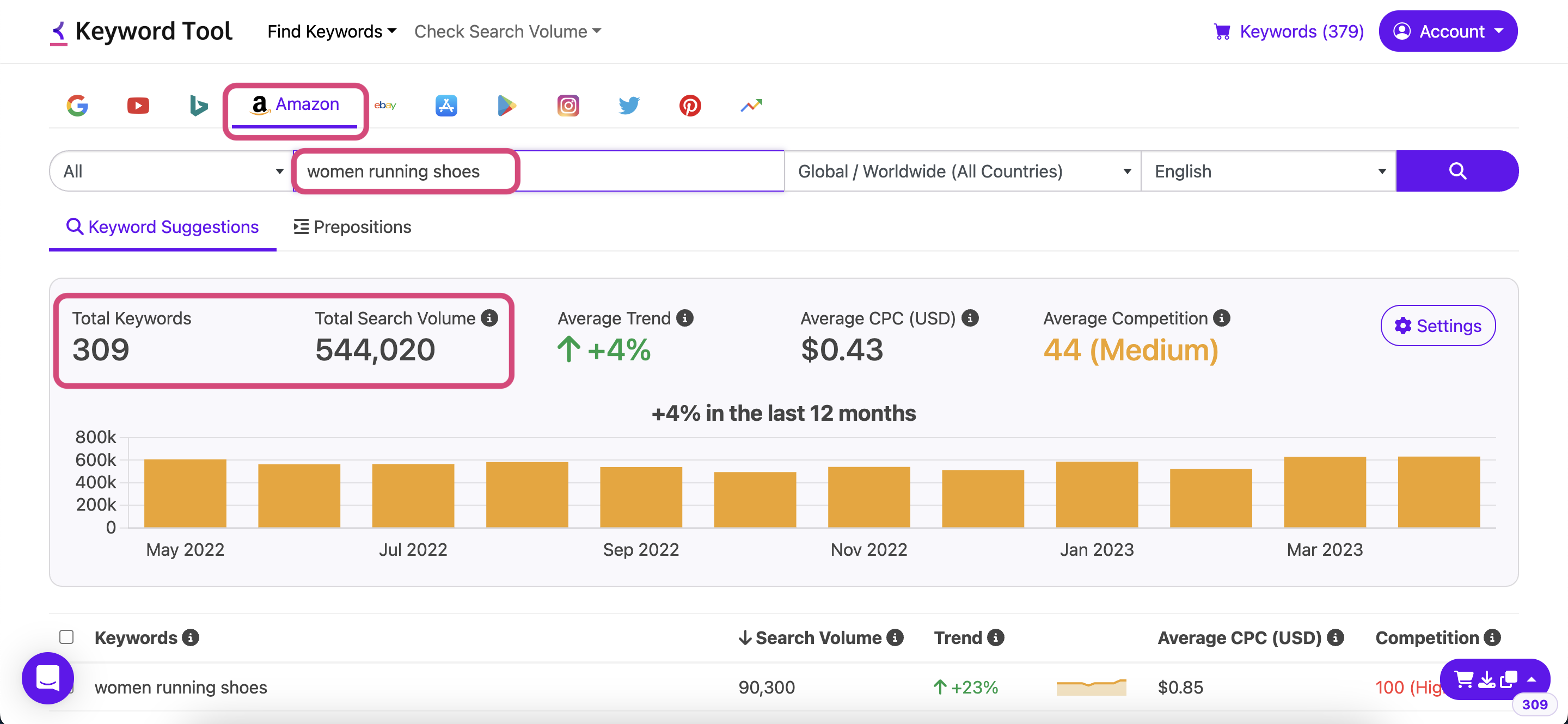 The search result will show you the average trend and competition level of the product you're planning to sell. From this result, you can summarize that:
Running shoes for women is a moderately competitive product, with over 500,000 monthly searches and a competition level of 44 (Medium).
How to sell on Amazon
For new Amazon sellers, it's important that you're aware that there is actually more than one Amazon marketplace. Depending on the location of the customer, they will see a different Amazon.com storefront with their own fulfillment services.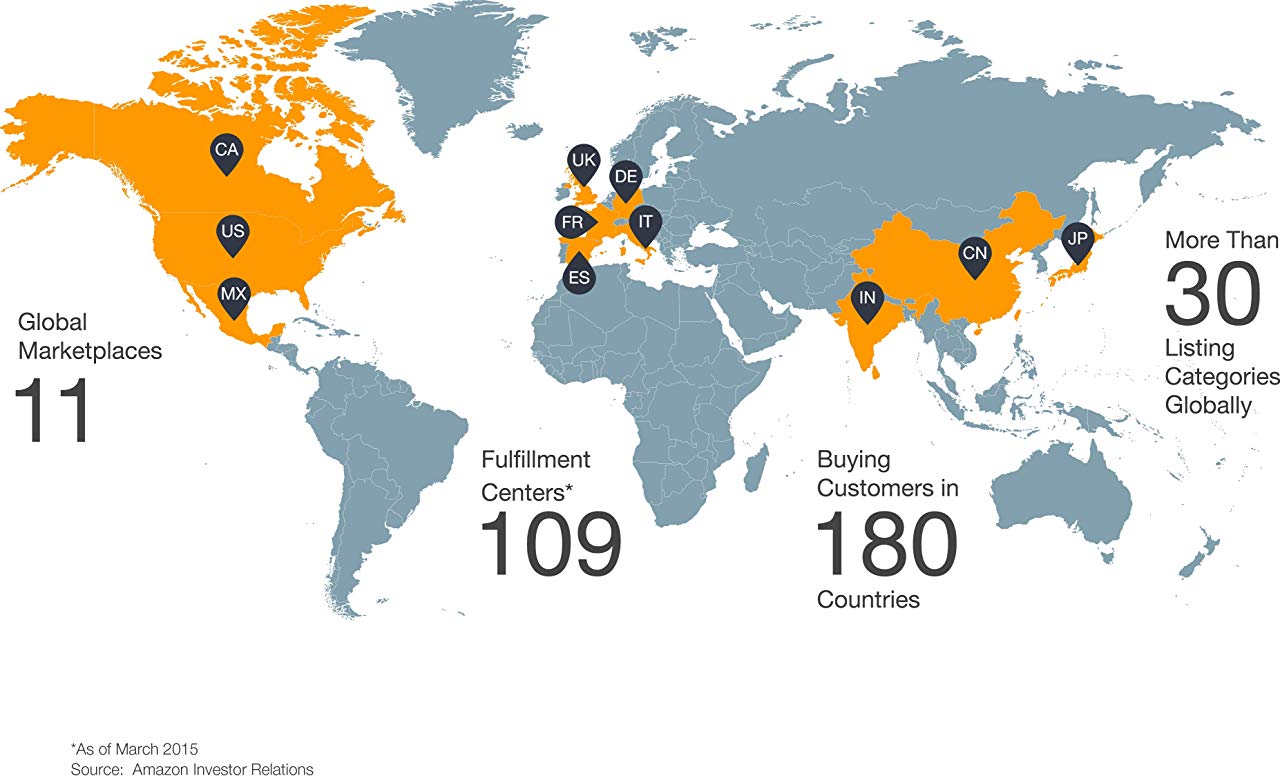 The largest and most active Amazon marketplace is Amazon.com in the United States, while the rest are divided into:
Americas
Europe
Asia
Middle East
Australia
Each marketplace has its own tax and regulations that are specific to the country or region. Find out more here.
The default marketplace for most Amazon sellers is Amazon.com in the US. Though some do branch out and diversify into other regions. Do note that expanding your store to other marketplaces can open up new revenue streams, but at the same time it'll incur higher shipping costs.
It may also require either more time for you to manage multiple stores on different regional marketplaces or you'll need to hire virtual assistants to help you operate your other stores.
More than one way to sell items on Amazon
There are actually many options for Amazon sellers to sell their products on Amazon, such as:
Retail arbitrage
Wholesale
Used book sales
Private label
Retail arbitrage is where you buy an item from another place and sell on Amazon with a markup. Wholesale is a popular option for larger sellers and wholesale-retail companies. They often use Amazon as one of their revenue streams, on top of other online marketplaces and their own physical store or warehouse.
Private label has always been a preferred option among many successful e-commerce entrepreneurs. It requires more investment in time and money upfront but it attracts the highest profit margins. Private labeling is a method of turning a regular (or custom-made) manufactured product to your own brand.
Among all the options of selling products on Amazon, you can choose between:
DIY fulfillment
Fulfillment by Amazon
With the latter option, you will be paying higher fees but it all goes to offloading the heavy workload that you won't need to do – fulfillment, shipping, and customer support.
With Amazon FBA, you get to focus solely on selling and scaling your business further without worrying too much about operations and logistics.
Selling products on Amazon with private label
Private labelling is the method of selling a product that is bought from a producer or manufacturer and customized to the seller's unique brand. In short, you purchase an existing product and make it your own by placing your own logo, brand, and packaging design.
It may cost more but there are actually a lot of advantages to selling via private label. Here are a few:
Lesser sourcing time. When you sell through arbitrage, you'll usually need to liaise with multiple manufacturers. With private label, you only need to source a single type of product in large quantities from a trusted supplier.
Better price control. Private labelling allows you to set your own price. Also since your products were bought in bulk, you have a lower per unit cost, which gives more flexibility in determining the profits that you desire.
Higher profit margin. Buying a cheaper product in small bulk and selling at a higher price won't bring as much profit as selling via private label. Creating your own brand often increases the value of the product, giving you higher profit margins.
Compared to other selling methods, private label often requires more upfront capital and long-term effort to increase the brand value and grow a loyal customer base.
If done well, it will improve customer retention, create repeat orders, and result in customers talking about your brand. More often than not, the private label route is worth the extra time and money.
Finding the right supplier for your Amazon product
Now, let's take things back a notch and look at the first step towards creating a private label product – supplier sourcing.
It'll be worthwhile putting in extra effort to research quality suppliers and manufacturers to produce your product. You'll need to not only find suppliers that are trustworthy but also can work well with you.
Most of them speak English as a second language, so bear this in mind when reaching out to them.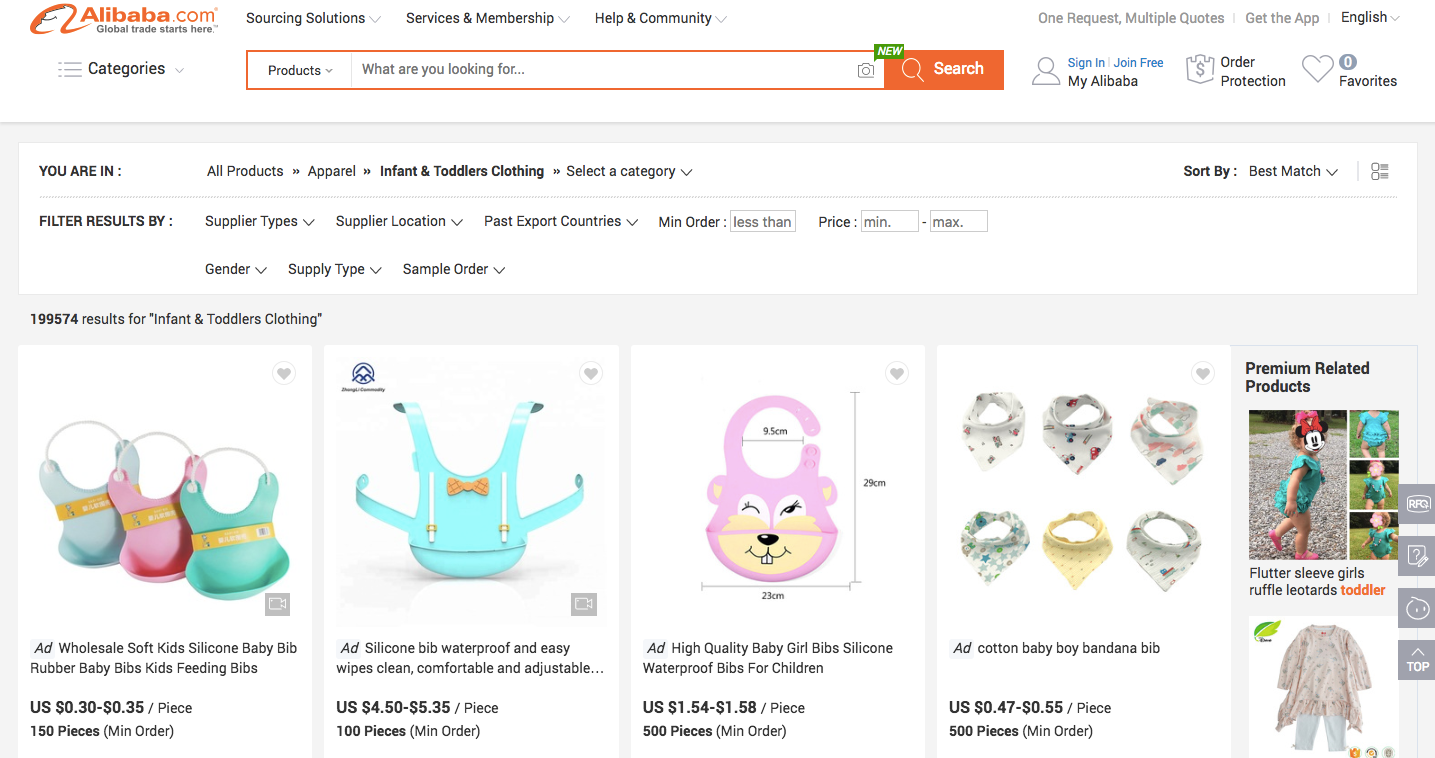 To find suppliers for your private label product, here is what you'll need to do:
Browse Alibaba.com to find relevant products.
Create a shortlist of verified Alibaba sellers with gold ratings and a long track record.
Contact them via email. List down specifics of what you're looking for, down to the measurements (in the metric system). If you have deep product knowledge and show sincerity and seriousness, it'll help to gain the trust of the supplier.
Then proceed to discuss further details through the phone. Ideally, you should use Wechat, it's the most popular messenger app in China.
Arrange for sample orders in a small quantity. Payment is usually done via bank transfer, though some do accept Paypal. Try to avoid using Western Union, because there's no recourse in case anything unfortunate happens to the fund transfer.
Once you've identified the right supplier for your product, the next step is to arrange for the first batch of product shipment for your supplier's factory to an Amazon Fulfilment Center.
Here is the complete list of all the Amazon Fulfillment centers around the world.
Supplier management is likely one of the least discussed part of being an Amazon seller, but it's incredibly important to get it right from the start. It'll save you a whole lot of trouble, time, and money in the long run.
Found your Amazon product and supplier? Time to list your product on Amazon
The second last part of your journey to officially becoming an Amazon seller is product listing. You'll need to get two things right:
High-quality, attractive images for your products.
Well-written, Amazon SEO optimized product description.
A good product image will make it easier to capture the attention of customers, so it's worth investing a little bit into hiring a professional photographer to capture your product images.
Get a few samples sent to you or the photographer's location to get the products professionally shot. It may cost you a bit extra but it'll be well worth it in the long run.
Next, you'll need to write a good product description. Here are a few tips you can use when writing your Amazon product details:
Know your target audience.
Describe the product benefits.
Tell the story behind the product.
Use an easy to read, natural language.
Optimize for search engines and Amazon SEO.
The last part is crucial and one that often determines whether your Amazon product gets stuck in the back pages or get consistently listed on page 1 or 2 in Amazon.
How to optimize product listings for Amazon SEO
Amazon works similarly to other search engines. When more people search for a type of product and clicks on it, the higher it ranks over time. And when it organically ranks well, more people will be able to find the product, which increases the chances of the item being bought.
Another way of increasing the visibility of your product is to invest in Amazon ads. It's a great way to find new customers but may not be the best long-term option for most people. Ideally, you'd want to be organically ranked high. The ROI beats Amazon ads any day.
So, how exactly does optimizing product listings for Amazon work? You'll need to use an Amazon keyword tool to find relevant, high-volume keywords. Keyword Tool for Amazon does exactly that. When you insert a word or topic related to your product, it pulls hundreds of keywords from Amazon's autocomplete.
Let's say you're selling running shoes for women. Go to Keyword Tool for Amazon, choose the location and language of the marketplace you're selling to, and type in "women running shoes":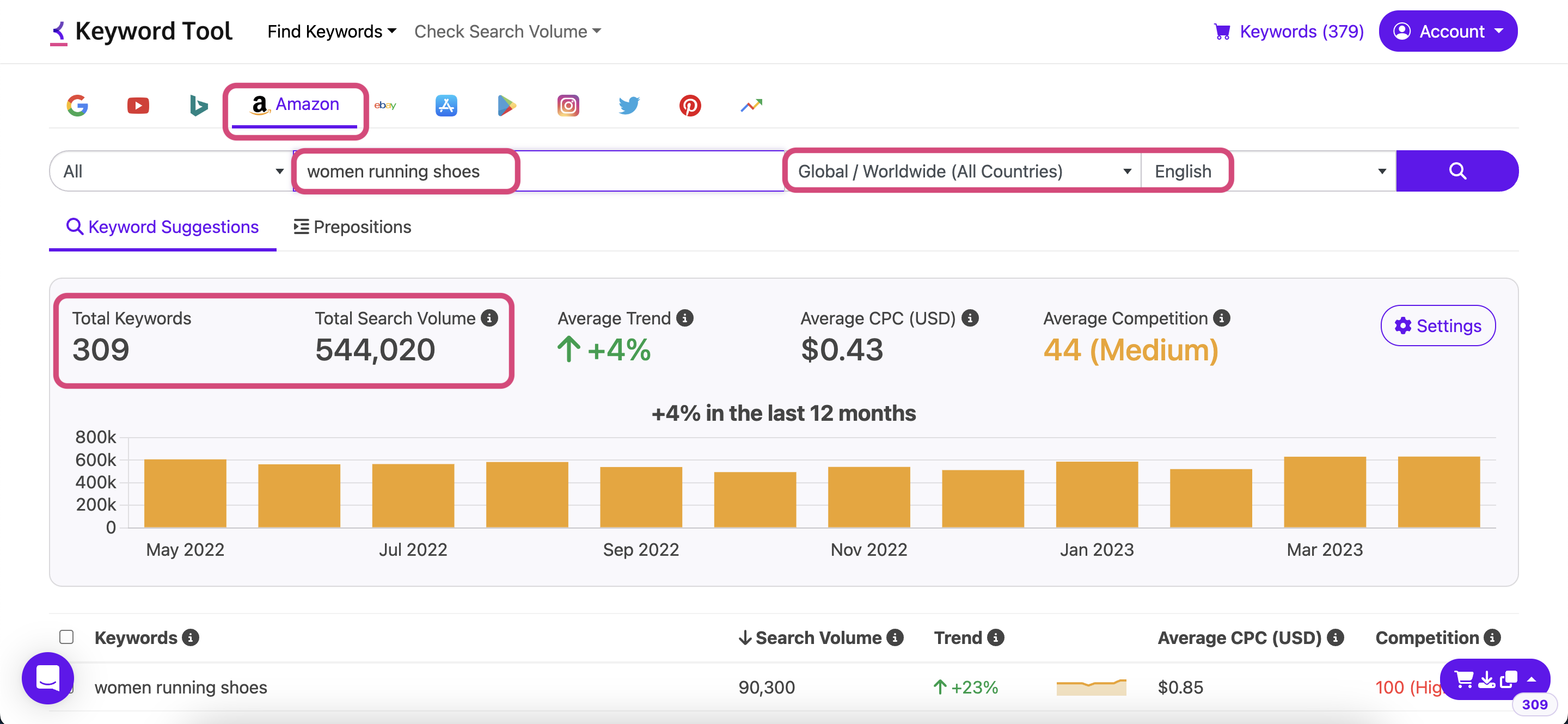 The results will show you a summary of the overall search volume, 12-month trends, average cost-per-click (CPC) for Amazon ads, and the average competition level of the keyword.
Scroll below and you'll find the list of related keywords: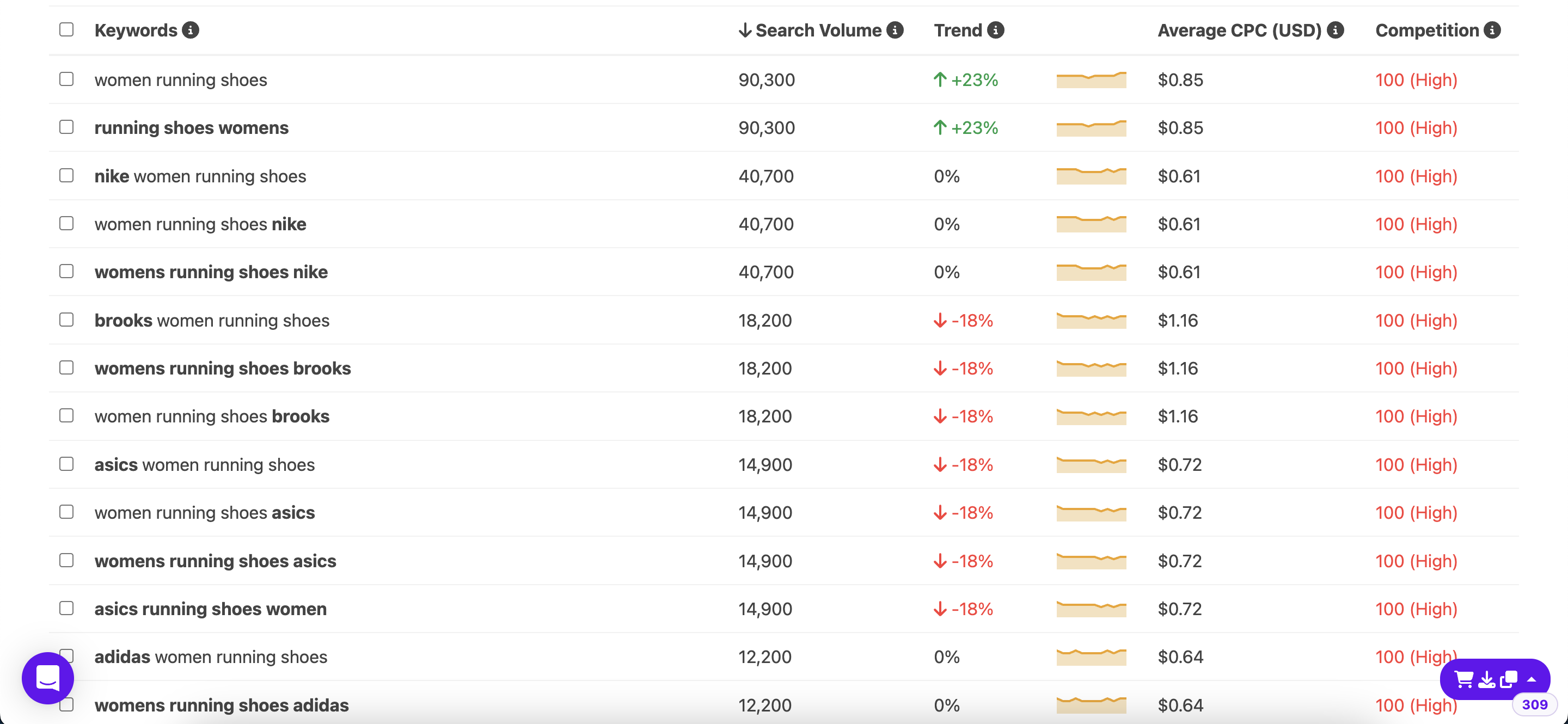 As you can see, there are a lot of valuable keywords that you can analyze and use for your Amazon product listing. From this example, you can conclude that:
There are a lot of people searching for the focus keyword "women running shoe." But that may also mean the search is broad with loads of competition, which could result in a lower click-through-rate (CTR) for your product.
Your main competitor brands are Nike, Asics, Adidas, New Balance, Puma, and Reebok.
A simple search on Keyword Tool for Amazon can give you a wealth of valuable data. Not only will it show relevant keywords that you can use for your Amazon product listing optimization, but it also gives a glimpse of what your potential customers are interested in.
Finally, time to launch your Amazon FBA store
By this time, you would've found your products, suppliers, worked out all the costs and FBA fees, and have a list of Amazon keywords for your product listing optimization.
You can now start uploading your product images and description to launch your Amazon store. And start selling!
Your Amazon FBA launch is crucial. When done right, it will help to maximize your products' visibility on Amazon and get them to rank higher. To do this, you may need to invest in:
Promotional giveaways
Amazon ads
One of the best resources for promotional giveaways is JumpSend. It's a platform with readily available buyers that are specifically looking for discounted products.
The website attracts nearly a million visits every month, so you can imagine the sheer volume of people browsing the platform looking for discounted products.
You can register on the platform and list your product in the deals section. An interested buyer will select the product and they'll use the coupon code on Amazon.
Using a service like JumpSend is a great way to pull in your first few sales, get ranked for some keywords, and receive your initial batches of reviews.
The next step is to run some Amazon ads. It may add more marketing spend for your launch but it's a sure-fire way to be noticed by potential customers and get ranked for your keywords. Here's a short tutorial video about how to create a new Amazon ads campaign for your pay-per-click (PPC) ads:
A lot of people skip these steps when launching their Amazon FBA store. If you want to get started on the right footing, be more visible, and get ranked higher than your competitors, it's worth going the extra mile by investing in promotional giveaways and Amazon ads.
Being an Amazon FBA seller is definitely not as easy as it seems. It involves tonnes of work, hours of painstaking research, and a lot of trial and error. But with the help of certain types of tools for Amazon, it'll make your journey as an Amazon seller a lot smoother.
Using these tactics and tools won't guarantee that you'll succeed right away and start pulling in five-figure revenues immediately. Though it sure does increase your chances of succeeding as an Amazon FBA entrepreneur.
Amazon FBA has worked for a lot of people that either brought in a much needed part-time income or a sizeable full-time passive income. Follow the steps in our guide, work hard, and don't give up too soon. If they can do it, there's no reason why you can't too!