5 Tips to be a Profitable Amazon Individual Seller (Other than Keyword Research)
Being an Amazon Individual Seller allows you to gain access to Amazon's massive marketplace. It allows regular people to build profitable businesses and tap into the pockets of millions of visitors to Amazon.
Although there's definitely income to be made by being an Amazon Individual Seller, it's also a very competitive space. The average Amazon Seller don't have big advertising budgets like more established retail brands and corporations. Instead, most of them need to rely on selling quality products and optimizing their Amazon product listings to reach as many prospective customers as possible.
The first step that you want to take to improve your product rankings on Amazon search is conducting keyword research for your products. This will help determine the content of your Amazon page, dictating the words, phrases, and themes that you will employ to target customers, or your potential buyers.
The main goal of doing keyword research is to find relevant keywords and phrases that can help you rank your products better on Amazon.
Finding the right long tail keywords for Amazon
It makes a huge difference when you pick the right long tail keywords and search terms that will allow you to gain authority in your niche. The volume of the search term and the level of competition will help you figure out what should be targeted.
For example, it's unlikely that you will become an authority for a keyword such as "running shoes." Imagine if you search "running shoes" on Amazon, the top results are most likely going to be from brands that are well-established in the market or those that have racked up a lot of sales and reviews.
But that alone won't give you enough information on what keywords you should use to optimize your product listings. For that, you'll need to use an Amazon tool like Keyword Tool for Amazon.
When you key in, let's say, "water bottles" in the input field, the results will show you all the relevant keywords and crucial data like search volumes, trends, cost-per-click (CPC), and competition level: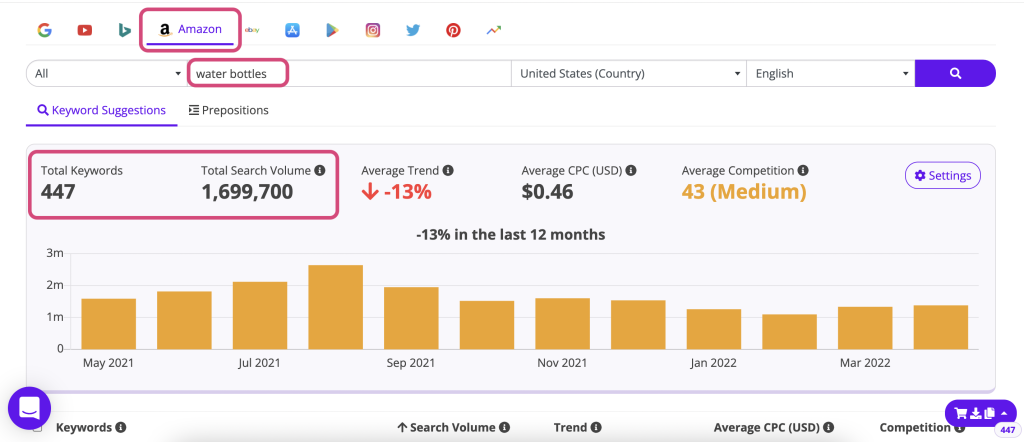 Scroll down and you'll find hundreds of keyword suggestions that you can use for your products: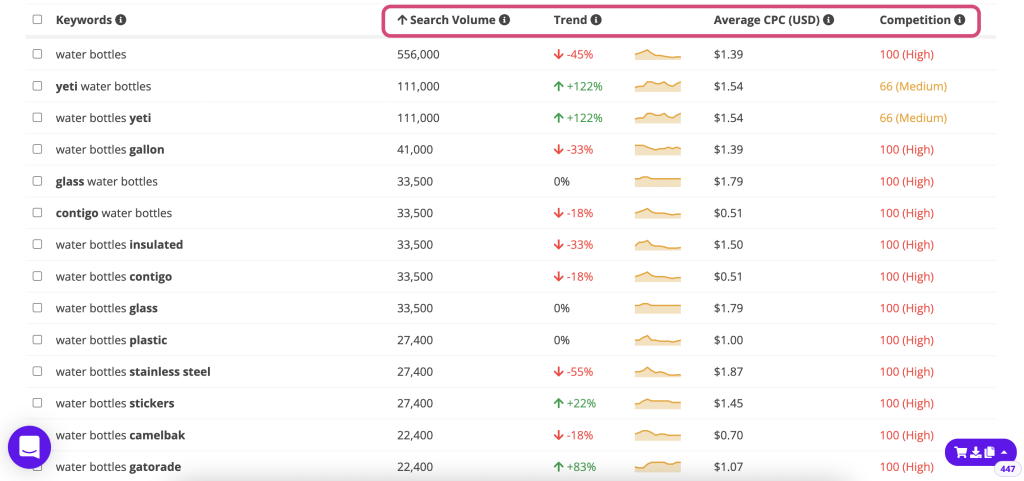 It's only by using a tool like this will you be able to do thorough keyword research. Not only will you need a list of relevant keywords, but also the data behind the keywords to make an intelligent and informed decision on the best type of Amazon keywords to use for your product listings.
How you can benefit from Amazon keyword research
If you are an Amazon Individual Seller, then you must already know the importance of product research. This will enable you to find a product that has the potential to become a best seller and one that you can source from a supplier to earn a profit. Once you have your product, you have no other option but to utilize the keywords that are available in your niche.
Long tail keywords, which are also referred to as the "low hanging fruit" in the world of SEO, can be the solution to the dilemma. These key phrases typically have a significantly lower search volume than major keywords, but they also come with much less competition, which means that they are easier to rank for.
Long tail keywords also have proven to convert better than higher volume short tail keywords. With the right long-tail key phrases, you are more likely to draw an audience and even make some sales. In addition, long-tail keywords are generally more specific. This means that you can create product titles and descriptions based on these phrases to the inquiry of the user who is searching for something specific.
Moreover, long-tail keywords account for 70% of the search volume. Hence, although you may not yield successful outcomes when targeting a single low-volume long-tail phrase, you will get satisfying results with a content plan that targets multiple long-tails. In short, when you rank for more low-volume long-tail phrases, the authority of your Amazon page will improve. As a result, Amazon's search engine will start to acknowledge you as a worthy source in your specific product niche.
But don't just focus on keyword research and optimizing your product listings alone. You'll also need to implement other methods to sell better.
Other smart ways to rank your products higher on Amazon
There are many ways to be more visible on Amazon, and it all starts with keyword research. At the same time, there are also other tactics that an Amazon Individual Seller can apply to boost their rankings and get more traffic to their Amazon page.
Here are 5 tips (besides keyword research) that you can try:
1. Explain what your products are all about
It's a pretty common mistake among some Amazon Individual Sellers who pour a lot of effort and attention to keyword research in a bid to optimize their product listings better. But what they might forget is that the listings are not only for Amazon's algorithms to read but also for the people who are looking to buy products.
That is why your product description needs to also be written for the human eye. It needs to be easily digested yet packed full of information. And since this is e-commerce after all, the descriptions are the only information (other than images) that your prospective buyer can see to understand what your product is all about.
One way to do this is to write as though you're speaking to your customer. Make it short and sweet, and only include the most important information. Focus on what your product can do for your customer and how it will benefit them. Then, after doing your Amazon keyword research, you can optimize your product descriptions for Amazon search algorithms.
If your products don't have many more added advantages for buyers compared to your competitors, then it'll be difficult to out-price them. But if there are other unique selling propositions (USP) for your products, then you have a slight pricing advantage.
Remember, most people who visit Amazon are looking for good deals and better prices (for their wallets). You can try to experiment with different prices and see what that does to your overall sales and profits. Once you find a sweet spot, stick to it.
4. Give the best customer service possible (and exceed their expectations)
The biggest difference between being an Amazon Individual Seller and an Amazon FBA seller is that you'll need to handle all customer service work yourself.
It's a lot of tedious work, no doubt. But you'll be surprised at how crucial it is to the survival of your Amazon business. It can often make or break your brand, and when done right, it's one of the best ways to retain your customers and keep them coming back for more.
Customer service is especially important for first-time buyers because that's their first point of contact with you. When you go the extra mile, it'll help to convince prospects and convert them into customers. That is the power of leveraging on human connection, especially when doing transactions and communicating through the world wide web.
Be patient with your customer enquiries and make sure to respond to them as quickly as possible. People's attention span on the internet is pretty low, which means you only have a short window to respond to first-time buyers' questions (to avoid them from going to another Amazon page) and to handle problems with current buyers to prevent them from escalating (and leaving a negative review on your page).
5. Never go against Amazon's rules
This is a no-brainer, but it's worth emphasizing.
It's no use selling great products that are perfectly optimized for Amazon search if you break their rules and regulations. Amazon can be unkind to those who do, and it can lead to either an account suspension or outright banning. Even a mere suspension can put a huge dent in your revenue and lead to a loss in potential customers. It's also bad for your brand.
Follow Amazon's rules to the tee and don't try to cut any corners. Even smarter sellers that tried to "game the system" have gotten penalized, so try not to take shortcuts to push your page up or to skyrocket your product rankings.
If you're new to being an Amazon Individual Seller, it's even more important that you get familiar with all the dos and don'ts on Amazon.