⭐️ Keyword Tool 2.0: Discover NEW Features In Our FREE Version 💪
Table Of Contents
Keyword Tool got a makeover!
We're very excited to unveil Keyword Tool's fresh user interface, with more vibrant colors and a brighter look! The completely new revamped look enhances the smoother and faster user interface that you will experience using Keyword Tool.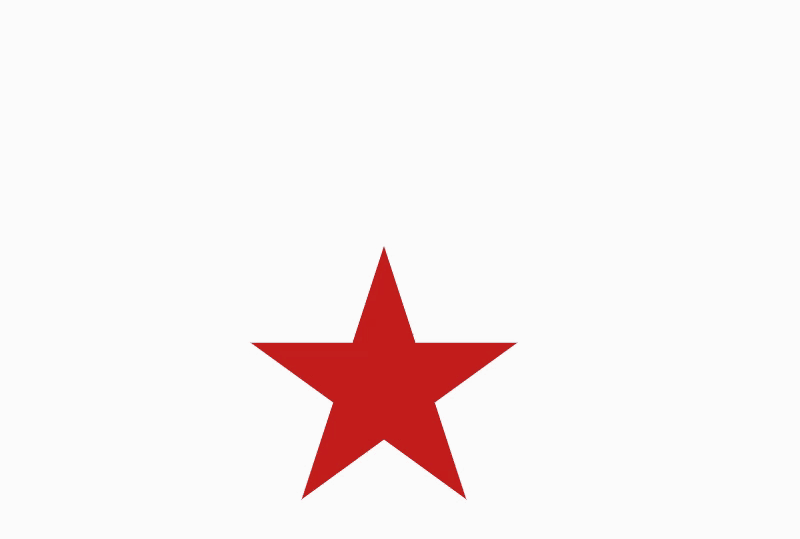 The website is also more dynamic with faster loading times to provide our users with the best experience possible!
However, this is not the only significant change we've rolled out in the new version (though it is the prettiest one!). So, without further ado, let's look at all the new features of Keyword Tool that you can take advantage of!
What's new at Keyword Tool
Right away, you'll notice that instead of the 8 search engines, Keyword Tool now has 11 search engines! That's right. Our developers have worked hard, so you get FREE access to popular keywords of 3 new search engines and dominate their search results!
You can now do keyword research on Pinterest, App Store, and Google Trends!

For the sake of comparison, we'll be showing you the same search results on the free version of Keyword Tool, as well as the paid one. This way, you can decide if Keyword Tool Pro is something you want to invest in!
1. Pinterest
Blog owners or new website owners will know that Pinterest is a huge marketing platform with a ton of opportunities to attract traffic from the right audience.
Once a pin starts ranking, the link featured in the pin starts attracting traffic. Pinterest works so well at getting traffic that it's even the primary traffic source for some blogs and websites!
Since Pinterest is too valuable to miss out on, we decided to create Keyword Tool for Pinterest so that our users can benefit from it!
Just enter your desired keyword in the Pinterest search bar, select your target country and language, and hit enter. The free version will display the following result: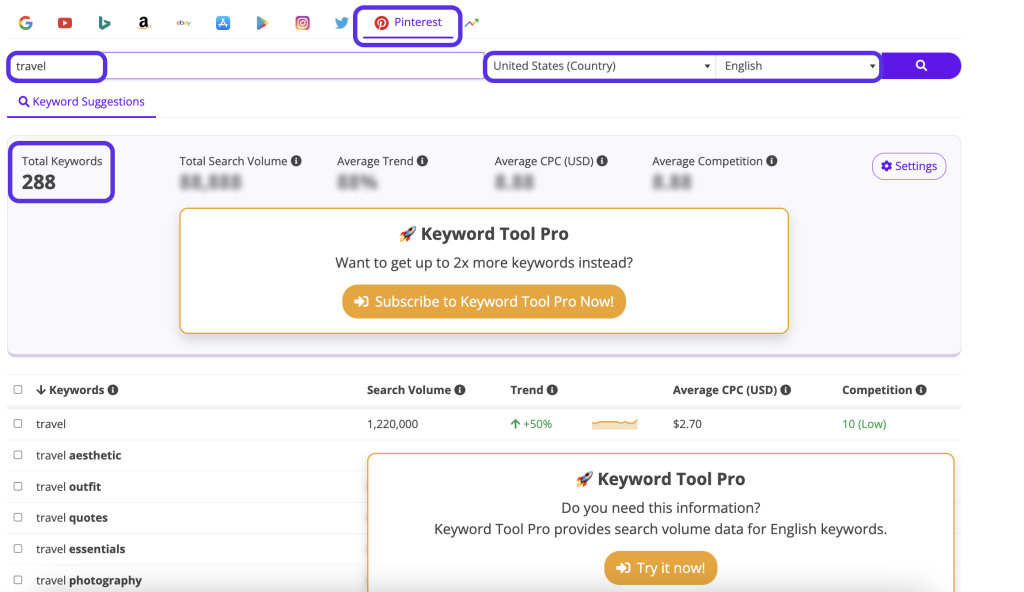 As you can see, important data like keyword trends, search volumes, and competition is hidden.
You can find all this information in the Keyword Tool Pro subscription. Like this.

The search results now are much more comprehensive, and you can even customize your search results with the help of our 'settings' option, which isn't available in the free version.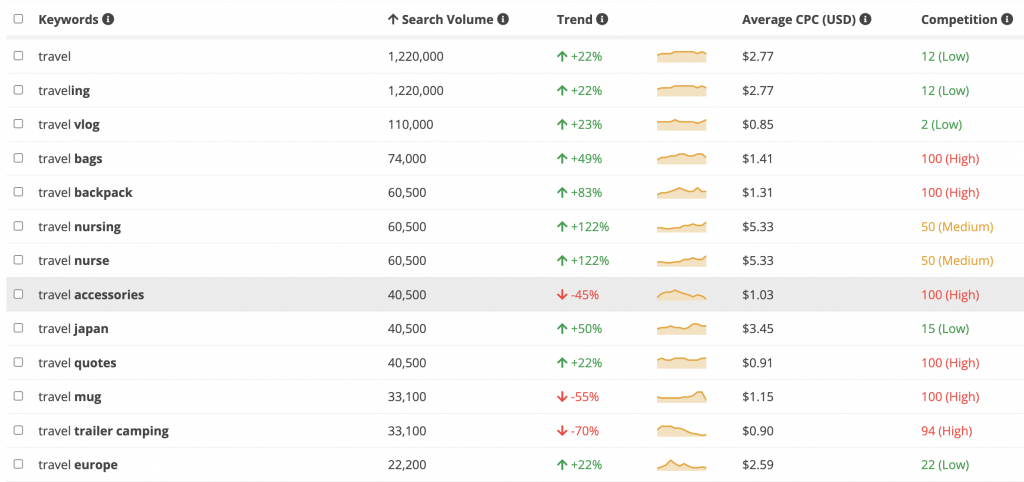 Not only will you know which keywords are the most popular, but you'll also know their trends and will be able to sort them however you want.
The free Keyword Tool version does show you the popular keywords for Pinterest. However, you're not made aware of what their search volume or competition level is. This way, you won't be able to prioritize keywords as well as you could with Keyword Tool Pro.
"One of the best keyword research tools. Dynamic, fast and accurate, it's perfect for SEO specialists who need keywords, related words, and search volumes. We use it for SEO projects in Italian and international markets, and are happy to recommend it."

Paolo Sirtori, Business Development Manager, Naxa
2. App Store
Imagine putting in months of hard work and creativity into creating an app, only to find out your app is not getting any downloads because people can't find it. Such a huge bummer, right?
To avoid this from happening, you need to know what your target audience is searching for. And to find out that, you simply need to use Keyword Tool.

Since we have a keyword search engine for Android, i.e., Play Store, we thought why not level the field by introducing a search engine for Apple users too. Hence here we are, with a brand new free keyword research tool for App Store!
Like our pre-existing search engines, a search query for the App Store comes with monthly search volume, trend, competition, and cost-per-click (CPC) data.
In the free version, you'll get access to half of the popular keywords available for your query. Here's an example.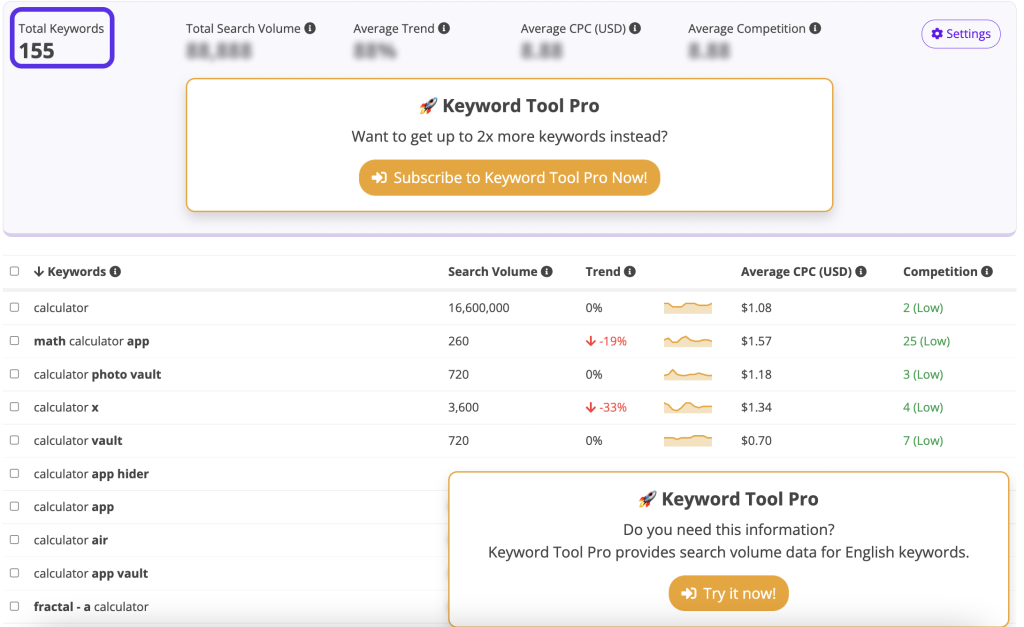 Whereas as a Keyword Tool Pro user, this is what you'll get: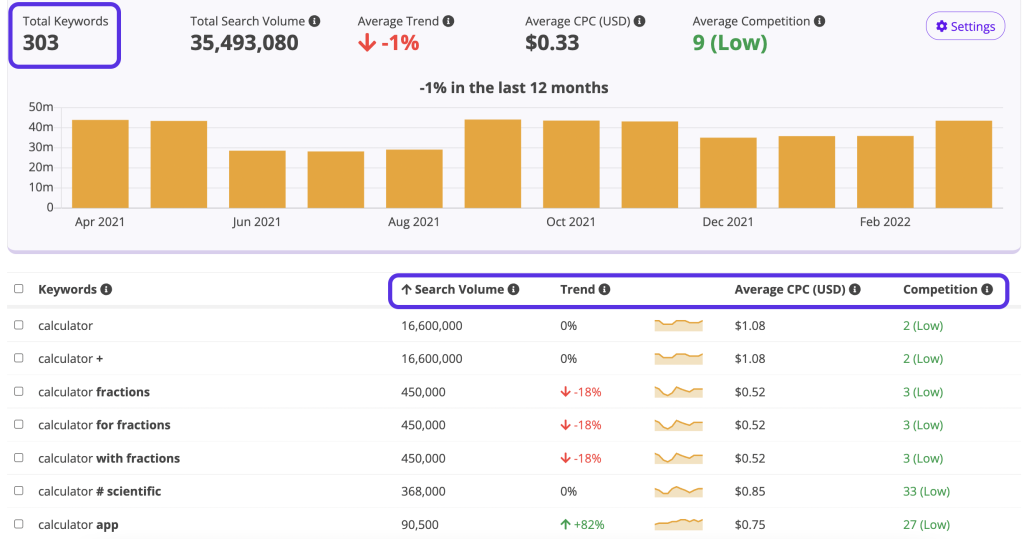 All the data from the free version of Keyword Tool plus extra data that no other keyword tool for App Store will show you, like the trends feature, will be at your fingertips in no time.
We get our keyword suggestions directly from the App Store itself, so it's 100% reliable and always up-to-date. Hence, with Keyword Tool, you'll be able to create a strong keyword strategy to aid your marketing efforts to start ranking and getting all those downloads you deserve!
3. Google Trends
Google trend is the go-to for many marketers when researching new and popular content ideas. Even though it's pretty accurate when it comes to finding out the popularity of a keyword, Google Trends doesn't actually show you the monthly search volume.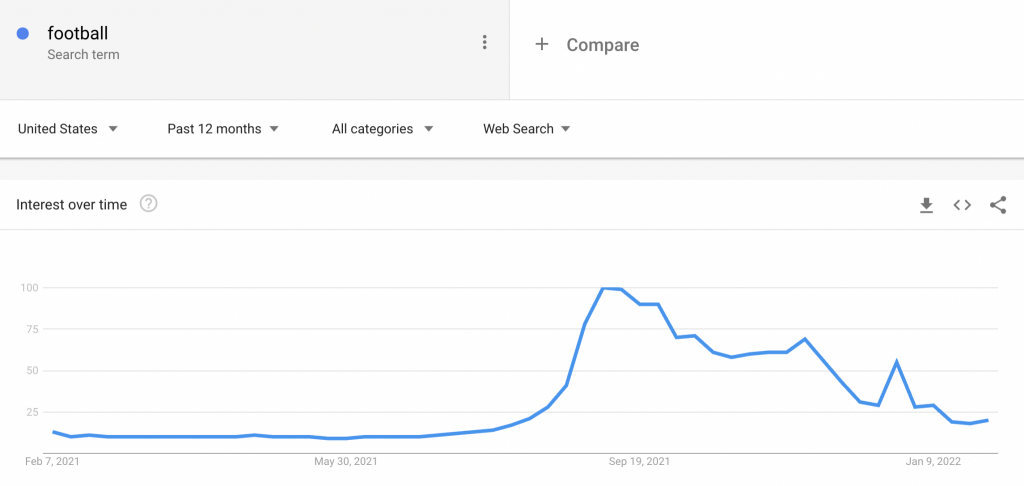 This is why Keyword Tool is an excellent alternative to Google Trends.
Not only does Keyword Tool show the Google Trend data, but it enhances it with more information like monthly search volume, search volume data breakdown for last 12 months, cost-per-click (CPC), and the competition data for the keywords.


We take it a step further and suggest related keywords and their Google Trends data!

This search engine will go a long way in aiding our customers in building powerful keyword strategies that will make an impact.
In the free version, you will have limited access to our data.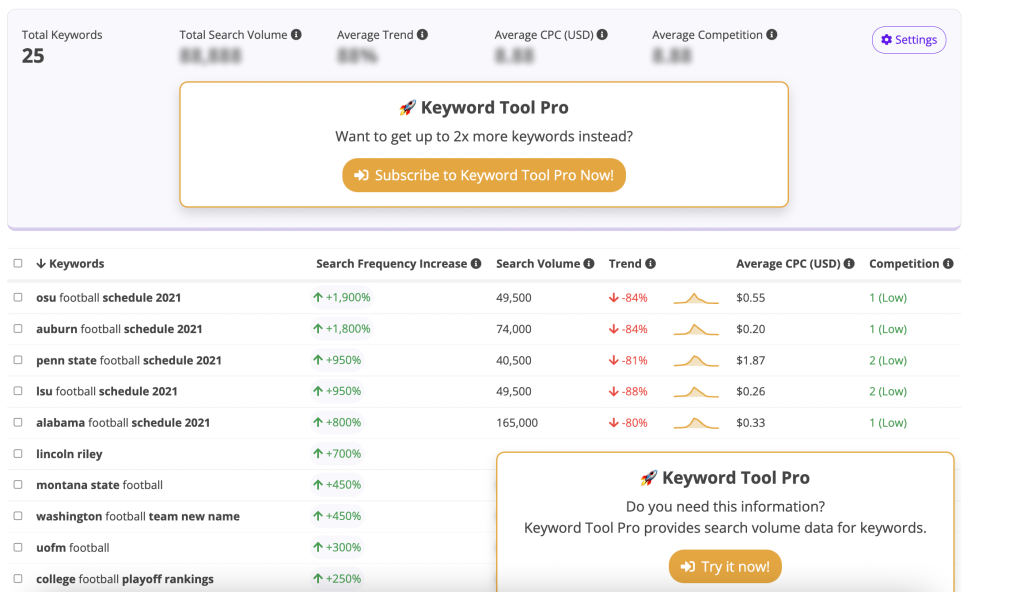 But you can still see all the related and popular keywords along with their search frequencies.
"Keyword Tool Pro is my first stop when investigating and vetting ideas for our blog posts. It's incredibly easy to use and understand which saves me tons of time in content development!"

Lisa Kalner Williams, Content Marketing Director, Agorapulse
Introducing better ways to use Keyword Tool
Apart from adding more data and features like the keyword basket, we've also made changes to our user interface! We're sure you'll find this version much easier and faster to use with a lot more flexibility options. Let's see what they are.
1. Keyword Basket
The 'keyword basket' feature is a super handy tool for doing in-depth keyword research and analysis. Instead of copying/exporting your chosen keywords from every search result, you can just add them to the keyword basket and do actions in bulk.
You can find the keyword basket at the top right corner of the page.

Adding keywords to the basket is also extremely easy to do. All you have to do is click on the basket icon right next to the keyword you want to insert in the basket, and that's it. It's literally just a matter of seconds!

Once you're satisfied with all your chosen keywords, all you need to do is go to the keyword basket, and you can copy or export all of them at the same time. It saves you time and the hassle of copying and pasting multiple times!
This is what your keyword basket will look like.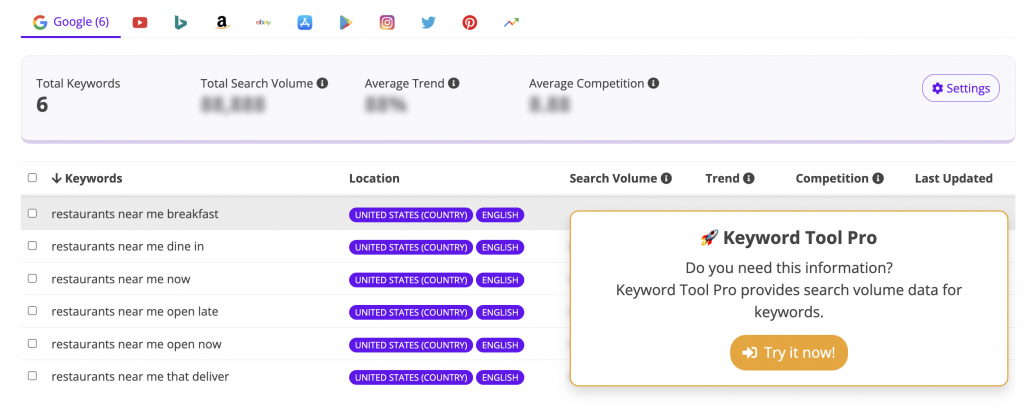 To make this new feature more organized and easy to use, we have made the keyword basket different for every search engine so your keywords don't get mixed up.
As you can see in the image below, all the search engines are available to you. For every keyword basket, you can add up to 1000 keywords. Whereas Pro users can add up to 2000 keywords. To add more, you would have to delete the previous ones to make more space.
Since there are no keywords in the YouTube keyword basket, it gives you the notification below.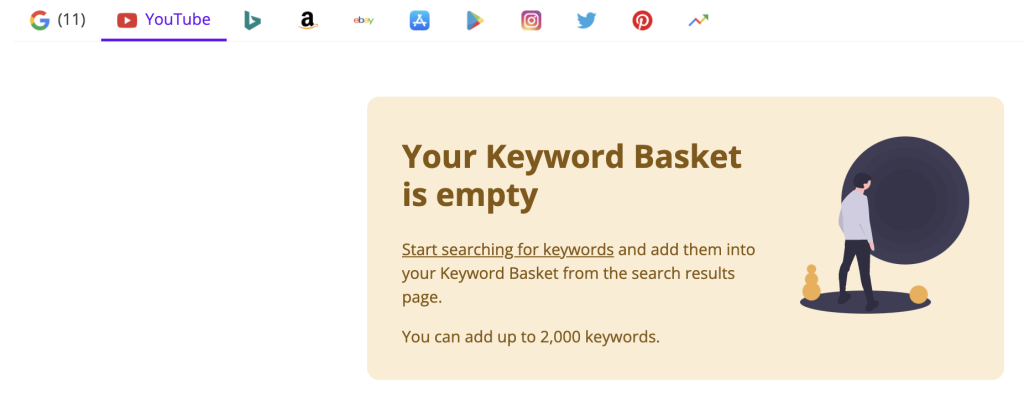 The images above are with respect to the free version. For our paid users, the keyword basket looks much more detailed.

Not only will you get more data, but you can also sort your keywords according to when you updated them. This way it gets easier to access the most recent or oldest keywords you added to the basket.
2. Separate tabs for country and language
If you recall, in our previous version, you had the option of choosing the location along with a language, but they were in the same field.
This time, we split the location and language into 2 different tabs.
Old version:

New version:

Doing this gives you more control over which combination of location and language you want, instead of the predetermined ones in our old version.
3. Remembering your preferences
Keyword Tool can now remember your preferences when it comes to location and language. Once you select a country or city, Keyword Tool takes note of it and stores it.
So the next time you want to change the location, you'll see the top 3 recent regions you selected.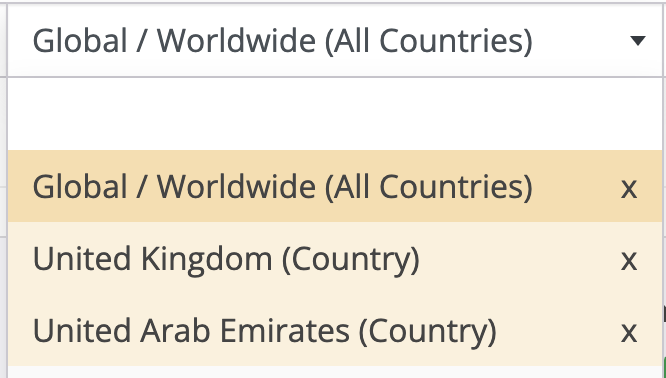 Hence, instead of typing the country, all you have to do is click on it, and that's it. The same applies to the language field as well. This makes your keyword research faster with less hassle!
Keyword Tool can also predict what you're typing, even if the spelling is wrong, so you needn't even type the whole word. You can just select in the drop-down menu.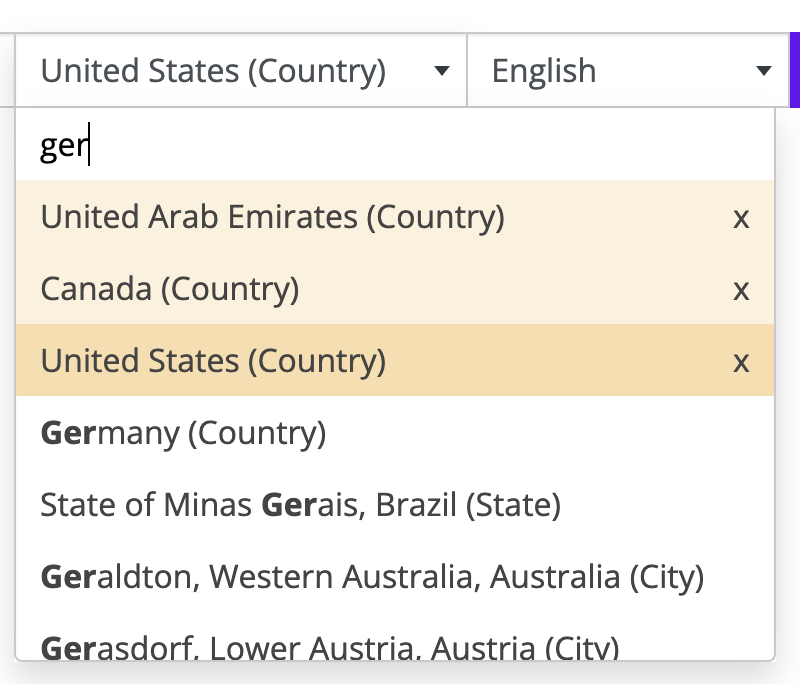 Apart from the changes in design, we also made the changes as mentioned above to the website to make the experience smoother and more pleasant for you.
4. Easier and faster Access
In the new version, you'll also be introduced to our hover feature right next to the keywords.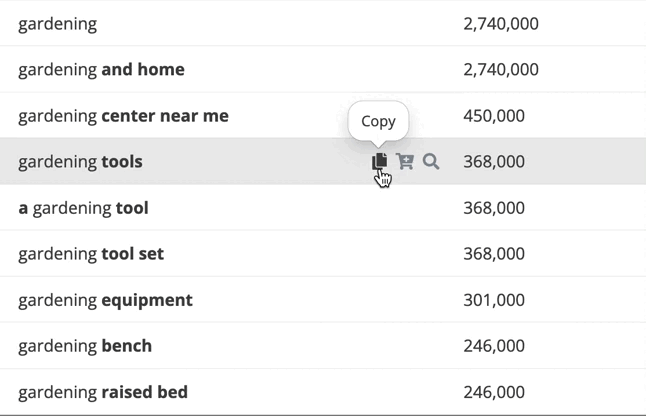 They include,
Copy: You can instantly copy any keyword here, without having to select the keyword and then clicking on the buttons at the bottom right of the website and then copying, like you did in the old version.
Add to keyword basket: There are 2 ways you can add keywords to the basket, this is the faster option.
Search: If you click on the search option of any keyword, a new tab will open where that keyword will be the seed keyword in the same search engine that you were in before.
In the old version, you had to do it like this:

"For the last 3 years, I've used Keyword Tool Pro to refine my content to match relevant search intent, find long-tail keyword opportunities, and crunch search volume for large keyword lists."

Francois Lanthier Nadeau, Content & Growth, Snipcart
Keyword Tool vs Keyword Tool Pro: Features you're missing out on
The three search engines aren't the only new things added to the latest version of Keyword Tool. We've added multiple exciting new features that will be of great help when researching and planning your keyword strategy!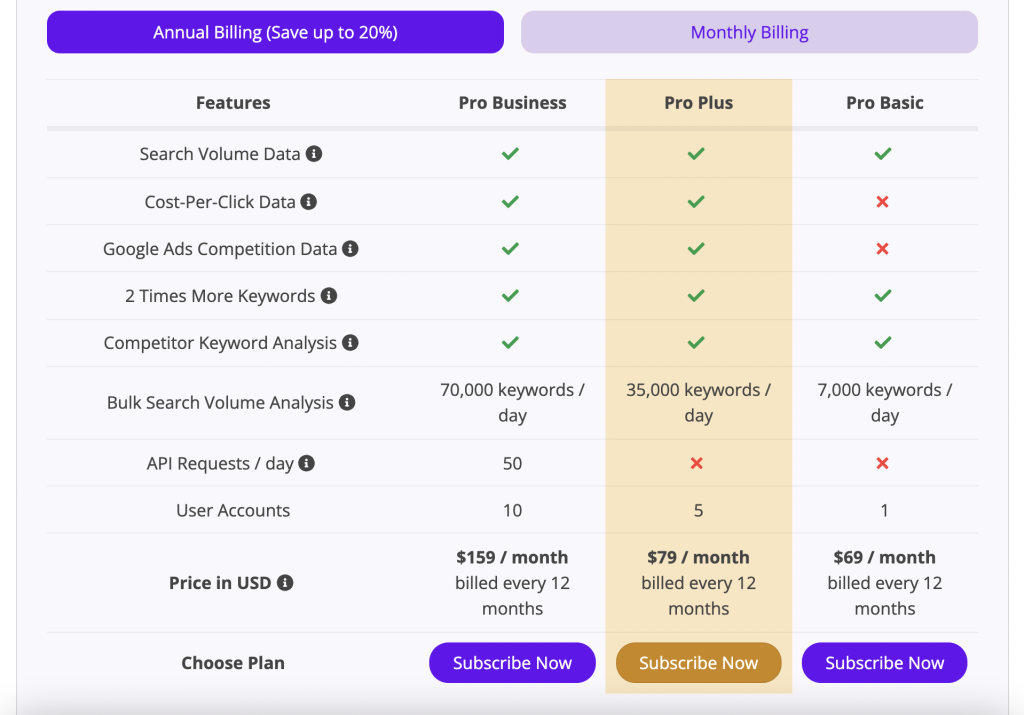 However, the following features are exclusive to our Pro subscribers. So if you're interested in them, you can always subscribe to the Pro version of your choice!
If you decide it's not for you, then you're always welcomed to ask for your money back within 30 days, and it will be refunded to you, no questions asked! However, this rarely happens as the Keyword Tool Pro subscription is packed with value all the way!
Let's get a brief overview of all the great features you might be missing out on.
1. Check search volume
Ever wanted to check the search volumes of pre-chosen keywords in bulk? Rather than making a different query for every keyword on your list, all you need to do is copy and paste them in the 'check search volume' box and hit enter!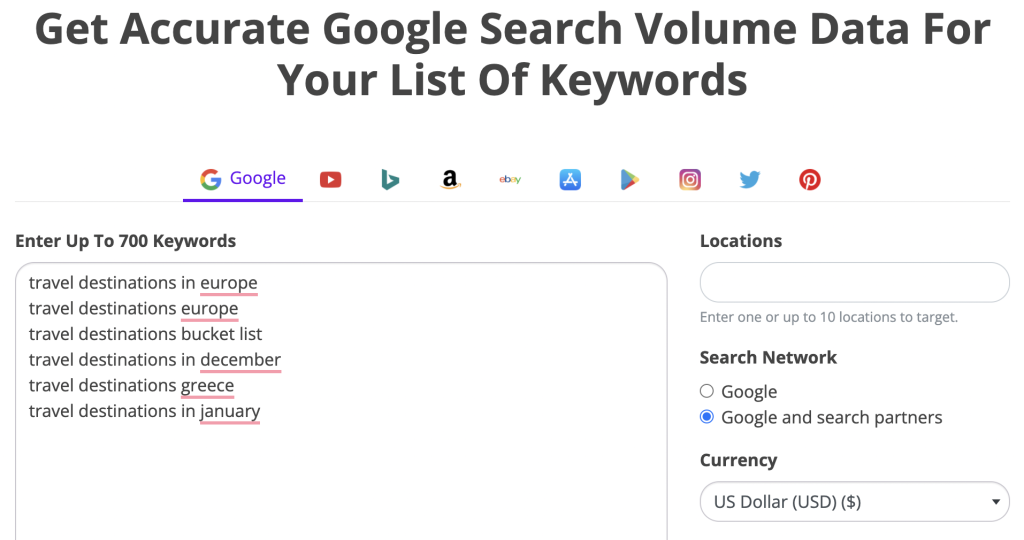 Keyword Tool does all the work for you and returns you the search volume, trend, CPC, and competition for each keyword you entered. This feature is available for all the search engines, including the new ones we just added!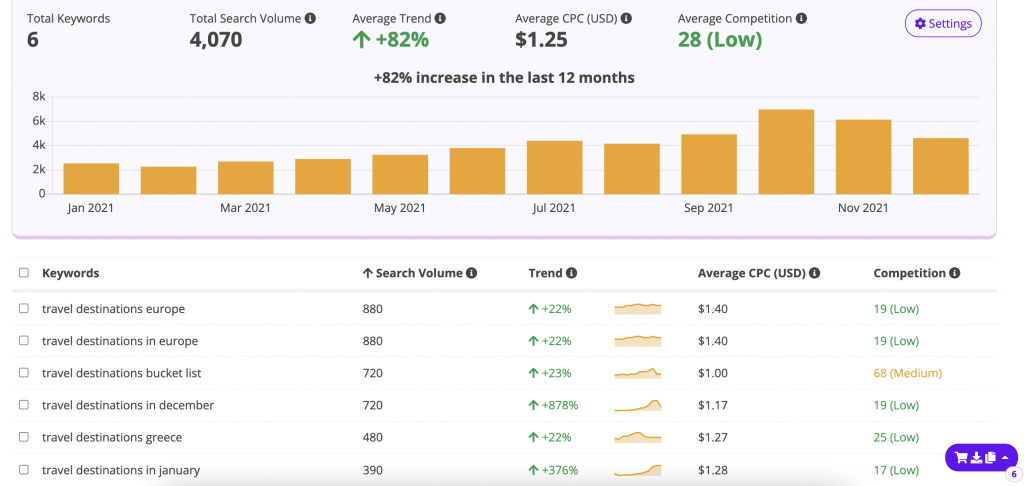 The 'check search volume' feature makes keyword research extremely easy and fast. Imagine how productive you can be by saving time with this feature!
Let's suppose you have 40 keywords that you need to check. Instead of doing 40 different searches, all you have to do is copy and paste those keywords in check search volume and get all the data in ONE click!
Trust us when we say that this feature will make your life easier!
2. Settings
Apart from the significantly noticeable changes in the new version, we have also made small, subtle changes in the user interface as well. They might go unnoticed, but in reality, they make the experience of using the Keyword Tool easier, sleeker, and give you more power to control the result you see.
Some of the settings like 'filter keywords' and 'negative keywords' (with some limitations) are available to our free users.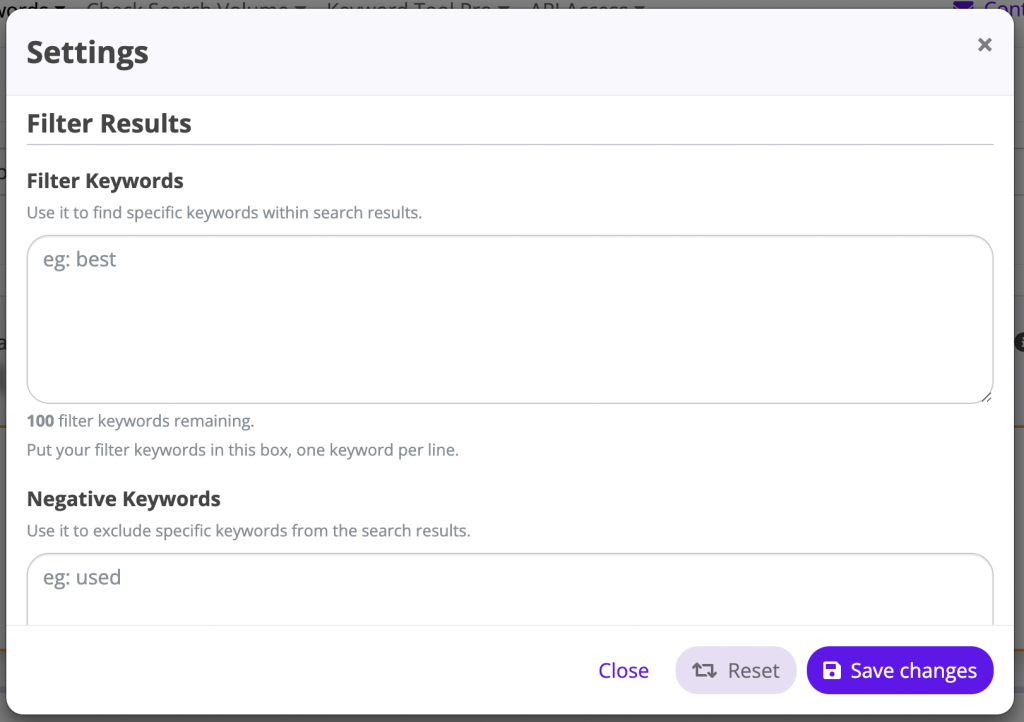 Once you enter specific keywords in the filter keywords section, the search results will show you only those keywords that have the filter keyword present in them. The limit of words for both free and the Pro version is the same, i.e., 100 keywords. This means at a single time, you can only filter 100 words.
Negative keywords work in the opposite way. The keywords you type in this section won't show up at all in the search results. You can enter up to 5 negative keywords at a time in the free version, whereas in the Pro version you can enter up to 2000.
In the Pro version, you also get the following additional features:
Ability to sort keywords based on popularity,
Filter results according to search volume,
Get specific results by setting the value of trend,
Filter result based on cost-per-click (CPC),
Filter results by competition,
And enter up to 2000 negative keywords instead of 5.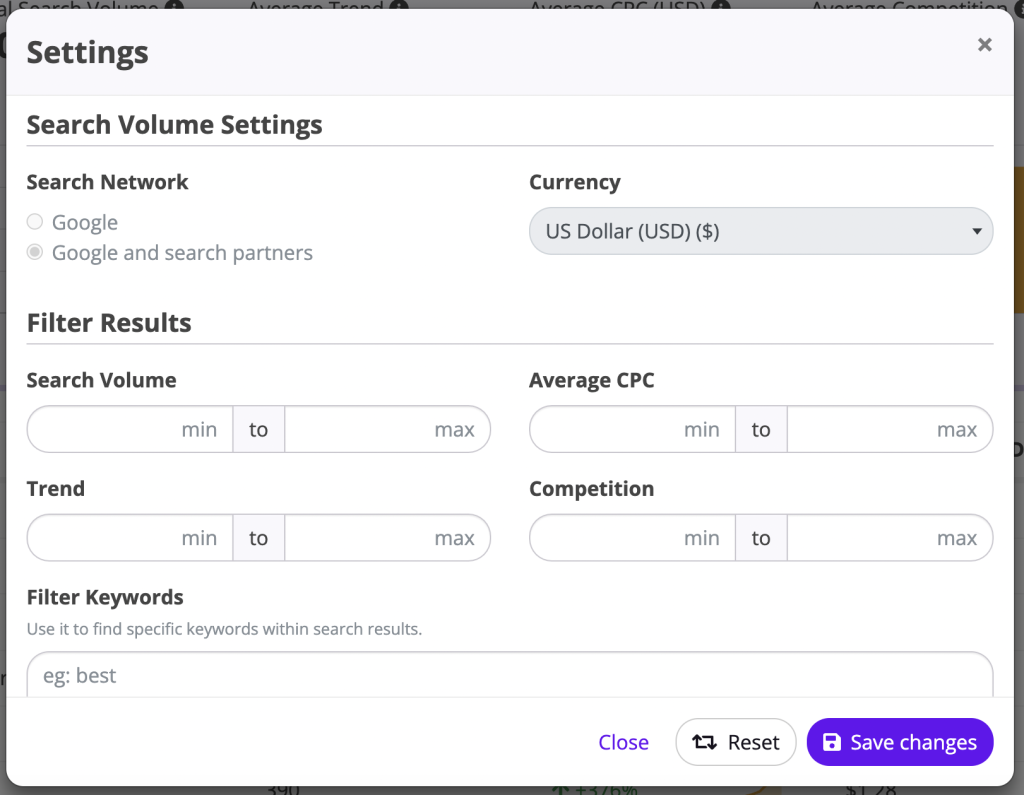 By utilizing these settings, you can make your search results extremely narrow and targeted and present the exact information you want to see. No more wasting time browsing through all the keywords to find the right ones that fit your needs.
All you need to do is enter the values, and you'll get the exact keywords you're looking for! Pretty neat, right?
3. Keyword interest by region
At the top of the Google and YouTube search results, you'll see that we've added an extra tab at the bottom of the trends graph. This is where you can find the map.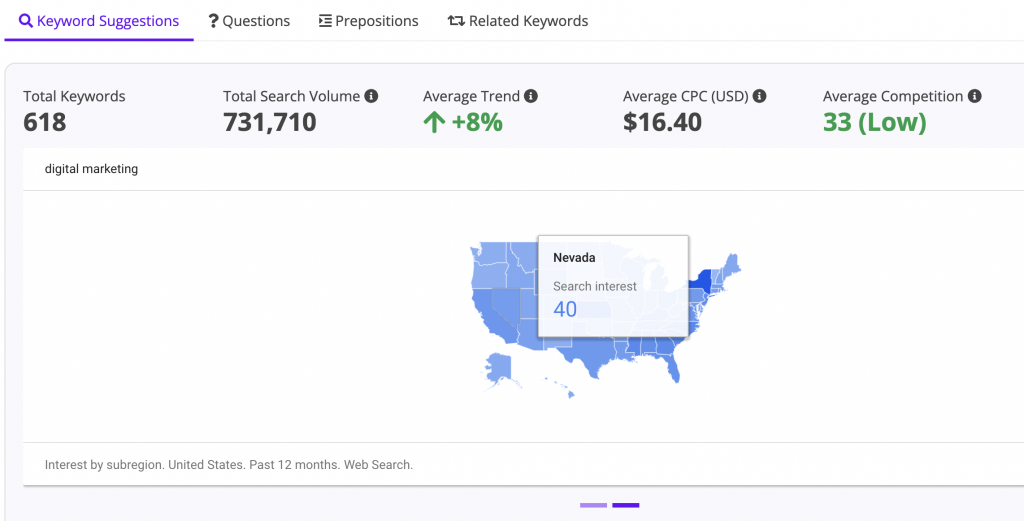 Naturally, the map will be of the country you initially set before making the query. If you hover over the map, you'll find that it will show you how many people in that region are searching for the keyword you searched for!
This provides great insight and value, especially if you run a local business! You can see how many people in the city are actually interested in a particular keyword.
This way, Keyword Tool helps you narrow down the keywords even more by providing additional information on your target region!
4. Flexibility with copy options
In our old version of Keyword Tool, you could only copy the selected keyword/keywords without any other data about them. We changed things up a bit this time and gave our Pro users 3 options on which format you want to copy the data in. They are: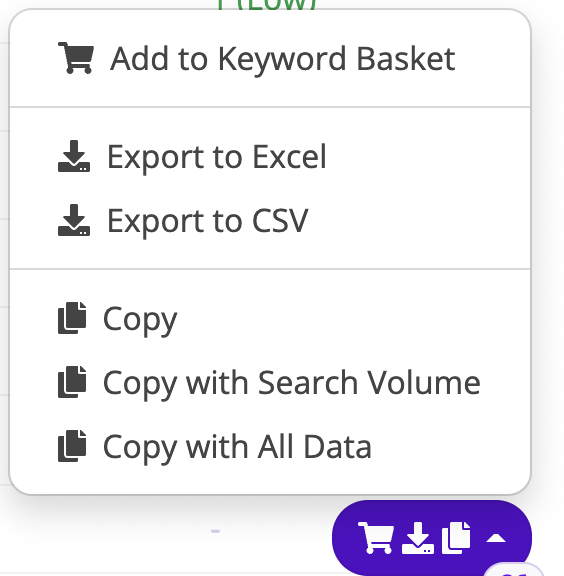 We're sure the new options will make using Keyword Tool much faster and easier to use!
"I need a tool which gives me the relevant keyword variations with search volume, and lets me easily copy these over to spreadsheets. Keyword Tool makes this easier than any other tool I've tested."

Peder Alstermark, SEO Manager, Viva Media
That's a lot of features to miss out on for a small fee per month. We strongly encourage you to try Keyword Tool Pro subscription. As we mentioned earlier, we offer a money-back guarantee within 30 days of purchasing, no questions asked!
You have a great safety net to fall back on, so why not take the leap and invest in Keyword Tool Pro? After all, this investment will have a positive domino effect that will directly reach your sales revenue. The choice is yours!
We're constantly making Keyword Tool better for you!
We really hope that you'll like the new version of Keyword Tool and everything else it has to offer. If you have any questions, comments, or feedback, please feel free to reach out to us at [email protected]. We'll be sure to reply.
In the meantime, we'll just be here thinking of new ways to add more value to Keyword Tool.
Happy keyword searching! 😊