3 Things You Must Do to Increase Your Instagram Engagement Rate
Did you know that Instagram engagement rate is the highest compared to other major social media platforms? There's a reason why this platform is a favourite among influencers, brands and small businesses alike. And getting better engagement rates have never been as crucial as it is today.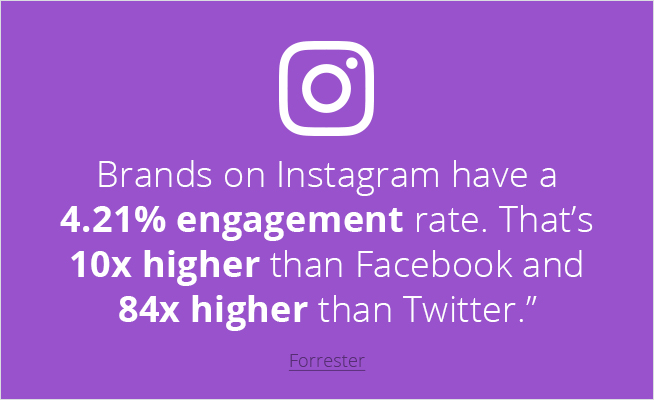 Improving the Instagram engagement rate of your account (or the account that you're managing) is an important part of getting the most out of Instagram.
As one of the most popular and fastest growing platforms, a lot of influencers and brands pour a lot of resources into Instagram with the aim of growing their fanbase and in turn, their potential customers.
For most people, they would assume that to get a good Instagram engagement rate, you will either need to be good looking, post controversial content, post really good photos and videos, or all the above. That's partly true, but it doesn't really paint a complete picture.
Just like other platforms, Instagram algorithms have changed a lot over the years. One of the most noticeable changes is how photos and videos appear in a user's feed. While it used to be displayed in chronological order, Instagram has now prioritized posts with the best engagement and reach potential.
That means if you want your followers (and potentially other users on Instagram) to engage with your content and page, you'll need to step up your Instagram game to the next level.
What is Instagram engagement rate
Engagement rate is a statistical benchmark that is widely used in social media. This metric measures the rate by which a page or post is being engaged by its fans or followers. The higher the engagement rate, the more positively received and popular the page or post.
On Instagram, the engagement rate is effectively the total amount of reactions a post receives – including likes, comments, and saves. A high Instagram engagement rate is a good measure to the success of your posts on the popular platform.
Engagement rates also vary between Instagram accounts with large followings and those will lesser followings. Here's a study that shows a breakdown of average engagement rates between different tiers of total Instagram followers: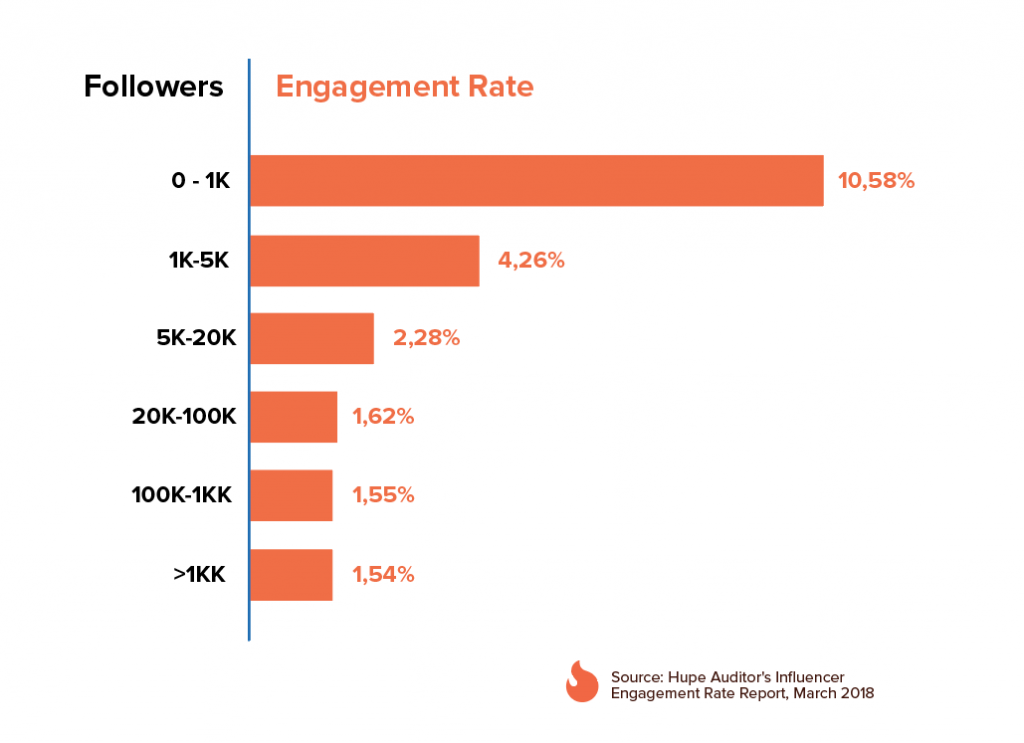 How to calculate Instagram engagement rate
In plain language, your Instagram engagement rate is your likes and comments divided by the follower count. It does sound like an easy enough metric to calculate since you only need basic arithmetic. But do note that if you want to know the engagement rate of your page as a whole, you'll need to figure out the numbers for all of your posts from day one until now.
There are many Instagram engagement rate calculators, such as:
Some of these websites calculate not only your Instagram engagement rate but also show you the estimated dollar value of the pages that you're searching for. This is very useful if you're on the lookout for Instagram influencers to determine if they are worth your bucks to promote your product or brand.
If you are and you'd like to know the best way to find Instagram influencers, read our step-by-step article here.
What is the right Instagram engagement rate formula
The formula to calculate your Instagram engagement rate is really simple.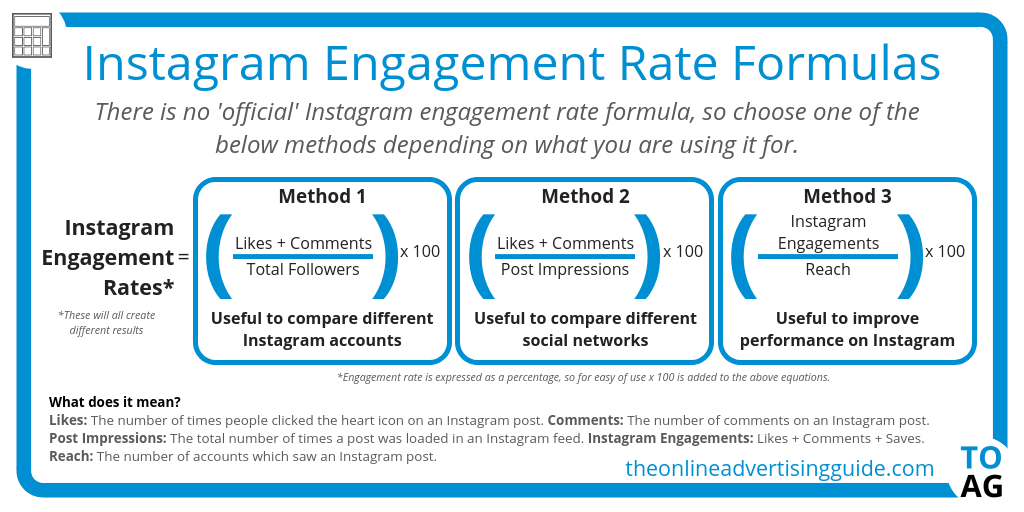 There are essentially 3 types of formulas typically used for calculating engagement rate (ET):
ER = Total Reactions/Reach x 100%
Average ER = Total ER/Count of Posts x 100%
Average ER = Total Reactions/Unique Reach
There are no right and wrong formulas here, and the results from either one of these formulas will give you approximately the same result. It's the best estimation you can have on a post or a page's content, not an exact science.
How to improve Instagram engagement rate
Just do a quick search on Google and you'll find a thousand and one articles talking about tips and tricks to increase your Instagram engagement rate. Most of them are similar, while some articles will even feature more than a dozen ways to improve your engagement rates.
While a lot of the tips laid out in these types of articles are technically correct, you might get overwhelmed with the sheer number of steps and methods you need to use to take your Instagram game to the next level (and hopefully get more likes and Instagram followers).
To make it that much easier for you, we have summarized the most important steps you need to take in order to increase your Instagram engagement rate. There is no one-size-fits-all solution, nor are there any secret hacks. Instead, it's best to follow Instagram's best practices and do the best you can.
Here are (only) 3 tips you should focus on to (slowly but surely) improve your Instagram engagement rate:
1. Make full use of all Instagram features
Just like the saying goes, "go big or go home." And the same thing applies here. If you're looking to step up your Instagram game for non-personal purposes, then you will definitely need to switch your account to Instagram Business.
It'll make a world of difference, because only with Instagram Business will you be able to really see who are your followers, where are they from, when your posts perform the best, and which content has the best (and least) engagement. With all those valuable data, you can then fine-tune your approach to Instagram in a smarter and more efficient way.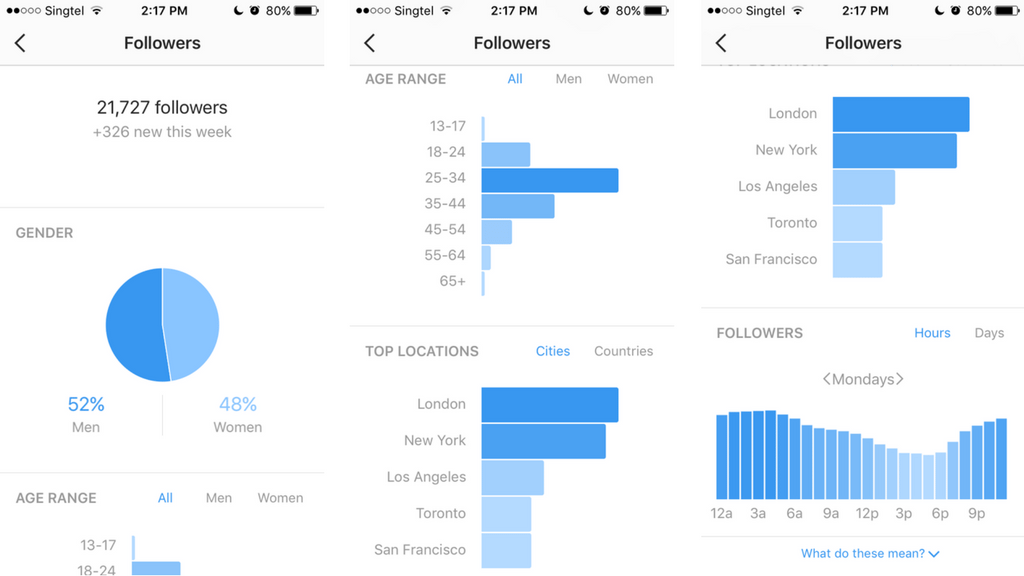 Once you've set up your Instagram Business account, next is to start posting. So, should you post a static image? A video? Carousel? Or what about Instagram Stories? The best answer here is – do it all! Make use of all the different formats that are available on Instagram. It's a great way to see what works and what doesn't, and may also give a better experience to your followers by serving them a variety of different types of posts. It keeps things interesting for your audience.
You can post static images or GIFs on your feed. If you have a series of related photos, put them in a carousel. Got a compelling story to tell? Tell it in the format of a video. Statistics have shown that video has the best engagement rate among all other types of content on social media.
Don't shy away from using Instagram Stories as well. It offers a completely different experience to your followers as Instagram Stories have a much more personal and intimate feel. The fact that it only lasts for 24 hours is a good way for you to post quick and raw snippets of your brand, event, daily activity, sneak peeks, product launches or even latest promotions.
2. Post good content the right number of times, and most importantly, at the right time of the day
Instagram is a visual platform. Which means if you want to get good engagement rates on your content, it has to be actually good. No hacks or short cuts can help you there, except by creating really good content.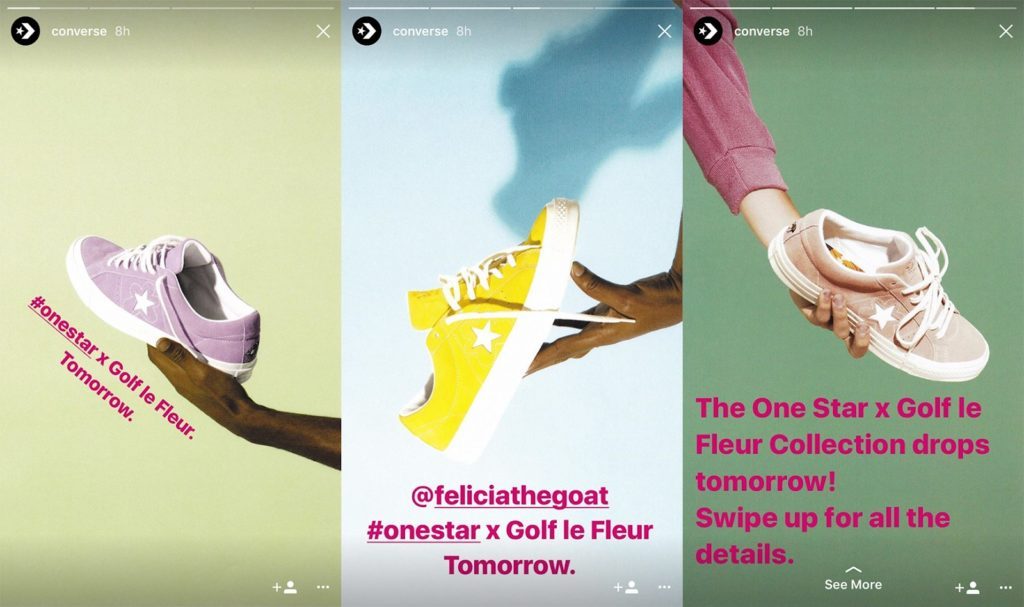 Posting from an Instagram Business account can be useful here, as it will show you the demographic breakdown of your followers. By understanding who is your target audience and what they like, you'll be better informed in terms of what type of content you should be creating.
Once you have a good content direction, it will then be time for execution. Don't skim here and invest a little bit to get your hands on a better camera, smartphone or software. It will make your content creation work a whole lot easier and the finishing quality will show in your Instagram posts.
Next, you should be posting at the right time of the day. This part is pretty simple.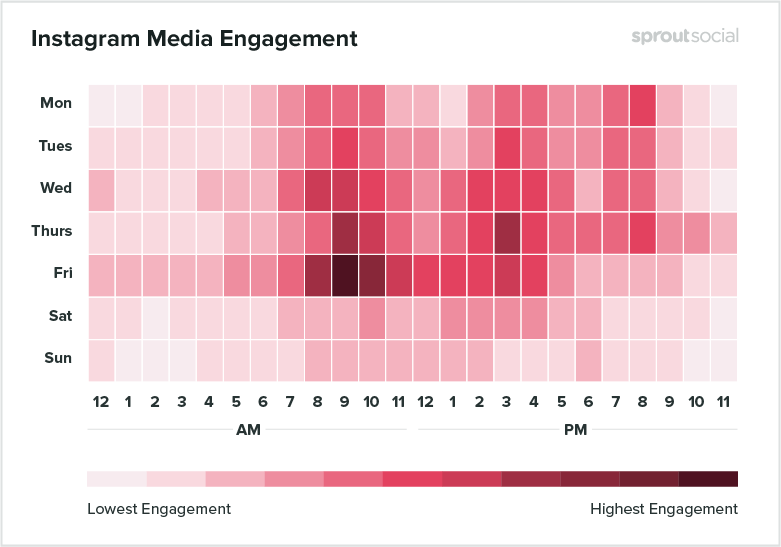 If you have a super interesting video but you upload it past midnight when most of your followers are asleep, then you won't get much engagement. But when you post it at peak hours and when most of your followers are actually on the platform and browsing through their feed, that is the time you need to post! That's the best way to maximize your reach and in turn your Instagram engagement rate for your posts consistently.
It might also be a good idea to experiment how many times you should post in a day, a week and a month. It's hard to say what is that magic number exactly, so it's best for you to find out the level of post frequency that works best for your page.  But as a general rule, you should post consistently and try to avoid from posting too often in a day or too many times in a row (that may come across as being spammy).
3. Target your posts using the right Instagram hashtags
Among all the tools on Instagram, the most useful and easiest to leverage is Instagram hashtags. They allow your posts to be seen more times and by more users, especially those outside of your follower circles. It's also a great way to target your content to people who will most likely engage with them.
Although you can use Instagram ads to target and serve your post to your desired target audience, Instagram hashtags are far more scalable, organic and free! You can look up and find trending Instagram hashtags on the app itself, but there are millions of hashtags out there and it'll definitely take a lot of time and effort to filter through them manually.
Instead, you can use an SEO tool like Keyword Tool for Instagram. It's a free-to-use tool that helps to generate hundreds of hashtags per search within seconds. All you need to do is key the relevant search term into the input box and you'll get a long list of related hashtags that you can use for your Instagram posts: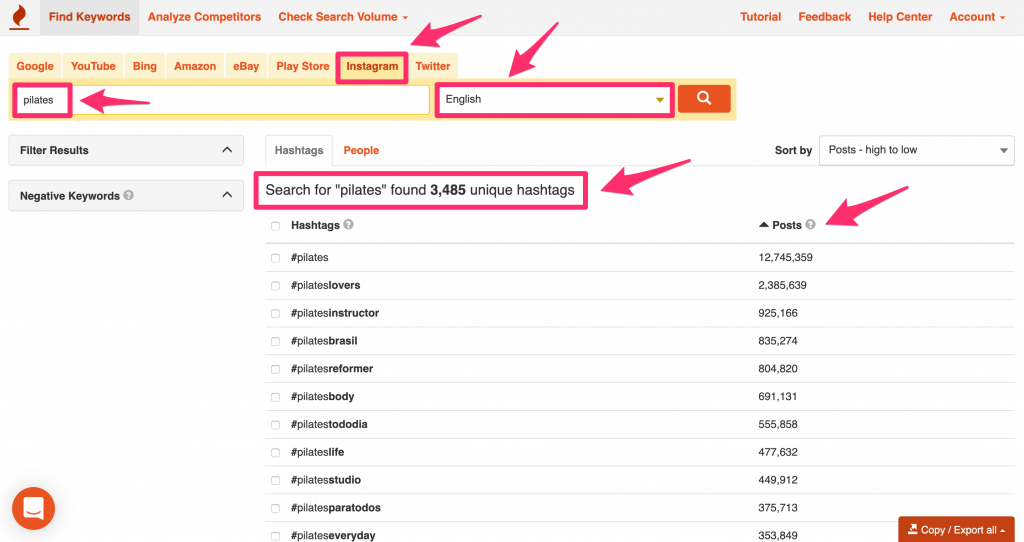 The paid version Keyword Tool Pro for Instagram will show you the entire list of the results page, including valuable data like the number of posts that are tagged under each of the generated Instagram hashtag. You might be swayed to use hashtags with the highest traffic. That's not wrong, but it may not be the smartest solution to your engagement rate issues.
A better way to approach leveraging on Instagram hashtags is to look for long tail hashtags and those that are semantically related to your page or brand. Although these type of hashtags may have lower volumes of traffic, you will receive a much more targeted user base compared to hashtags with millions of photos tagged to them.
For example, if you run an Instagram account for a pilates studio, you would be tempted to search for "pilates" and plug in as many high volume hashtags as you can (within Instagram's limit of a grand total of 30 hashtags in each post). You might get some clicks from those hashtags, but your post will most like be buried within minutes in that sea of hashtags that tens of thousands of people are following.
Instead, you can perform a search on a more relevant and precise search term, like "pilates studio." Key that into Keyword Tool for Instagram and you'll find a long list of more relevant hashtags. These may be more suitable to use for an Instagram account that is in the business of promoting a pilates studio rather than pilates exercise in general: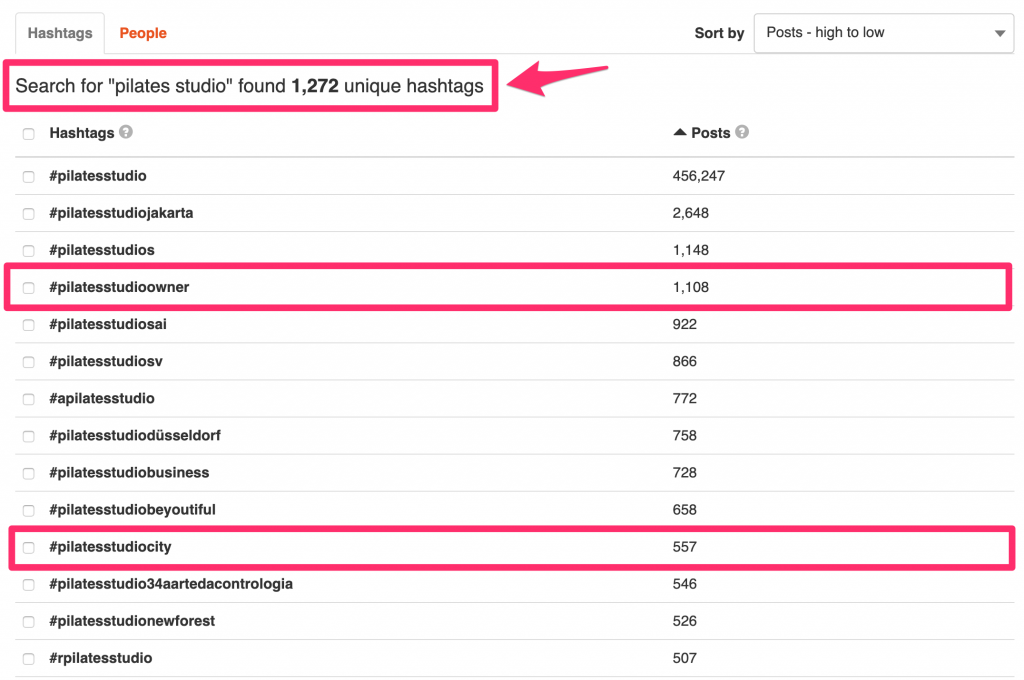 As you can see, by simply adding the word "studio" to your search on pilates yields a more specific set of results. Are you a pilates studio owner? Then try using #pilatesstudioowner as one of your hashtags. Are you running the Instagram account for your client who has a pilates studio right smack in the city? Go ahead and insert #pilatesstudiocity in your list of hashtags.
The possibilities are endless, as each keyword research for your Instagram hashtag will ultimately depend on your brand, product or content category. Either way, using a tool like Keyword Tool for Instagram will be incredibly helpful in getting more visibility to your posts on Instagram.
Of course, there's no harm in trying all the other tips and tricks that other articles have laid out in regards to improving your Instagram engagement rate. It might work, or it may not work up to your expectations. But these 3 simple tips in this article are the ones you must do if you even want to see an improvement in engagement rates for your Instagram posts and page.
Get these three things done right first, then you can start exploring other methods to improve your Instagram engagement rate. It'll most likely be a continuous process, and rarely a one-time solution. Keep at it and you'll be able to grow your engagement rates to levels you didn't know was possible.